It's been a good week for Chelsea and Andre Villas-Boas, but I wouldn't be getting too carried away just yet.
They were extremely lucky against Newcastle last Saturday and the 3-0 scoreline really flattered them. The performance against Valencia was better but, if I'm honest, I was really disappointed with Valencia.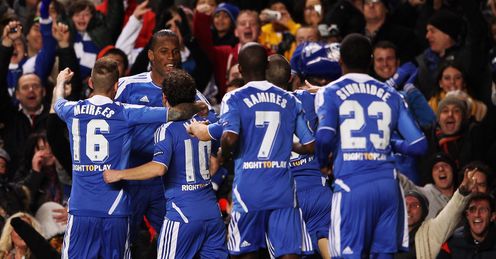 Yes, there was a lot of pressure on Chelsea to win that game and they did well to come through it, but I'm really not convinced that they have turned a corner - there's a long way to go before we can say that, I think.
The manager deserves time to get it right and it looks like he will get it, but I wouldn't be getting too excited after those two wins if I was him. He was very animated in his press conference after the Valencia game - accusing the media of being overcritical of his side's performance this season, but I don't think that's been the case at all.
Even your most diehard Chelsea fan would admit their team has been defending badly - that's been clear for everyone to see.
Jamie Redknapp
Quotes of the week
LIVE ON SKY SPORTS
Chelsea v Manchester City

7pm, Mon, Sky Sports HD1
Watch on the move with
Sky Go
How to
remote record
Glenn Hoddle made the point this week that the media's comments have been purely observational rather than really critical and I would have to go along with that. Even your most die-hard Chelsea fan would admit their team has been defending badly - that's been clear for everyone to see.
But they took a step forward on Tuesday night and one of the reasons was the performance of Didier Drogba. It was the first time in a very long time that I've seen a proper performance from a forward in a Chelsea shirt.
Monster
He was an absolute monster and it was the kind of display that we had come to associate with him during his time in the Premier League. When you've got a frontman working hard, bringing people into play and smashing defenders out of your way you've got half a chance and that was the basis for their win.
They also chose to invite Valencia onto them and hit them on the counter attack, knowing full well the Spaniards would have more possession than most teams that go to Stamford Bridge and it seemed to work for them. It meant the defence was a bit deeper and that definitely suits John Terry at centre-back.
John's always preferred to play deeper where he can get close to players and the way they set up suited him. A lot of football is about making players feel comfortable and Andre Villas-Boas has been asking John to do something which he just doesn't feel comfortable doing.
He had a better game against Newcastle and he looked back to his best against Valencia, but Manchester City on Monday night will be a completely different proposition. John's struggling for a bit of pace and he is under a little bit of pressure, not just with Chelsea, but for England too.
Tactics
The good news for them is that they can adopt the same tactics against City.
Like Valencia, City will go there and will see a lot of the ball and I can see Andre Villas-Boas keeping things tight again. Oriol Romeu should start in the centre of midfield alongside Ramires and Raul Meireles. His only decision will be whether to bring Frank Lampard back into the team.
And then the front three of Drogba, Juan Mata and Daniel Sturridge - who I'm a big fan of - pretty much picks itself with the way they're all playing at the moment.
City, meanwhile, would have been really disappointed not to have made it to the knockout stages of the Champions League, but I think they salvaged a bit of pride by beating Bayern Munich in their final game - even if it was Bayern's reserve side.
They've got so much still to look forward to that I don't think it will hurt them as much as it will say Manchester United. Going out against Basle in the manner United did will have really done some damage, but City will have been able to take some confidence from their game.
Question
The only question is how will they deal with the Europa League now and playing on Thursdays and then again on Sundays? Personally, when you've got the squad Roberto Mancini has, I don't see that being a problem at all.
It's not ideal, of course, but he has got more than enough players to cope with it and I wouldn't imagine he'd be moaning about that. He's done really well managing that squad this season and you sense the players are starting to buy into him.
People like Adam Johnson and Mario Balotelli - who haven't always looked particularly happy when they haven't started games - are coming off the bench and looking better and better and I think that battle he had with Carlos Tevez was a turning point.
Tevez came out of that as the villain and Mancini has gone from strength to strength. He looks like a manager who can handle all the big names. Everyone at the club will be delighted with the way things have gone so far this season - and they have every right to be.
People will be backing Chelsea after a couple of good results for this one, but I'd be surprised if City didn't come away with at least a point. And I think Roberto Mancini would settle for that.
If they leave Stamford Bridge with some sort of result it means they will have gone to Tottenham, Manchester United, Liverpool and Chelsea - four of their five hardest away games - and come away unscathed.
That will be a massive boost for them going into the rest of the season.
Comments (3)
Sam Chen (Liverpool fan) says...
As Redknapp says Chelsea have not proven to have turned a corner just yet. They still need to show consistency against a top English side. City are just that and the pressure will be on. AVB reacted badly to the press last week and may have put himself in a precarious position if they get beaten tonight. Personally as a Liverpool fan, I'd be glad to see Chelsea lose tonight and expose further cracks in an aging, unsettled squad.
Posted 17:16 12th December 2011
Muhammad Kamran (Arsenal fan) says...
I totally agree with Jamie. Today is the match which show how much chelsea have turned the corner. If today they play well and beat City, it means Chelsea are back and even if they draw the match with City that still not too bad. But I want Chelsea to beat City.
Posted 06:07 12th December 2011
Neil Cheesman (Chelsea fan) says...
I agree entirely with Jamie's comments. Tomorrow Chelsea play Man City at home. 'Luckily' defender David Luiz is suspended. Technically he looks like a great player.... but he can't defend - so to play without a 'first' choice' defender for this game is probably a blessing for Chelsea. Chelsea beat Valencia in mid-week and a lot has been made of Chelsea winning and Andre Villa Boas the manager must have got it right. I didn't see it that way at all. Chelsea decided to stop defending like a Sunday morning team (about time) and defended 20 yards further back meaning the defenders had the forwards in front of them. Valencia were VERY poor and the difference between the two sides was that Drogba having his best game for a long time - scoring 2 goals and making the 3rd. (oh and Petr Cech woke up in goal) I wonder what the score would have been if Torres had played for 90 minutes. I doubt that Drogba can continue to draw back the years and what happens when he heads off for the African Cup? I can't help feeling that Lampard has been made the scapegoat for the AVB revolution. And this is poor recognition for a player who has served them very well and is currently 2nd top scorer behind Sturridge in the league who is a forward and Lampard is 3rd of the Chelsea squad rankings by SKYSPORTS pundits. It seems like Meireles is in AVB's pocket as he had played for him before. Man City at home on Monday will be more of a test than Valencia that is for sure and may well show the way forward for the rest of the season. I have supported Chelsea for a long-time and yes change has to happen but to be honest for me the jury is still out on the manager AVB.
Posted 14:45 11th December 2011