The last time Arsenal and Manchester United met there were 10 goals. There's no way we'll see a repeat of that, but it's another game where I expect the attacks to come out on top, even if the stats suggest that won't be the case.
Arsenal's record at the Emirates this season is excellent. Their only defeat came against Liverpool early on and they've conceded just six goals in total.
United, meanwhile, have scored 19 goals on the road compared to the 33 they've got at Old Trafford, so there's an argument to say that this could finish 1-0 to either team, but I just can't see that happening.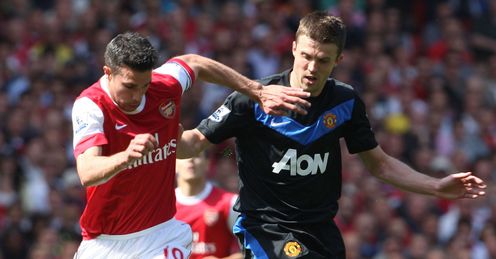 Both defences are missing key men and neither has looked rock solid in recent weeks. The Arsenal back four did not look comfortable at all at Swansea, but I have a certain amount of sympathy for Arsene Wenger.
Thomas Vermaelen has been a huge loss for them at centre-back and they've really struggled with the amount of injuries they've had in both full-back positions. They've had to fill the gaps by playing centre-backs in those positions like Ignasi Miquel and Johan Djourou, which isn't ideal.
When you're a team like Arsenal and you've conceded more goals away from home than any other team, well that tells you everything you need to know.
Jamie Redknapp
Quotes of the week
LIVE ON SKY SPORTS
Man City v Tottenham
1pm, Sun, Sky Sports HD1
>
Arsenal v Man Utd
3.30pm, Sun, Sky Sports HD1
Watch on the move with
Sky Go
How to
remote record
But it's still no excuse for how poorly they've been defending, especially away from home. Liverpool won four trophies back in 2001, including the FA Cup and the UEFA Cup, playing with four centre-backs.
Jamie Carragher and Markus Babbel played left and right-back respectively that season, so I can understand if Djourou and Miquel were a bit lacking going forward, but they certainly should be defending better.
And when you're a team like Arsenal and you've conceded more goals away from home than any other team, well that tells you everything you need to know.
Boost
There's a chance that Vermaelen will be back for Sunday, which will be a huge boost. The only question is will Arsene Wenger play him at left-back or at centre-back?
See all Jamie's Red Hot Tips at Sky Bet
There's obviously an argument for both, but personally I'd stick him back at centre-back in place of Per Mertesacker.
Arsenal look a different team when Vermaelen's at the heart of defence, while Mertesacker has really struggled to find his feet in the Premier League. He looks really uncomfortable and his movement just doesn't look right to me.
The problem Arsene Wenger has is that Miquel has struggled as well. He's a young lad and I hope he turns into a good player, but at the moment he looks a bit lightweight. Premier League football is hard enough when you're playing in natural position, but he's overexposed at the moment and I'm sure Sir Alex Ferguson will be looking at that.
As far back as I can remember United have always played with wingers who stretch the pitch and attack the oppositions full-backs and I'm sure he will have looked at Djourou and Miquel and thought that's where he can hurt them.
Jamie's backing Steven Gerrard to score 1st v Bolton
Whoever plays in the wide areas - whether it's Nani, Antonio Valencia or Ji-Sung Park - will be too powerful for them. And it's not just United's wide men that will cause you problems; it's their full-backs too.
I can see this being a high scoring game for both teams though. United really miss Nemanja Vidic and with Robin van Persie in the kind of form he's in, I can see Arsenal scoring as well.
The early kick-off between Manchester City and Tottenham could be a factor too, because if City win, that will put a little bit of extra pressure on United.
I've played in situations like this before when you know what the result from an earlier game is and, whether it's consciously or sub-consciously, it does affect you.
If City get three points United will come out all guns blazing because they won't want that that gap at the top to increase.
It should be a cracking game either way though and if I was putting money on it I'd go for a score draw. Right now, I think both managers would take that.
Tough
As for the earlier kick-off, if Tottenham think they can win the league then they have to go to the Etihad Stadium and come away with a point. It's a tough ask because City have won 10 out of 10 there this season, but it's great time to be playing them.
The loss of Vincent Kompany and Yaya Toure is massive. Within any team, no matter how good they are, there are a couple of key men who are irreplaceable and Kompany and Toure are those men for City.
That said, they grounded out a result against Wigan and were unlucky against United in the FA Cup. So it's still going to be really difficult for Tottenham, especially without Emmanuel Adebayor.
Jamie thinks it will be a 1-1 draw between Man City and Spurs - 6/1
There's no doubt that Roberto Mancini and City are still in the box seat and you'd rather be in their position than any of those around them, even United with all their experience.
But wins for both Spurs and United this weekend could see a real swing in the title race.
Comments (12)
Matt Broadhead (Manchester City fan) says...
Harry Redknapp all week been pulling a Fergie by gobbing off about City and Mancini. City's squad is better than anyone else with YaYa or Kompany and will beat Spurs. Spurs have 2 players Bale and Parker. Van de Vaart is lazy and a sulk who does not put a shift in. City will win by 2 goals easy and im sure Redknapp will have an excuse as always. United will beat Arsenal but I think it will be tight. Arsenal are in freefall. They cant stop conceding and are half the team they were 2 years ago and 2 years ago they were half the team they were 5 years ago. Spurs are not title contenders its a 2 horse race and which ever horse, blue or red, wins in May will win the title.
Posted 19:48 21st January 2012
Ada Goodwin (Manchester United fan) says...
Listening to Harry's comments I really hope Tottenham get a result at City tomorrow, it looks like the Chelsea days are drawing to a close and City are trying to buy a bit of glory in the same fashion. I used to love the matches between Arsenal and Utd, two teams that have grown their clubs through being successful. I hope spurs get a draw at least and I think we are going to have a tough one tomorrow, on paper we should win it but Arsenal always up their game at home. Should be a good match maybe Henry and Scholes will score!
Posted 18:02 21st January 2012
Brent Smith (Manchester United fan) says...
honestly its going to be a tuff game no matter what way you look at it, it may not be like the great games of old with keane and vierra but it should be good none the less. as for fergie said wenger is sticking to what he knows i jus believe he needs to refink and buy players, look at fergie he was on the verge of getting the sack but turned it around to become one of the greatest mangers in the united kingdom. both teams are shakey in denfense it all depends on which team buckles first but of course im going to stay loyal united to win
Posted 13:13 21st January 2012
Jack Wills (Manchester United fan) says...
Arsenal fans cant be excpecting to win? i think it will be at least 3-0 to united and I have a feeling Tottenham-City will be 0-0, city don't look the same and Tottenham just don't have any players that can easily find the goal
Posted 09:58 21st January 2012
Richard Kiprop (Arsenal fan) says...
tomorrow's game between arsenal vs man u is the test for wenger either to have good results and maintain or seek to strengthtened the squad or choose to play europa league next season and struggling like this sarcasstic games we have seen this season.
Posted 09:05 21st January 2012
Jason Walker (Manchester United fan) says...
i agree with jamie with the first game man city don't look too solid without kompany and yaya toure in midfield so tottenham will bring the game to city but city's home record will just help them draw. The arsenal game is a strange one because they always play well at home against man utd but watching them at swansea and they have no pentration with walcott and arshavin who for me have been poor all season and van persie will have too much to do on his own so for me it will be a close game becuase man utd also have been quite poor with not much good attacking threat so draw is a likely result but anything can happen on the day so Come on united !!!!
Posted 22:42 20th January 2012
Daniel Vaughn (Chelsea fan) says...
I think that Arsenal will salvage a draw, because RVP will save them, I think it will end 2-2. It will be a big boost for Arsenal if Vermaelen does play.
Posted 22:28 20th January 2012
Evans Rwamuhuru (Manchester United fan) says...
United to win 2 -1 at the Emirates with Robin to score the lone Arsenal goal and United goals to come from Rooney and Nani with Valencia creating the first goal scored by Rooney....I expect fantastic display at the middle of the park from Scholesy
Posted 16:33 20th January 2012
Jack Ramful (Arsenal fan) says...
Arsenal should pip this one. on the back of a sorry performance against Swansea, as well as the humiliation faced after the last league meeting with United, Arsenal have no option but to come out and put on a good show. If we get a bit more commitment from the likes of Arshavin, and get RVP in positions anywhere in and around the penalty area I think the gaps in Uniteds defence will show. Would also like to see Henry and Oxlaide Chamberlain feature at some point, I think the introduction of these two later on in the game will help see United of.
Posted 15:17 20th January 2012
P Skiddy (Tottenham Hotspur fan) says...
Yes Mr Redknapp... It'll be a great day of football. WIth City lost a few key players and not playing well id expect Spurs to come away with at least a point. In fact with the great players we have - I think 3-1 Spurs win....to blow the title race wide open. As for Arsenal, their season is already going down the pan....I am surprised, because it normally sets in around February. I just cant see Arsenal getting anything from this game, in fact I see them getting nothing. My predication 4-0 to United. Arsenals gap between Spurs increasing by the week. COYS.
Posted 14:22 20th January 2012
Maxamed Max (Arsenal fan) says...
It's a home game so I expect Arsenal to grind out another result and Ramsey scored the only at Emirates stadium last season. This time we may see a 2-1 victory for the Gunners: Rooney, Van Persie & wolcott score a goal winner
Posted 10:58 20th January 2012
Chris White (Arsenal fan) says...
There was a time when Arsenal fans looked forward to this fixture with relish! Now..most are hoping the result won't embarrass the club too much and a draw would be a good result. Wenger really has lost it in my mind. To ignore the obvious need for someone to support van Persie, persist with the dead weights year upon year, and ignore opportunities to buy quality players at bargain prices...Cahill, Enrique, given, etc while claiming his squad his good enough..yet time and time again he is proven wrong..just goes to show..there is definitely something wrong in the state of Arsene!
Posted 10:43 20th January 2012