The England situation is very simple right now; the FA has said they will draw up a shortlist and go from there - it's by no means a foregone conclusion that my dad will take over.
More than ever now he has to do the right thing for him. It's not a case of because it's England he has to take it; it has to be what is best for Harry Redknapp.
And with what he's been through in these last few weeks I think he knows that now more than ever.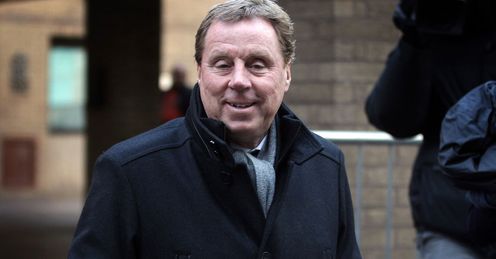 The England job comes with more pressure than any other job in football. Most of the time the England manager has been the best manager around at that time and they've all struggled. You have to ask yourself why?
There must be some reason because they've all been top managers. That's something he'll have to think about. He'll have to ask himself if he thinks he could do it any differently.
Most of the time the England manager has been the best manager around at that time and they've all struggled. You have to ask yourself why?
Jamie Redknapp
Quotes of the week
And at the moment I know he's very happy working for Tottenham and they've shown him great support during his trial. The chairman Daniel Levy has been fantastic to him and every day there was some from the club at the trial.
I'm sure the FA would like him to take over. He has the experience, everyone likes him and, of course, he's a top manager. But there will be a lot of other managers that they'll be looking at, too. I'm certain of that.
Language
I think they'll go for an English manager this time, or at least choose someone who is able to speak the language fluently.
That, I think, was the problem most of the players had with Fabio Capello. His grasp of the English language was poor, so it was always difficult for him to communicate with them.
A lot of people have said they were surprised at the timing of his resignation, but it didn't really come as a great shock to me. As soon as he spoke out against the FA his position just became untenable.
And once the tabloids got their teeth into what he said about John Terry being stripped of the captaincy, it was an absolute certainty that they were going to want a new manager.
That's unfortunate for Fabio Capello, but I don't think this will be one of those cases where we look at it and go 'how are we going to recover from this?'.
Legacy
His legacy isn't one that we will look back on with any real fondness I don't think. He did OK, but that's about it. It won't be deemed as a complete failure either, though, because he did get us to two major tournaments, but the World Cup was major low point.
I think he got the tactics wrong and we didn't seem to know what our best formation was. It never sits right with me when I see Steven Gerrard playing out on the left wing as he was asked to in South Africa and that was just one of the issues.
He's obviously a very good manager, there's no denying that, but I never really got the impression that the job meant everything to him, which is why I do think it's the right time to have an English manager in charge. And I'm not just saying that because of my dad.
As it stands he just wants to get on with his life. It's going to be a tough few days for him now, because all he really wanted to do was to get back on the training field and concentrate on football matters.
That said he's always a bit stressed and I think he actually quite enjoys a bit of stress in his life! He wouldn't drive up from Bournemouth to London every day otherwise!
Comments (43)
Charles Junior says...
Harry is the Man.Gerrard,lampard fedinard and co should give the team a break
Posted 06:40 19th February 2012
Johnnie Carslake (Arsenal fan) says...
Well if it's offered then it's HR choice but in the meantime for all the spurs fans lording it for Harry not to go and become the England manager if it is offered. What happens the first season spurs don't do so well and they start calling for Harry's head as we all know they would. Harry you get the chance and you want tthe opportunity to prove to yourself whether you got what it takes or not then you go for it mate cos life at spurs is limited. Don't take my word for it just ask some of your predecessor's.
Posted 08:33 18th February 2012
Karen Buckingham (Tottenham Hotspur fan) says...
Ilhan Dizdar (Tottenham Hotspur fan) I agree 100% with you. If anyone can get the best out of those players its Harry, but if he can't lift them..... what then..... i would hate to see the nation turn on Harry - he seems such a down to earth, genuine guy. It has happened to all the others....... such a risk. Can you imagine how Harry must be feeling. And i would like to say thank you also to Harry for the great job he has done and for being such an up front and outstanding person. COYS!
Posted 18:10 16th February 2012
Star K. burger (Chelsea fan) says...
Really? You think Capello won't go down as what he is? The most successful coach in English history? You think he got his tactics wrong? That Capello, who has won it all everywhere he went, got his tactics wrong? Really? And you think you know better? Redknapp (sr.) is talented, but he's no master tactician. He's no Capello, Mancini, or Mourinho. He would be great because he's a likable man that speaks the language and knows the players; but that's about it. He should get the job only for populisms sake. Capello was among the best things to happen to England for a long time, and once again the FA shot itself.
Posted 16:31 15th February 2012
Robert Bleasdale (Burnley fan) says...
yeah thats what we need a younger man in charge a pround englishman give phsycho the job pearce hasnt done badly with the under 21s and has exeriance in the england set up as a player and under 21 head coahch he also helped cappello at the world cup givem a shout for phsycho he will take us all the way !!!!!!
Posted 11:32 15th February 2012
Troy Harwood (Tottenham Hotspur fan) says...
No matter who takes the England job, we simply r not good enough YET. Leave r Harry alone and concentrate on someone like Sir Alex instead. At the end of the day he is the main man FA should go for. He would sort out the main pride and passion which we need in our players when they put on an England shirt. Sorry Man U fans !
Posted 22:58 14th February 2012
Daniel Kelso (Aston Villa fan) says...
I think Harry is the perfect man for the job but i really hopes he does not leave spurs for the job. Give it to him on a part time basis, let stuart pierce do the leg work til the euros with harry there in the background as an adviser so the work load for him is managable. I bet he could name his team now any way and the tatics he'd used! When the league finishes take over for the summer, let his assistants at spurs look after the club til the euros finsh, im sure if theres any seroius issues at the club they can pick up the phone and ring him. Simples and sorted! then after euros over haul the whole lot and find a different manager!! or give it to halloway!
Posted 18:07 14th February 2012
John Snape (Birmingham City fan) says...
The England job needs someone who will drop the so-called mega stars when they are off form and play the team in the correct positions. Capello shot himself in the foot by going against these principles in the World Cup. Harry has been lucky to have been given the cash to buy his success on a domestic level. Would Pompey have won the fa cup otherwise? I agree the England job can be a poisoned chalice, but the temptation may be too much to ignore. This opportunity may HR's last and he knows it
Posted 06:13 14th February 2012
Scot Innes (Manchester United fan) says...
I am a Scotsman, living in England. In my view England would be crazy not to offer Harry the job and he would be crazy to take it. But it is clearly his lifelong ambition and his destiny. No idea whether he will be successful but if he isn't it will prove once and for all the England team is not as good as everybody thinks they are. Harry will get the best out of them and if they don't win anything it will be because the players are not up to it!!
Posted 00:00 14th February 2012
Ilhan Dizdar (Tottenham Hotspur fan) says...
I am a Spurs fan and I wouldn't like to see Harry go. But he always said if he had the oppotunity he might take the job of managing England. This has been on the cards for a while and everyone knew that Capello's reign would come to an end an the end of Euro 2012 come rain or shine. Football is a multi million dollar business and I believe Mr Levy would have made some type of plan B for this eventuality. I think he can not afford to let Harry go without replacing him with a pedigree manager like Mourinho or Martin O'Neal. If he doesn't the supporters will turn against him and the momentum that Spurs has gathered on and off the pitch i.e.building of new stadium and financial commitments that comes with it will be seriously jeapordised. I would like to remind Harry what happened to Sir Booby Robson. He was successful. He got England to 2 World Cup Semi Finals and that was not good enough!! If Harry stays with Spurs he would be more successful and be our Alex Ferguson. May be he will have a stand named after him that would stay in history forever for the right reasons. He can put Spurs right up there in Premier League as well as in Europe. If 5 years of HMRC drained him and his family so much, England job has destroyed characters in much quicker time span. If he takes the plunge, I am qiute sure Mr Levy would get a hefty compensation form the FA and get Mourinho. I think, he is the only one that would be acceptable replacement for Harry. He has the crudentials to take Spurs to their old winning glory days. Mr Levy wnated to bring him WH Lane after his sacking but could not due to his contract. This might be his chance to do it. Whatever happens I would like to thank Harry for what he has done for us Spurs supporters and wish him well. Only time will tell......
Posted 17:47 13th February 2012
Shane Gillece (Manchester United fan) says...
It might be just me and a select few others that have noticed this but another two nations that have fallen so dramatically in recent years have been France and Wales. What did they do when deciding to appoint new managers? They went for fresh young and passionate managers in Blanc and the late Gary Speed. These two managers turned the fortunes of the two countries around and both look like completely different outfits now. I feel that Pearce should be given the shot to take the senior side into the Euros. I cannot think of another man that could rile up a team made up of pre-madonnas and get them playing for their country and pride quite as good as him. This is coming from an Irishman that thinks the notion of not shedding blood sweat and tears for your country is ridiculous but a good kick up th back-side seems to be needed these days!
Posted 16:25 13th February 2012
Paul Baxandale (Manchester United fan) says...
This whole mess is down to the stupidity of the FA. They hired Capello to do a job. Then they go over his head with out even consulting him and axing his choice of captain. They have now condemned a man before he has been proven guilty. I'm not a great fan of John Terry, but until he has been proven guilty he must be assumed to be innocent. To remove the Captains armband and then to say it's still ok to play for the team is hypocrisy. I cannot see anyone taking that job unless they have the complete control of team affair's, and that includes the selection of a captain. In ending I'm wondering what will happen if J.T. is found to be innocent of the charges, does he get the captaincy back? maybe a formal apology from the FA? It's time to get rid of the idiots at the FA.
Posted 14:55 13th February 2012
Jordan Garnett (Bradford City fan) says...
Harry Rednapp would be stupid to leave Spurs, unless he got the job part time or just for the Euros. Harry is the only manager who is worthy enough for the England job. Other than him who else is there? Roy Hodgson crumbled at Liverpool but did brilliant at Fulham and also West Brom. The only managers good enough are foreign ones. The nearest thing to an Englishman we'll get is a man who knows a lot and was succesfull in England: Rafa Benitez.
Posted 10:26 13th February 2012
Mark Falzon (Liverpool fan) says...
In my opinion, Harry is the best man for the England job but he should think long and hard about accepting such a role. He's doing wonders with Spurs at the moment and I believe he could well challenge the Manchester clubs for glory in the coming years if he stays on at Spurs. But the decision is only his at the end of the day. Whether he takes the job or not, he should still wait until after EURO 2012 is over before going on to be England manager. Let's face it England never had the slightest chance of winning the euros before so I say let Stuart Pearce carry on with his job as caretaker manager until the Euros. Maybe they should appoint someone else to work with him like Sir Trevor Brooking or else just bring back the only man who had any kind of success with the national team in the last 20 odd years... Terry Venables!!!
Posted 01:14 13th February 2012
Alex Lennard (Tottenham Hotspur fan) says...
As a spurs fan, I think it would be a real shame to see Harry leave. He's done an incredible job for the club, and will forever be a legend at white hart lane. But if he does decide to leave, then I think any manager in world football would jump at the chance to take the reigns at spurs. They have the best squad in the Premier League and with all the potential to become one of the best teams around!
Posted 20:51 12th February 2012
Martin Dalton (Birmingham City fan) says...
This should not be debatable! Simply, English manager for English players if we get another foreign manager then what happens if we were to meet his native country in a final? "Come on! Come on! Hurry up Harry come on were gona win the cup".
Posted 15:53 12th February 2012
Paul Stafford (Manchester United fan) says...
It doesn't matter who the new England manager is if we as a country let the press pick the team as we have in the past. Gerrard, Terry, Lampard, Ferdinand, Barry, and the like have let us down time after time and should not be picked ever again. We have a wealth of young talent now - Wellbeck - Young- Cleverly - Pogba - Richards - Wallcott -Ramsey - Wiltshire - Rodwell - Henderson -Hart - + Rooney and we need someone who can make them into a team and if this is done we might actually win something in the coming decade.
Posted 14:35 12th February 2012
Mary Gumsley (Arsenal fan) says...
Yes, Harry can do the job, and I disagree that taking the England job is a poisoned chalice and he will fail. England has had some very successful managers, even if not in recent years. His track record is impeccable and the players would do anything for him. Give it a go Harry - you know you can do it.
Posted 13:48 12th February 2012
Robert O'brien (Liverpool fan) says...
I think what ever decision Harry picks it will the right one. He is a great manager and always will be, In my opinion I think staying with Spurs is a better option because the England job has to much High Expectations with it and don't think it would be right for him at the moment maybe later on when he has done everything he can with Spurs and Is at the retirement age where England would be perfect because less matches but much more pressure.
Posted 13:36 12th February 2012
Kirk Wilson (Sheffield United fan) says...
we need an englishman for sure how can a manager run a team when he cant even speak the language?? not being funny but if i managed the england team i reckon we would have finished top of that group we would have won it without a manager or even a captain because of the sheer talent we have..Harry should be offered the job because he has done wonders where ever he has gone but he has had the financial means at spurs where he didnt at portsmouth and southampton etc...but even with harry at the reign we will still do well to reach the semis i think,, end of the day it comes down to the players and does Harry want to be remembered as just another ok england manager?????
Posted 12:02 12th February 2012