Arsenal were never going to win the Champions League this season, but the manner of their defeat to AC Milan will have hurt everyone at that club and none more so than Arsene Wenger.
We often wax lyrical about Arsenal's style of football, but they were completely outplayed, outfought and, worst of all, outpassed inside the San Siro.
That would have really disappointed Wenger because his philosophy has always been to get the ball down and play, but I don't remember them creating any clear-cut chances.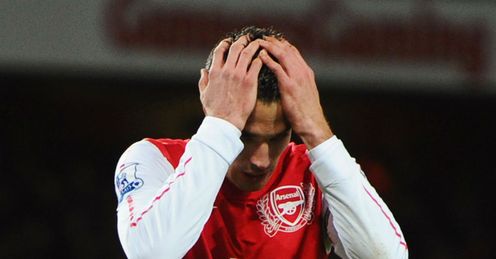 It surprised me because I looked at the teams at the start and thought for the first time in a while the Arsenal side was starting to take shape, at least defensively.
The back four they had out is probably as good as they've got with Bacary Sagna and Kieran Gibbs at full-back and Thomas Vermaelen back in the centre of defence alongside Laurent Koscielny.
The most important piece of business Arsenal can do over the next 12 months will involve the Dutchman and whether he stays or goes.
Jamie Redknapp
Quotes of the week
SKY BET ODDS
Fancy following Jamie's hot tips? Find all his best bets for the weekend at Sky Bet incluidng his Super 6 picks.
Bet now.
The only surprise for me was that Wenger didn't start Alex Oxlade-Chamberlain in midfield. Yes, he's young, but he's not a kid in footballing terms, he's a man.
He's burst onto the scene in the same way that Wayne Rooney did, he understands the game and there's no doubt in my mind that he's going to be a star. So to start Tomas Rosicky in his place was a bit of a shock.
For me, Rosicky is in the Andrey Arshavin mould in that he's never really cut it at Arsenal, especially in the big games. He's always been on the periphery and has never really been the star man.
And when you're going away in Europe and you're looking to keep things tight, he's not the sort of player that you need. That showed against Milan.
A year ago Arsenal beat Barcelona 2-1 at the Emirates, but they had Samir Nasri, Jack Wilshere and Cesc Fabregas playing that day. A year on they had a midfield which included Rosicky, Aaron Ramsey and Mikel Arteta.
Arteta is a good player, but he's no Cesc Fabregas.
Angry
Arsenal fans sound pretty angry right now because they're desperate to see their club win trophies and it's not happening.
A lot of the blame is falling at the feet of the manager, but I don't think it's as simple as that. In the last few years Arsenal simply haven't been able to compete in the transfer market with Manchester United, Manchester City, Chelsea or even Tottenham for that matter.
Instead, Arsene Wenger has had to try and keep things tight to balance the books, so you can't be too critical in that respect. If you want to compete at the top level, you have to have top players, not just coaches, and they cost a lot of money. Money that Arsenal haven't been willing to spend.
I can understand the fans' frustrations, though, because I played against unbelievable Arsenal teams like the 'Invincibles' and they were absolute monsters.
People like Patrick Vieira, Sol Campbell, Dennis Bergkamp and Thierry Henry could play against you any way they wanted, because they were so powerful. You couldn't outplay them and if you wanted to turn up and have a war with them, they would stand up to you and battle.
But you look at the current crop and you ask yourself 'where are the leaders?' Who in that team is going to drag them through a difficult period?
Alex Song plays defensive midfield, but he doesn't think he's a defensive midfielder. He thinks he's an attacking midfielder. He doesn't look at the opposition and think 'I'm going to stop you from playing today'.
When I look at that team now I think what a difference Scott Parker could've made and I'm not just saying that because my dad ended up signing him for Tottenham. This isn't about Tottenham and Arsenal, it's about signing the right players and he's one who Arsenal could've afforded, but chose not buy.
I think he would've been absolutely perfect for that football club and not just on the pitch, but off it, too. You only have to look at the impact he's had this season. And it's not just with hindsight, because it was so obvious at the time as well.
Everyone has their principles and Arsene Wenger prefers to buy young players who are technically gifted. But every now and then there has to be a signing that you make which breaks with your philosophy for the good of the team.
Contracts
I don't think they've helped themselves with their handling of contracts for their big star players, either.
We all talk about how well run a club Arsenal are, but they've struggled in this area in recent years. They let Nasri enter the final year of his contract before selling him to Manchester City, while both Theo Walcott and Robin van Persie only have 15 months left on their current deals.
You shouldn't allow players like that to get to that stage. They should always be tied down to long-term deals because if they're not, the players hold all the cards.
They've got themselves in a situation now where van Persie could leave the club on a free in 15 months' time, so what do they do now?
If he loves Arsenal and it's his club and he wants to stay there forever, then he will sign a new contract. But nights like Wednesday will give him an excuse to think about leaving.
And if Arsenal are forced to sell him what sort of message does that send to the fans and other players? You become a selling club.
The most important piece of business Arsenal can do over the next 12 months will involve the Dutchman and whether he stays or goes.
It's not all doom and gloom, though. They've got the FA Cup trip to Sunderland to look forward to and they're in that all-important fourth Champions League spot.
They've also got a local derby against Tottenham coming up, which - if you get the right result - can be the sort of game that can really turn your season.
Comments (43)
Vince Arrigo (Arsenal fan) says...
i am 68 years old and have followed Arsenal since i was quite a young boy. Never in my life have i seen such a disorganised team as this season. I feel that Wenger has overstayed his stay at Arsenal. i have never felt so humiliated as the with the game with Milan. shame on the club administrators to let this happen to a great club like Arsenal.
Posted 11:21 22nd February 2012
Sam Carr (Arsenal fan) says...
Another season without challenging for a trophy let alone winning one. I don't believe the team needs a massive clear-out of change as we have the foundations (if all fit for once) to challenge anyone with Schez, Sagna, Verm, Wilshere, Song, Ox, Theo and VP. We however need to get the players to support them who are strong both physically and mentally. My biggest gripe is how we continue to play 4-5-1 when we dont have the players to support it; Ramsey isn't an attacking midfielder out and out, VP is isolated and both wingers feel they dont have to defend because of it. Why not revert to 4-4-2 (like when we used to win!) or at least have the option to do so, that way the opposition may actually have to think tactically about what to do rather than knowing exactly what Arsenal are going to do. Dream but realistic team I would want to see: Schez, Sagna, Verm, DF (Sakho?), Gibbs, Ox, Wilshere, Song, Theo/Gervinho, VP and STR (Podolski?) or try Theo. Big summer coming up - the last for Wenger I suspect
Posted 08:25 22nd February 2012
Martin Seguya (Arsenal fan) says...
Just in case Arsene's hands are tied like many think, why doesn't he throw in the towel instead of ruining his reputation. I think he is part of the grand plan of sinking this once cherished club.
Posted 07:12 22nd February 2012
Barry Grimes (Arsenal fan) says...
Bring Back David Dein - He would never have let this happen
Posted 18:52 21st February 2012
Gerard Raven (Arsenal fan) says...
Im a lifelong Arsenal supporter and this has got to be the worse team Iv'e ever seen. It's no good Jamie Redknapp and all the other pundits saying not to blame the Manager but at the end of the day it all comes down to him. He was handed a 60million chest in January to buy players, he dilly dallied and, running out of time, went and bought a few players who havent got the right to put on the Arsenal shirt. Wenger knew we were desperate for players but didnt want to pay the money, now the club and the fans will pay the price. No tropies again this season and we will be lucky to get into the Champions League next season. There is not one club in the Premier that now fears coming to Arsenal and thats a fact. Its time wenger took a long break, and take some of the rubbish that now plays for this great club.
Posted 18:16 21st February 2012
Paul C (arsenal fan) (Arsenal fan) says...
Surely the board has to realise that the lacklustre performances will start to show on gate receipts soon ? How long can they expect to keep hiking prices and watching Arsenal play badly, surely its only a matter of time before people will start to boycott going to watch them. I know there is debt on the ground but the club cannot afford to be left behind in footballing terms. The team at the moment is poor, there seems no will to win, no pride and no fight in them . One thing for sure is that my season ticket will not be renewed next season, I'll save the dough I think and save myself the heartache ! Good article though Jamie, do us a favour and tell ya Dad to take the England job mate !
Posted 14:41 21st February 2012
Mohamad Behery (Arsenal fan) says...
I really appreciate Jaime's comments, he is saying it how it is. Arsenal are a complete mess and has something to do with the guys upstairs. We need to keep up with times, money talks and we need some decent investments. Where did the money go from Nasri and Fabs? The board really do need to sort themselves out as I would not be surprised if the fans either protest or strike or god forbid, both. The fashion of our play and players have declined like a plan crash. If you have love for the club, then look after it and if it needs money and fresh faces then let it be. We have a team which can perform but not all the time, us and Chelsea are hitting this brick wall. I can only imagine what will happen against Spurs, we need this "mental strength" that Wenger keeps talking about, what a load of...... Anyway I am not saying no more as all has been said. Wenger, please invest and wisely, we need mature and experience!!! AC Milan that taught us a lesson had all of that!!!
Posted 12:13 21st February 2012
Jason West (Arsenal fan) says...
I think what you guys have to realise here is that at any given day the likes of Man Utd,Liverpool,Spurs are all on borrowed time with finances, Things can change in a instant, look at Rangers... No one would of predicted that to happen to such a big outfit. So Giving the whole why arent we spending on players isnt something you should be worried about... Remember we still have a stadium to pay off, not exactly cheap these days. This brings me on to another mater, Silverware, Wow... ok.. lets look at this, Wenger comes, wins us plenty of silverware with a formidible team which we all knew wouldnt last for ever, But yet most of you so called fans have your eyes filled with greed demanding he is outed.. all i can say to that is LOL.. I think you guys fall under the catagory of GLORY HUNTERS and should come out of the closet of being Man U,Man City & Chelsea Fans. What Wenger isnt getting is Pride,Loyalty & Hunger from the players. Finger is pointed at them not the manager... He has proved himself... They havent so moan about them not him...
Posted 10:21 21st February 2012
Mason Minister (Arsenal fan) says...
Jamie's thoughts were pretty much spot on.. The thing that caught me the most was the comment about Scott Parker... I was dreaming my way to sleep almost every night during the window hoping we'd secure his services.. But no we got Yossi... And Arteta, no disrespect to him as I feel he's been a decent consistant player... But wasn't what we needed. For me this all started to happen when we started letting players go such as Hleb and Flamini... Not Just them two but just examples as to where I think this has all started. It's almost as if players leave when they feel. My point in a simple form is... If we hadn't let players go such as EVERYONE IN THE LAST 5years we'd still be if not winning everything!
Posted 17:04 20th February 2012
Ryan Herbert (Manchester United fan) says...
I just think that this; "When I look at that team now I think what a difference Scott Parker could've made and I'm not just saying that because my dad ended up signing him for Tottenham. This isn't about Tottenham and Arsenal, it's about signing the right players and he's one who Arsenal could've afforded, but chose not buy." says it all. Where are the wonder signings? Where was Arsenal in the race to buy parker? To sign Hazard? A few years ago when Ozil was mentioned, Arsenal didn't even feature. I remember not so long ago a rumour about a then flailing Benzema moving to England in the white and red fo Arsenal, now that's a laughable prospect. Good article Jamie. Wondering what you think about whether or not Wenger should continue, if not who should replace him?
Posted 15:35 20th February 2012
Casper Gimbrere (Arsenal fan) says...
Following on from my earlier post: the second frustration with the type of players is that we do not have a real ball winner in midfield who can shake things up with a crunching tackle like Vieira or a Tony Adams could do in defence. We lack a plan B and leader(s) in key areas such as defence and midfield where we tend to be outfought or overrun like we did against AC Milan and against Sunderland. So I really don't understand why Wenger and the Board have not looked in the last few years at buying 2/3 quality defenders with a bit of character and midfielders of a Makelele type as various pundits and fans have said because every year we fall short because of injuries or the lack of quality or this kind of leadership as the squad is too young and imbalanced I feel sometimes. Maybe it is down to money and long term security and paying the stadium off which I do understand but I would like to hear Stan Kroenke or Ivan Gazidis come out and explain the club's strategy on transfers, investment etc so we as fans can understand the reasons rather than hearing Wenger saying it on his own all the time. I will never stop supporting Arsenal as I love the club, its traditions and values but we must stop becoming the laughing stock in the final stages of every season and the talk of much promise, quality and desire otherwise we run the risk of having a more emptier Emirates in time to come which is the opposite of Arsenal's direction. Maybe this year we are paying the price for the prudent way the club has operated in the last 4 years but my fear is that if we miss CL qualification (which I think we will) or even Europa League we will struggle to keep RVP and attract the further quality we need. Major surgery is needed now!!! And keep Arsène at the club but involve Lee Dixon/Martin Keown, Dennis Bergkamp and Thierry Henry in the coaching staff......
Posted 13:24 20th February 2012
Casper Gimbrere (Arsenal fan) says...
Jamie always speaks a lot of sense, just like his Dad incidentally, rather than throwing the clichés around. I have been an Arsenal fan since 1995 when I came over here from Holland and was attracted by their style of play and ofcourse following Dennis Bergkamp and Marc Overmars who came to play for us. I am just as frustrated as every Arsenal fan that every season we promise a new dawn only to fail again at the important hurdles. I am not blaming Arsène albeit he carries the responsibility for team selection and us football fans are all quite fickle when the going gets tough. Arsène's record speaks volumes, to stay at the top of the Premier League and Champions League for 15 years is more than any club could dream of so for those fans to say Wenger needs to go I would point to those facts and say be careful what you wish for! Who could come and replace him then? That is not the answer. Arsenal are quite a conservative club and have always been run like that and from a business point of view I agree with the philsophy that long term viability is just as important as success. We only have to look at Leeds, Notingham Forest, West Ham etc what can happen if you invest for short term gain. In my view we never seem to have a plan B when it comes to taking on the opposition: in the days of Pires, Henry, Llungberg ect we used to sit back and hit teams on the break because we had the players. That has evolved to our passing and movement style of football that if it comes off is great to watch but since a few seasons we seem to overpass and run out of ideas when we get to the penalty box. Other teams are quite happy to let us play and keep posession but are hitting us on the counter instead like we used to and we just haven't got the pace and defensive quality to deal with that.
Posted 13:09 20th February 2012
Grahame Starkie (Arsenal fan) says...
Absolutely agree 100 percent with Jamie. We all know that the club has to balance its books and to overspend would be absolute madness in these very difficult financial times. However the club started to slide from about 2007/8 and several top players were either allowed to leave at end of contract (1 year left or less) or were sold off to rival clubs. We are now faced with a very difficult job of trying to compete for top 4 spot with a noticeably weaker team in order to earn more Champions League revenue and encourage top players to come to Arsenal. This wont be made any easier when you look at the way the clubs around us have strengthened recently. Arsenal need a new management team to freshen up the entire way the club is run. Arsene should take the French national job this summer (they are after him anyway), and he needs a new challenge where he is given the support he needs. We need a new approach to transfers with some more money being made available and actually used to buy the very best players available within sensible limits. Hazard, Goetze, etc. World class keeper, Centre back and Left Back, Attacking Midfielders. Only then can we regain some of our credibility and belief and go on to win trophies once again! Its time for a massive shake up at the club!
Posted 10:18 20th February 2012
Tyler Coady (Manchester City fan) says...
You have to feel for Arsenal. Financially you have to respect them and their principles in not losing money. But in this day and age, to win, you have to spend. His youth project has not worked out as of late with only Wilshere and the Ox making significant impacts. This summer will dictate the next five years. Last year they lost two of their best players, this year they could lose their best. If they dont go out and buy the likes of Hazard, Gaitan, Gotze, or Benzema, this team will suffer for a long time because they will not have the quality to compete with City, United, Spurs, and Chelsea.
Posted 03:33 20th February 2012
Peter James (Arsenal fan) says...
Wenger has lost ideas. For things to be back where they were in 2004, drastic changes have to be made. The board and Wenger don't care about how the fans feel. They care much about the money they are making forgetting that the money comes from the fans. Fans should stop watching matches as a way of showing that we need a trophy
Posted 11:48 19th February 2012
Jason Williams (Arsenal fan) says...
If Usmanov can buy out Kroenke then David Dein will return and relieve the pressure off Wenger. Everyone blames him and calls for his head but after 15 years at the helm, who else could be Arsenal's manager? I am terrified of the day he tenders his resignation
Posted 09:58 19th February 2012
Dave Waldon (Arsenal fan) says...
The problem is we are not trying to compete with Man City, Chelsea etc, this is obviously not possible but look at the Spurs team, we have much more ressources than Spurs, they have a much better team than we have without throwing money around.
Posted 09:12 19th February 2012
Marcio Silva (Chelsea fan) says...
Jamie,you are right mate!!!!!!
Posted 06:44 19th February 2012
Sydney Nare (Arsenal fan) says...
What you did is exactly slicing Wenger's weaknesses apart.He has bought cheap quality players and that is why his team is performing badly.He has done this more than once and he still thinks he has done a good job, when in actually fact everyone knows he has messed up.Wenger's weaknesses are so bare such that even a primary school kid would tell you that his team needs help from somewhere.
Posted 00:38 19th February 2012
Craig Taylor (Arsenal fan) says...
The truth is that the weaker player's cant cut it at the top,and the wage cap means we cant pay the wages,so that means we can only get future star,s,Arsene develops them and then they move on to clubs that can pay high wages,it,s a circle that cant be broke until Arsenal,the board or manager start to get more aggressive in the market and be prepaired to pay the money,good player's attract great player,s,weak player,s attract disappointment.
Posted 22:18 18th February 2012