It's been a positive season for Tottenham on the whole, but on Sunday we will find out just how mentally tough they are.
The defeat against Arsenal last week would've hurt them a lot and now they're faced with the prospect of playing the champions at home.
If I was a player and I had the choice to play either Manchester United or Bolton at home after a result like last Sunday's, I'd choose Bolton every time. And that's no disrespect to Owen Coyle's boys, but you only have to look at the league table to see why.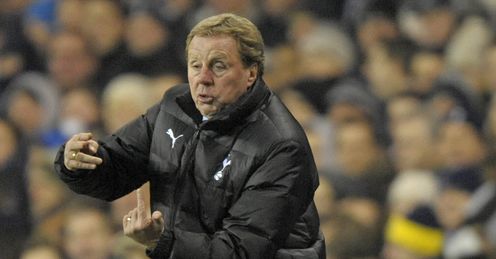 It will be Tottenham's first real test since back in August when they lost to both Manchester clubs and it will be interesting to see how they react to that defeat at the Emirates. They really lost their way in that game, but you have to give credit to Arsenal to come back from 2-0 down in the fashion they did - they were fantastic.
They showed a character which I didn't believe they had and players like Tomas Rosicky - who Arsenal fans will be the first to tell you has been pretty poor this season - really stood up to be counted.
When he's on top of his game it's like time stands still for him. He plays the game at a completely different tempo to everyone else.
Jamie Redknapp on Paul Scholes
Quotes of the week
LIVE ON SKY SPORTS
Tottenham v Man Utd
4pm, Sun, Sky Sports HD1
Watch on the move with
Sky Go
How to
remote record
When they got it back to 2-2 it looked as though they had all the answers and Tottenham seemed to lose that freedom in their play that they've had all year.
My dad made a couple of substitutions at half-time, because he felt they were getting overrun in midfield. He took off Louis Saha and Niko Kranjcar in place of Sandro and Rafael van der Vaart to add another body in there, but if anything that handed Arsenal the initiative.
Hindsight is a beautiful thing in football and I think he'd be the first to admit that he let Arsenal off the hook by doing that, because it meant Tottenham lost their threat up front.
But as a manager you have to make these decisions and sometimes they work for you and other times they don't. On this occasion, the only team it worked for was Arsenal.
Normally after a result like that you like to have a chat with the players on the Monday morning to see where things went wrong and talk through the issues, but they haven't had an opportunity to do that this week because most of the players flew straight off on international duty.
I think there were only about four players in training for Spurs this week, so it's difficult for managers. You have to wait until Friday at the earliest to run through everything and you have to assess what state the players are in when they return to you.
Tottenham already know that they will be without Scott Parker. It's a blow, but in Sandro they've got a ready-made replacement.
He's a fantastic player and a player who could be anything he wants. He's technically very good, he's quick and he can easily sit in front of the back four for you and do a good job.
Unfortunately he's had a lot of calf injuries, but when he's fully fit he's a fantastic player and he will slot in nicely alongside Luka Modric in the centre of midfield.
Key
The key for Tottenham will be to start well, because after last week's result the fans will be on edge and that nervousness will transmit down from the stands to the players if they don't. I've played in games like that and it's not pleasant, but the fans will be well aware that there is still a lot to play for this season.
It's never nice losing a derby, but for Tottenham this season is about a lot more than just beating Arsenal. They're still favourites to finish third in the Premier League and they're among the favourites in the FA Cup. If they qualify for the Champions League and win some silverware that would represent a great season for them.
As for Manchester United, they'll be fully aware that they need to keep the pressure on Manchester City at the top of the table.
City could be five points clear by the time we kick-off at White Hart Lane and Sir Alex Ferguson will want to close that gap as soon as possible. United have the advantage of having been here and done it before and that will be invaluable - especially when you've got two guys like Paul Scholes and Ryan Giggs in your team.
There's no substitute for experience and these two have buckets of it. I have to admit I was amazed when Scholes came out of retirement, but he has slotted back into the team seamlessly.
People talk about England ditching all the older players ahead of Euro 2012 in favour for youngsters coming through, but if it was that simple and the young players were that good, why hasn't Sir Alex Ferguson done that?
Brains
It's about building a team with a mixture of youth, experience, pace, power and brains and that's what Scholes offers; intelligence. He always plays the right pass and he makes that team tick and when he's on top of his game it's like time stands still for him. He plays the game at a completely different tempo to everyone else.
And like Giggs he's got a brilliant habit of always finding his team mates with the ball - you can't buy that.
Sunday won't be easy for him, though. He'll be up against an excellent midfielder in Sandro and in Modric he'll be facing a player who is probably the closest thing to him. They see a completely different picture on the football pitch to the rest of us, which is why they're such a joy to watch.
We should be in for a great spectacle because both teams will go for it, but I don't see either of them walking away with three points and I fancy a score draw. Tottenham will be looking for a reaction, but there's no bigger test than when Manchester United roll into town.
Comments (6)
Kieran D. (Tottenham Hotspur fan) says...
I'm a Spurs fan and I thought the EXACT same thing when Arry made those two subs.. I don't understand why Rafa always gets into the team ahead of my man Defoe, even when he's just come back from an injury and clearly not up to playing Arsenal. Throwing on a extra holding mid in Sandro was asking and pleading with Arsenal to pepper us with more shots when throwing on Lennon and Defoe would have completely terrorised Arsenal's defense.. Water under a bridge now so hopefully we can pick our selves up by beating the 12 players of Man Utd.. The 12th player being the Ref!!!!
Posted 10:40 4th March 2012
Dan Fish (Sunderland fan) says...
harry is a good man
Posted 09:43 4th March 2012
Jason Bailey (Tottenham Hotspur fan) says...
Gonna see if this team has the character to fight, its about time we beat Utd, however they are the benchmark for every other team. If losing 5-2 to Arsenal means we can get 3 points today, however possible, I will settle for that. Easier said than done
Posted 07:25 4th March 2012
Mudy Mike (Manchester United fan) says...
the assessment is very fair Jamie but i predict united to steal a win at White Hart Lane today, because they come into this game on a good run of wins in the league .... Spurs have a good side but i dont see them winning today's game.
Posted 07:18 4th March 2012
The Catcher (Tottenham Hotspur fan) says...
Why oh Why did Harry not go with Bale and Lennon on the wings, that is when we are at our best, we tried to counter the Arsenal formation instead of playing our own. It will now be very hard to pick the team up after that and with games against Man Utd, Everton and Chelsea i could see us going into free fall.
Posted 10:31 2nd March 2012
Jase Auluck (Manchester United fan) says...
That's a fair assessment Jamie, but I do think that Harry showed his shortage of tactical nous by not telling his players to shore up before half time, and even making such substitutions when his team clearly had weapons up top. Having said that, he would've learnt from last week and give his team some proper shape this week. As for team selection, I'm not 100% sure Bale will make it and Parker is obviously out too, so hopefully that cuts out some Spurs potency because they certainly have plenty. Unless you got a striker of Robin van Persie's quality up-top, than the Spurs front line will give you more problems than you give them. That's why I think United will go for a 4-4-2, with Rooney slotting in midfield (if he makes it) when the time comes. I know the defending in the big games has been shocking this year, but I am sure Fergie and United would love to steal a 1-0 victory here, with the most dullest of games. And I think while Spurs will put us under immense pressure because they got the talent to do so; I think we got the talent to unlock their defence and the tactical nous and mental strength to see it through. Then it's over to City to have their hard run of games, and see how they cope. We need to be in striking distance as City will drop points soon and we need to pounce, not vice versa. So come on United, I don't care about performance, just get the 3 points at White 'Home' Lane!
Posted 09:22 2nd March 2012