If you ever need an example of the value of having experienced players in your side, then look no further than Stamford Bridge on Wednesday night.
There has been a lot of talk at Chelsea about getting rid of the old guard, but you cannot completely discard players once they reach a certain age, and the game against Napoli proved that.
Of course Frank Lampard and Didier Drogba can't play every game, but you can still use them in a way that you get the best out of them. The key is dialogue and that's what Roberto Di Matteo has introduced since taking over from Andre Villas-Boas.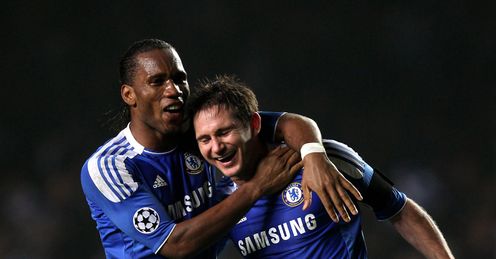 He explained to a few of the senior players that they wouldn't be playing against Birmingham in the FA Cup last week because he wanted to keep them fresh for the games against Stoke and Napoli, and that's fine. They knew where they stood.
In contrast, Villas-Boas kept the players completely in the dark to the point that he was being a bit awkward, and he ended up paying the price.
Villas-Boas kept the players completely in the dark to the point that he was being a bit awkward, and he ended up paying the price.
Jamie Redknapp
Quotes of the week
LIVE ON SKY SPORTS
Man City v Chelsea
7pm, Wen, Sky Sports HD1
Watch on the move with
Sky Go
How to
remote record
There is no doubt in my mind that players have the ability to get managers sacked. I've been in situations during my career where a chairman has come up to me and asked me what I thought. Personally that always made me a bit uncomfortable.
There were times I didn't want to bump into the chairman, because I knew he would ask if the manager was doing the right things and whether the players still supported him. In my opinion, players shouldn't be getting involved in conversations like that.
In this case it wasn't so much what the players said, but how they performed under Villas-Boas which was telling.
Self-preservation
Chelsea is a different place from four or five years ago when they wanted the best players there with them to help them achieve great things and to win European Cups and league titles.
Now, in some cases, it looks like it's more about self-preservation. There will be a few players just looking out for themselves who will want a manager who likes them and makes them part of his plans.
I do think that if Villas-Boas had just taken a step back and did things a little bit differently he would still be in a job now. But he chose to go in and start fighting players, when I don't think there was ever any need.
As a manager you have to be smarter than the players and one step ahead of them all the time. He didn't help his own cause in the first leg against Napoli, for example, when he dropped three senior players in Michael Essien, Ashley Cole and Lampard.
They might be getting on, but they still have miles in them and it's not like their legs have gone. Whether you like them or not they still have something to offer to that football club, so to cast them aside in that manner was a mistake, especially because they are all such strong influences.
But having strong characters in your dressing room does not have to be detrimental to your cause, as long as you deal with them in the right way, which is why the decision by Roman Abramovich to sack Carlo Ancelotti last summer looks more and more like a nonsense every day.
Ideal
Here was a manager who had won everything in the game, had gone in and settled everyone down and could handle all the egos; he was the ideal man.
But having sacked him the decision to appoint Villas-Boas baffled me. We have a tendency to think that foreign managers are better than any British ones, but that simply isn't true. The most successful manager in Premier League history is Sir Alex Ferguson and you can't tell me that David Moyes couldn't have done a better job than Villas-Boas.
Yes, Villas-Boas did fantastic at Porto, but to overlook people like Mark Hughes and Martin O'Neill - both who were out of work in the summer - and Moyes who has been doing an incredible job at Everton over the last 10 years just doesn't make any sense to me.
I don't think Abramovich ever got over Jose Mourinho leaving and it's almost like he was just going for a younger model with Villas-Boas. Both men had done brilliantly with Porto, were young up-and-comers and, of course, the same nationality, but unfortunately for Chelsea he didn't come near to recreating the success Mourinho had.
Idolise
They say never go back, but I don't believe in that which is why it wouldn't surprise me if Mourinho did end up back at Stamford Bridge.
The fans still idolise him, he's yet to sign a new contract at Real Madrid and I can picture him winning the Champions League, throwing his medal into the crowd and jumping on a plane back to London.
But whoever comes in will have to understand that they need to move the team on with the help of good senior players, and I think an English core is essential.
Manchester United have always had that and players like Cole, Lampard and Terry will continue to be important for Chelsea, even if they don't play every match.
Comments (21)
Alan Wilson (Chelsea fan) says...
Keep them there much longer and you will need a zimmer frame park. They are not the future of the club and it's in this state because of them and that they want to manage the club their way. Name me one club that has this many managers in such a short time?
Posted 17:45 20th March 2012
Arnab Dutta (Chelsea fan) says...
It was a mix of many things. Firstly the substitutions, initial team composition by AVB were laughable. He was learning slowly. Players were trying but they all seemed clueless. Absence of John Terry on the pitch made a huge difference. Lampard put it well that 'AVB was trying to change things too quickly' and it's true. Players were making mistake, Old guards or not so old ones. Drogba was out for African Nation cup, JT was out, Lampard was hardly played, Cech was strong, Luiz was learning, Cole was average , Ivanovic and new boy Cahill were making mistakes, Essien was missing, Torres was suffering with his confidence (especially when the budding forward was left on bench for first half of the season by AVB) .Chelsea lost every time when Mata had a bad day. All things contributed. Plastic morale building with training handshakes etc do not make much of a difference. AVB was too obsession with his job/ project that he lost the sense of what he is doing currently. You can't disassemble a team and assemble again in few months, especially without the leaders in the team and without spending for a strong midfield. Chelsea lost in midfield mostly. They always scored in most games, where they lost was in midfield and defense. It all contributed. It's not about player power. We all saw AVB losing the plot slowly after loss at home vs Arsenal.
Posted 15:07 19th March 2012
Alex Kyri (Chelsea fan) says...
I think people having a go at the players are forgetting that Villas Boas' tactics were pretty ordinary and quite naive for the premier leage. Schoolboy tactics. Chelsea are actually quite lucky to still be in contact with the top 4 when you take into account his tactics and team choices.
Posted 12:44 19th March 2012
Dwight Hlungwana (Chelsea fan) says...
I'm siding with Smith and James Macnamara, manage or no manager players play and prove to the coach they can do the job, last season the old guard won nothing, what made them think they can win something? The mandate from the top was restructure the team for the future, with no money, no great players, what do you do? If Scholari was more experienced and better with tectics then he would've survived if players he needed were there and those who were there supported him. Ranieri is good, Scholari is good, AVB is good, Ancioti is good, Mourinho is good but they were all sucked, but the players remain, why? 75% of the current squad are Mourinho's loyalists (cry babies, when things go bad, they play worse). Therefore if Chelsea win is the players and when they lose is the coach.
Posted 09:41 19th March 2012
Chiles Panicker (Chelsea fan) says...
I should say I am loving the new CFC under RDM but lets not get ahead of ourselves. AVB came here with a goal in mind and a vision for a younger faster and dominant CFC but obviously fell short of that . But what happens after this season ends? Do we get a new manager or is RDM going to be given a once in a lifetime chance? What happens to the team composition and the teams synergy ? I think we should enjoy this run of form till the end of the season because come end of season what ever may be the outcome a new high profile manager is going to take over and it's going to be hte same old story at CFC and who know . Let's enjoy this good run till it last
Posted 06:57 19th March 2012
Ochuko Steve (Chelsea fan) says...
personally, i don't think anybody of sound reasoning should sit somewhere and be running down individuals that have given us such feeling of belonging over the past few years. AVB wasn't just naive, but he actually let his naivety to becloud his jugdements - of course his team selection and tactics would easily pass for the worst in the post-Mourinho era. i share in d sentiment of one of the commentators above that if we cannot get the special one back yet, then RDM should be given evry support he can get..kiping it blue!
Posted 04:26 18th March 2012
James Macnamara (Manchester United fan) says...
Hi Jamie, I¿m sure you¿re right when you say AVB got some things wrong but I think that goes for some of the players too. Players shouldn¿t be making comments publically about their relationship with the Manager etc, particularly if things aren¿t going that well. Those things should stay private. The timing of some of those comments have stuck in the throat and its come across as putting the boot in. All this talk of how to manage the senior players is getting out of hand. Of course it¿s important, but only up to a point, otherwise it becomes a case of the tail wagging the dog. These players are not the Manager. They are paid a fortune to play for Chelsea and they should stick to doing that. If this was a one-off you could give the players the benefit of the doubt but this has happened before at Chelsea. Scolari, who had far greater experience than AVB, and had handled some of the best players in the world, had similar problems and was run out of town in very little time as well. That tells you that there¿s more to it. The Chelsea players have been protected by the fact that the Owner is not strong enough to back the decisions he makes over Managers in the long term.
Posted 12:45 17th March 2012
Phil Hasler (Chelsea fan) says...
the past is the past all the players and staff should be looking at 4th spot. then we can look at who is going to be in charge and who is playing.
Posted 12:32 17th March 2012
Nick Foskett (Arsenal fan) says...
What jamie Redknapp says in his article makes sense , but it proves that the so called old guard of Chelea hold their supporters in CONTEMPT and have very little pride in their own performances either as players or human beings, they are paid fortunes to ply their trade and should give their all irrespective of their feeling about the manager
Posted 12:13 17th March 2012
Gerry Sadler (Chelsea fan) says...
john smith...as a manager avb was inept ,coudnt command a dressing room of players that knew more than he did ,tried to enforce tactics that where ludicrous ,ashley cole for instance dropped with lampard ,drogba for napoli away, plays boswinga (rb) at left back, not telling players his plans or tactics ,even roman had to go to cobham to try to find out what he was trying to do ?no respect for players ,we lost alex due to him ,park in the reserves car park cos we dont want you ,his treatment of anelka , not even allowed to go to the xmas party and the list goes on. jamie redknapps quote above is about right .basically to young,tactically inept,awkward, not strong enough to manage a team like chelsea....unprofessional by the players i think not ,unbeaten now since rdm took over ,the players are now starting to prove they where right ,robbie has them all on board uses the senior players such as terry to help ,aka extra time against napoli ,now a team together again .
Posted 11:32 17th March 2012
Barry Coleman (Chelsea fan) says...
Got to agree Jamie but not with you John Smith. Too many people jummped on the bandwagon and blamed Lamps/JT but most of it was down to AVB and Ancelotti should never have been sacked. You don't need to be young to change a team ask Manu and Spurs. He made poor tactical decisions/substitutions and team selection and clearly was hopeless at communication. Respect is earned both ways and he showed none to CFC players who are still the best we have.
Posted 10:53 17th March 2012
John f Smith (Chelsea fan) says...
Yes i do believe some players have a lot to say, but these have also been the players who have seen Chelsea through many cup Finals League leaders for two years, but the manager should respect this and work with them, the training ground bust up with Alex & Anelka i think was the beginning of the end for AVB, but now lets look forward under RDM a Chelsea favorite hes doing a great job with all the players,and he is even having their imput this is what i call team bonding,and as long as it gets the right results long may it continue, Come on you Blues
Posted 09:39 17th March 2012
Max B (Chelsea fan) says...
Agree with John Smith that the old guard were unprofessional, but at the same time I don't think if I was a world class player being made to feel like a schoolchild I would have acted differently. We need new blood in the team, but Jamie is right, players like Cole, Lamps, JT and Drogba have so much experience and knowledge of the game they are still vital if we want trophies. Personally I'd do anything to get Mourinho back in the summer. To all of us he's still a god, and sacking him could have been the worst decision in the clubs 106 year history. Having said that, Robby D should get a shot, after all he's still a hero and who could forget what he did for us as a player. If it's not Mourinho in the summer, keep Di Matteo. Only solution to long term stability.
Posted 09:00 17th March 2012
Babs John (Chelsea fan) says...
@John Smith.... I don't think you got it right. What do you expect of the senior players when the coach blatantly said Chelsea players are not as good as Mancity players. That's outrageous! He's naive. Imagine, telling the players whoever does not buy into his plan could leave in summer. How then would he had wanted them to play for him? So he could use and dump them in the summer? He's not as smart as the players. Above all, he speaks to the press more than he speaks to his players. He needed to have made them believe in what he's doing, carry them along and seek for their opinion where necessary. He could not have imposed a lot within a short time without expecting such problems. His man-management has failed him.
Posted 01:01 17th March 2012
Landon Filer (Chelsea fan) says...
Whether the old guard got Boas the push or not isn't the point. He simply didn't get results. He picked the team, he chose the tactics and as manager he paid the the price for poor results. Everyone knew the Chelsea squad needed freshening up after the winning the double in 2010. Carlo done brilliantly to galvanise an ageing team. He should have started the evolution of the sqaud then, but for whatever reason he didn't. Some Youth should have been blooded-in, a couple moved on (eg. Malouda / Ferreira / Mikel / Kalou - not all at once though!) and a 'stella' signing to keep momentum. Instead we sent the youth out on loan AGAIN, didn't move anyone on and allowed the whole squad to believe they could lift another double or the Champions League! The 2010 team did a spectacular thing against all the odds and it was a fantastic achievement but to believe they could repeat it was, I think, folly. So instead of evolution, two years on we get revolution. Fergie has handled Giggs and Scholes brilliantly, using their experience when required and sparingly at other times. Meanwhile he was able to blood younger players.....and keep winning titles. Ancelloti failed to start this process and Boas's approach was far too rash and dictatorial. Why oh why did he make a last-minute bid for an average midfielder and then send Josh McEachren on loan.... play Bosingwa (out of position) at left back when we have a young perfect Cole replacement in Ryan Bertrand. Fans would accept a season of transition if indeed that was happening, but it hasn't and that sits firmly on Boas's shoulders and to a lesser degree on Carlo's too. Whoever comes (in if RDM doesn't keep the job), I hope will do these things. I personally would welcome back Mourinho or Hiddink with open arms but they are just my preferences, but please, NO fat-spanish-waiter, NO NO NO NO!!!!! Up Chelsea.
Posted 17:04 16th March 2012
Stuart Eastwood (Chelsea fan) says...
Sorry John Smith - how did you draw that conclusion from Jamie's article?
Posted 16:43 16th March 2012
Brian Keogh (Arsenal fan) says...
I'd say QPR wish that they had taken a look at Mark Hughes!!!
Posted 16:43 16th March 2012
Wayne Hatton (Cardiff City fan) says...
The old guard did well but why didn't they throw themselves into tackles and give 100% for AVB? Yes he made mistakes but a player running around giving 100% is not down to AVB. They should be professional enough to do this as they say they love playing for Chelsea. Player power does play a part at that club so god help the next manager if the old guard don't think he is the right man for the job.
Posted 16:24 16th March 2012
C hristine Sanderson (Chelsea fan) says...
I totally disagree with the above comment. You have to earn respect to get respect and AVB showed none to the Chelsea players, especially Alex and Anelka. I lost all trust in him when he banned them from the first team's facilities. I was glad when the correct decision was made and I look forward to a brighter future for the club.The difference JOHN TERRY has made since his return from injury just confirms what a fantastic captain he is and England will be a poorer team without him wearing the armband.
Posted 15:45 16th March 2012
Jake Grice (Chelsea fan) says...
It's very popular to be bashing our senior players at the moment and pretty unfairly I would say. I can completely see they may not have performed the way they should have done but that has to rest also with the manager not just the players. If if from the start he had got the seniors onside and used tactics that fitted the players he had then maybe we would of done a lot better this season. We have shown we are still a top European team in beating Man City, almost beating United (anybody with a set of eyeballs could see we should of won that game) and of course the brilliant result at Napoli. Player power is the reason we have had so much success over the past few years because without it the amount of managers that we have been through the team would of been a shambles. Drogba, Terry and Lampard all deserve respect for what they have managed to achieve over the past years and if they truly do hold the cards at Chelsea then maybe they deserve even more as they stopped the team falling appart.
Posted 14:27 16th March 2012