It's time for Tottenham to stand up and show some real fighting qualities, otherwise their season will end in disappointment, despite all the hard work they've put in.
When they met Arsenal last month they were absolutely flying and it was Arsene Wenger's men that had all the problems, but it just shows you how vital confidence is in football.
When your confidence is high as a player you don't even have to look before you pass, you know exactly where everyone is, but when it's low it's like you're playing with blinkers on. You seem to lose your peripheral vision and it's difficult to explain why.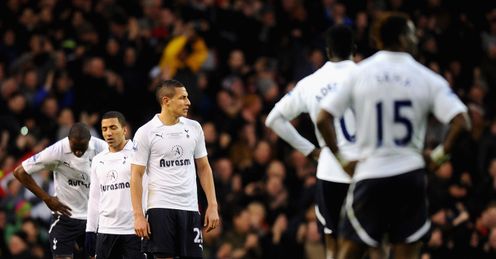 Since Tottenham's defeat to Arsenal four weeks ago they've picked up just one point in four matches and that is all down to confidence, as they haven't had too many injuries.
In contrast, Arsenal, who were supposedly in turmoil at that point, have gone on and won five games on the trot. In fact, I think Arsenal are a good model for Tottenham to look at because they couldn't buy a win before that match, but there is a real flow to their game now and they're playing with the kind of freedom that Tottenham had earlier in the season.
England
Totteham's bad run has coincided with my dad being linked with the England job, so people put two and two together and assume that's the reason, but it's simply not true.
Totteham's bad run has coincided with my dad being linked with the England job, so naturally people put two and two together and assume that's the reason, but it's simply not true.
Jamie Redknapp
Quotes of the week
LIVE ON SKY SPORTS
Chelsea v Tottenham
12pm, Sat, Sky Sports 2 HD
Also showing on Sky 3D
Watch on the move with
Sky Go
How to
remote record
There is no way he would have taken his eye off the ball, his focus is totally on Tottenham and you only have to see how devastated he is after a result like the draw against Stoke this week to know that. You can hardly talk to the man.
But it is difficult having something like that hanging over your head and for my dad, Roy Hodgson and any of the other managers linked with the job, every game must feel like an audition, which brings even more pressure.
But what do the FA do? Everyone is saying they should have made a decision by now with the Euro 2012 just around the corner, but if they go and publicly appoint someone and their team's performances start to suffer then everyone is going to blame them.
And obviously they can't start tapping up managers without going through the right channels and speaking to the chairmen of the clubs first, so they're damned if they do and they're damned if they don't.
As for the players, I can't see them giving any less than usual, despite the speculation, because there's still so much to play for this season. There's an FA Cup quarter final against Bolton on Tuesday and a place in next season's Champions League, which will help move the club on and bring new players in.
In any season you're going to have a poor spell and Tottenham's has occurred at a bad time. I go to most games and there's a few players whose form has dropped.
Scott Parker was like Iron Man earlier in the season, but all of a sudden he's looked a little bit tired and he perhaps he isn't having the influence in games that he was a few months ago, and something like that can make all the difference.
Tight
Next up for Spurs is a trip to Stamford Bridge, in what is a notoriously tight game. The last time Tottenham won there Gary Lineker scored, so that should tell you everything!
Chelsea have had a mini revival recently and are right back in the mix for a top-four finish, so this is a pivotal game in the season for both teams.
Fernando Torres came off with about 25 minutes to go against Manchester City on Wednesday night and I'm sure that substitution was made with one eye on Saturday.
I don't think we'll ever see the Torres from Liverpool, when he was unplayable at times, but he ended his goal drought last week and I think he's still got a lot to offer.
Often these games come down to individual battles and I think the key area on Saturday will be down Chelsea's right, between Gareth Bale and Jose Bosingwa, who looks like he will play right-back after Branislav Ivanovic went off injured against City.
If Bosingwa can get Bale running back towards his own goal, I think that could potentially win the game for Chelsea. However, if Bale can show his early season form - and he was sensational against Stoke - Tottenham could be walking away from Stamford Bridge for the first time in 22 years with three points.
As it is, I think it will finish all square and that would be a fantastic result for Tottenham, but it will require everyone sticking together and showing some real character.
Comments (10)
Ahrash Rastegar says...
Harry could do his team a world of good by announcing that he's staying with Spurs for the long-term. I think Tottenham went through a good run in the beginning of the season because of their fantastic response to early season losses. As rumors and speculation percolate, the Tottenham squad cannot help but wonder if their leader will not be there next season. Players want to be part of a successful long-term project and with chance of Harry not being their next season, their motivation to play for next season has dwindled.
Posted 04:54 24th March 2012
Phil Swift (Tottenham Hotspur fan) says...
The main problem with the spurs side through out the season has been our left back, Ekotto. He seems to switch off at vital moments and looking back at previous losses his positional play has cost us against the big teams. Although Arsenal played very well against us he cost us at least 3 goals. He was asleep from a throwing against Man U and also played half the stoke team on side the other night. Not good enough for a team that should be pushing for trophies in the next couple of years. We'll need a bit of luck tomorrow but I think we can win. Chelsea defence is worse than ours. COME ON THE SPURS
Posted 18:45 23rd March 2012
Mark Lynch (Tottenham Hotspur fan) says...
Well Harry could stop a lot of this speculation by refusing to answer questions about the England job, rather than seemingly answering. And yeah Parker is looking a little bit tired. But unsurprising as apart from his 1 match suspension I can't recall him missing a match. If he's looking tired why is Sandro or Livermore not playing instead?? And why has Harry not recognised that we were at our best earlier in the season when we were playing with speed and width? In recent weeks Lennon has been injured (again), yet he keeps playing midfielders who aren't wide men on the right instead who wander in field all the time thus losing the width. Additionally Harry also seems to have instructed Bale to do the same - he's rarely on the left wing these days. And why are our set pieces so poor?? I think we've had well over a hundred corners since we scored from one, and I don't think we've scored from a free kick this season, and i can't remember us scoring direct from a free kick last season either. Why do we not practice them?????????????
Posted 13:54 23rd March 2012
Larry Sequeira (Tottenham Hotspur fan) says...
Spurs need leaders. Its unacceptable that the team accept they have had a run of bad games. Teams such as Manu, City, Arsenal and Chelsea, pick themselves up quickly after a blip. Those are title qualities. Spurs sadly in my opinion have gone back into their old ways--cannot win anything, won't succeed mode. It is psychological and a mentally that needs to change. Success is being prepared mentally and skillfully. Spurs could have won matches they lost if only there was more nouse about their play. They need to improve defensively and in the final third where a lot of their attacks peter out.
Posted 11:16 23rd March 2012
Paul C (Tottenham Hotspur fan) says...
Jamie, if confidence is sooo important how come low on confidence Arsenal beat high on confidence Spurs. That's a cliche'd opinion. It's not confidence. They're not babies. Spurs have been unbalanced since Lennon was injured forcing players to play out of position. Whilst they should be able to cope with this ordinarily they can't because of the pace Lennon provides. When Spurs attack they go down both sides at speed. Without Lennon this balance is gone. There's the problem.
Posted 11:11 23rd March 2012
Jamie Dorrian (Tottenham Hotspur fan) says...
If spurs have lennon playing i think they will win, the pace of lennon and bale on both wings will tear chelsea apart. Also lennon brings the balance back to the side, spurs need to get back to the same team that went on the winning streak with ade up top and vdv playing behind him also.
Posted 10:56 23rd March 2012
Dan Jakes (Arsenal fan) says...
Yea a draw would be a fantastic result....for Arsenal if they can beat Villa!
Posted 10:47 23rd March 2012
Peter Vickers (Tottenham Hotspur fan) says...
spurs badly need lenon back and modric plaiyng at 100% not as seems to be with hi mind somewhere else?
Posted 10:47 23rd March 2012
Sam Skinn (Arsenal fan) says...
true dat but arsenal will be third
Posted 10:33 23rd March 2012
Vinkle Juneja (Chelsea fan) says...
I think Chelsea has a edge over spurs in this match. The record suggests that and moreover match being played at the bridge and moreover spurs are quite low on confidence going into the match. So chelsea being slight favorites in this match. Although Ivanovic will be a huge loss, but getting terry back for the match will a very good news for the blues. Chelsea look much solid at the back with terry in the team rather when he is absent. I also want RDM to show some postivity in picking the team, The Team he picked at Eithad was very defensive minded and he should play Danny along with drogba in place of Torres. I think the match will be decided on how many goals the blues will concede as I believe blues can score 2 or more in this match as spurs are also not very strong defensively. So it all comes to the defence of both teams on how they perform on that particular day.
Posted 10:24 23rd March 2012