Chelsea earned an amazing result against Barcelona on Wednesday night and that win will give them a huge boost ahead of another important game this Saturday, when they face Arsenal at the Emirates live on Sky Sports.
We wondered before their semi-final first leg with Barcelona whether Chelsea would have any special plans for the Spanish champions but, apart from moving Ramires from the right to the left to counter Dani Alves, the tactic was pretty much just to get men behind the ball and defend for their lives.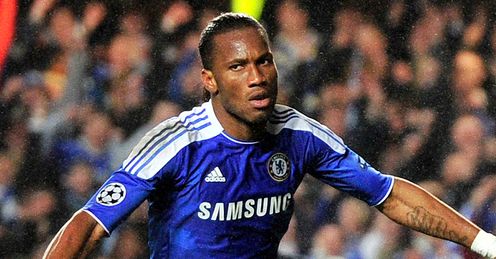 If you're going to do that you have to be clinical when you get a chance - and they were. Didier Drogba had Chelsea's only opportunity of the game and he put it away. That gave them something to hang onto and now they've given themselves a real chance of making the final. I'd say the tie is nicely balanced at 50-50 going into the second leg.
Chelsea to qualify for the Champions League final - 2/1 with Sky Bet
Drogba's goal gave them something to hang on to and now they've given themselves a real chance of making the final. I'd say the tie is nicely balanced at 50-50 going into the second leg.
Jamie Redknapp
Quotes of the week
LIVE ON SKY SPORTS
Arsenal v Chelsea
12pm, Sat, Sky Sports 2 HD
Also showing on Sky 3D
Watch on the move with
Sky Go
How to
remote record
It could have been different, though. It's so hard to shut Barcelona out for 90 minutes. They run from out to in all the time and there were moments when it really was fine margins between Chelsea keeping a clean sheet and Barcelona getting that important away goal. Even in the last minute, Sergio Busquets could have changed the complexion of the whole tie, but he fired over the bar.
At the other end of the field, Drogba was making headlines for his goal scoring but also for the amount of time he spent on the floor. He drives you crazy but you can't deny the form he's in. The goal against Tottenham was fantastic and I'd go as far to say he is the only forward in the world who can score a goal like that, lashing it in with his left foot.
The other side to his game isn't ideal. He'll say he is doing it for the team and trying to kill the game as much as possible but it's not nice to see. On the other hand he's not the only player who does it and he's been doing it for many, many years so I don't think we should be surprised!
Di Matteo on the rise
One man whose reputation continues to grow, though, is Roberto Di Matteo. Has Chelsea's revival been down to Di Matteo doing a great job or was Andre Villas-Boas just doing a particularly bad job? I think it's a bit of both.
When you look at that Chelsea squad there is no way they should be scrapping for fourth place in the Premier League. In seven of the last eight seasons they've finished in the top two and it's not a case that they've stopped buying quality players - they've brought in Juan Mata, Ramires, Fernando Torres, Gary Cahill and Raul Meireles. But Villas-Boas got it so wrong in terms of communicating with the players.
He got it in his head that he had to dismiss Drogba, Frank Lampard and Nicolas Anelka. I'm sure they would like to have Anelka now. Look at the performance of Ashley Cole against Barcelona - why would you dream of dropping him? It was a strange situation.
Get the latest Premier League odds from Sky Bet
Di Matteo has just shown some intelligence since he took over. He's looked at the players he's got and thought: 'Yes, they're getting older but they've got something to offer and while they have I'm going to utilise them'. These players have got loads of experience and now they're in an FA Cup final and they've got a chance of getting to the Champions League final.
He hasn't done anything drastically different tactically, although I have noticed they've been playing more directly than they were under Villas-Boas. There's nothing wrong with that, though - especially when you've got an in-form Didier Drogba up front.
Everyone wants to play like Barcelona but only a certain few can so you've got to work with what you've got. If you feel the best way to play is be direct and difficult to beat then why not? You can't change things overnight.
Gunners will return fire
The tough games just keep on coming for Chelsea. After an FA Cup semi-final with Spurs and their draining defeat of Barcelona they've got Arsenal this weekend in a match crucial to their top four ambitions.
It's a real cliché but it's true - every game is like a cup final for Chelsea at the moment. They've just got to keep on winning.
I expect Di Matteo to use the Arsenal game as a chance to freshen up his line-up and they've got plenty of quality they can bring in. It's a game where people like Daniel Sturridge, Torres and Florent Malouda will get a chance. Mata and Ramires ran marathons at the weekend on the wings and I wouldn't be surprised if they get rested.
But Chelsea can't take their eyes off fourth place. From four weeks ago it's been thrown wide open and they've been given a great opportunity with Spurs and Arsenal making mistakes.
Jamie's backing Arsenal to beat Chelsea - evens with Sky Bet
Having said that, though, I fancy Arsenal for this game. I think they'll pick themselves up for this game after losing at home to Wigan on Monday night. You have to congratulate Wigan on a magnificent performance but I just felt Arsenal got a little complacent against them and really gave a gift to the other teams chasing fourth.
I expect Chelsea will be a little fatigued after their efforts against Spurs and Barcelona and will subconsciously be thinking about Tuesday night. The Blues will have a bit of a spring in their step after getting those wins but when you look at the way Arsenal played against Manchester City when they were fully fired up and focused, I think they will just edge it.
Comments (5)
Eric Ansah (Chelsea fan) says...
just mark my words;Arsenal's will be the next victim of the Roman Empire2s AXE, CHELSEA 5 arsenal 1. just a hatrick,from you know who ::EL NINO .
Posted 16:43 20th April 2012
Steve Geezer (Chelsea fan) says...
I personally see us running out of steam,we can honestly say now that barcelona are beatable and possession means nothing when you dont take your chances.we did they didnt but i dont see it being the same out there.as for the arsenal game,although wigan more than deserved victory,i dont see arsenal rarely losing 2 home games on the spin in the modern game,the draw is best we can hope for.especially with drogba out now.this time next week i see the f.a cup and an outside chance of catching newcastle..fortunately we can easily beat them at home after seeing what we did to them away.playing as bad as we were at the time.
Posted 16:19 20th April 2012
Matthew Cross (Arsenal fan) says...
its gonna be close either way
Posted 14:57 20th April 2012
Paul Jones (Liverpool fan) says...
I understand what you said about AVB dropping players and ruling them out of the squad and trying to play a way that the Chelsea players either didn't like or simply couldn't play but his sacking may have brought about immediate 'success' but what manager on earth would want to go to a club and have a pre-determined starting line-up and already know the tactic he'll have to play to get instant success? Sacking AVB was the second biggest mistake that Chelsea have made, the biggest, obviously getting rid Jose Mourinhio! As for appointing Di Matteo, I'd be very interested in what he'd have to do to be given the job full time, win the champions league, get fourth, win the FA cup or all of the above? In the cold light of day and based on your prediction that Arsenal will beat them this weekend, you¿ve got to say their best bet out of them is winning the FA cup which is by no means a given, Liverpool may have performed poorly in the League but have already beaten Chelsea twice this season (both times at the Bridge). So there¿s a very really possibility of this season¿s stats reading; Stable Management -no, Silverware - no, Champions League qualification ¿ no and people say Liverpool are a club in crisis ¿haha!
Posted 14:00 20th April 2012
Ben Killeen (Chelsea fan) says...
Good article Jamie, I completely agree with your point that the probability of success in Chelsea qualifying to the Champions league final against Barcelona is round about 50-50. However do you think that Chelsea should maintain the same team against Barcelona or inject some fresh legs into the agenda such as Torres and Essien?
Posted 10:25 20th April 2012