This is the craziest Premier League season ever - and it is about to get even better.
Manchester City may have celebrated a famous derby day victory on Monday but to think the title race is over would be so naive.
This weekend City travel to Newcastle before United take on Swansea hours later and what a Super Sunday it is going to be. United will be praying for another twist in the tail end of this thrilling season, and I can see one coming.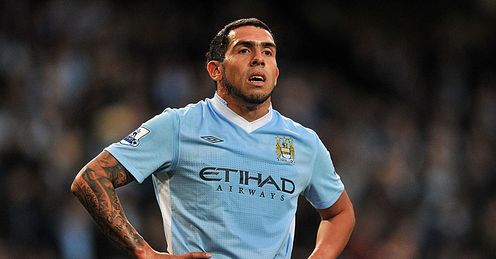 A lot of people are expecting City to go to Newcastle and come away with three points, and of course they could. But I don't think they will.
The match at the Sports Direct Arena could change the club's history forever - and that's just Newcastle. All the focus is on City, but this is also a massive game for Newcastle.
Victory could put them on course to reach the Champions League and in the position to launch a new era for the club, being able to attract and buy the best players to join some great assets that they already have.
However, timing is everything. United will go into their match with Swansea already knowing City's result against Newcastle, and that will be crucial.
Jamie Redknapp
Quotes of the week
SUPER SUNDAY
Newcastle v Man City
1pm, Sun. Sky Sports 1 HD
Man Utd v Swansea
3.30pm, Sun, Sky Sports 1 HD
Both games also on Sky 3D
Watch on the move with
Sky Go
How to
remote record
It's Newcastle's last home game of the season and there'll be a great atmosphere there after beating Chelsea away - one of their best results of the season - and with the huge prize of Champions League football still on the cards after an extraordinary season. So do you think they'll lie down and let Man City beat them? I don't think so.
There has been a huge transformation at Newcastle this season. They changed their formation and are playing some great quick and incisive football with the likes of Hatem Ben Arfa, Yohan Cabaye and Papiss Cisse.
Ben Arfa is a bit of an enigma and can win you games just like that but there are so many players City will have to be wary of.
Inspiration
Ironically, it's been Carlos Tevez who has galvanised City's title charge.
When Mario Balotelli played against Arsenal there were simply too many players on the pitch who were passive and not working hard enough, but when Tevez came in against Norwich he was chasing lost causes and all of a sudden the likes of Sergio Aguero and Samir Nasri followed suit. It was infectious and inspiring.
The title is now in their hands and all you want is that opportunity. It will be fascinating to see how Roberto Mancini approaches the game because they can't be too open against a quick Newcastle side but, as United found out on Monday, staying deep can be very dangerous. Attack them and have no regrets must be City's policy.
A draw is no good for either team and with the attacking players in each side; this could be one of the games of the season. And I have a feeling that Newcastle will get something. I don't see them getting beaten.
United knew a draw against City would have been a good result and that was always the danger. I was so surprised Sir Alex Ferguson picked a team not to be beaten because, while you can see his aims, you just can't play for a draw. That is not the English mentality and the crowd demands you go forward.
And why would you go defensive when United were playing such good attacking football? They have been scoring goals and Wayne Rooney and Danny Welbeck were striking up such a promising partnership.
It gave City the initiative and although the goal came at a vital time, United were really poor and deserved to lose.
Timing
However, timing is everything. United will go into their match with Swansea already knowing City's result against Newcastle, and that will be crucial.
If City beat Newcastle the atmosphere will be flat as a pancake at Old Trafford. The United fans will know City will just have to beat QPR, who have been very poor away from home, and they will win the title.
That could filter through to the team and Swansea, who will have plenty of possession, could dominate the game, frustrate United and sneak a result.
But if Newcastle beat City, the atmosphere will be red hot. The fans will be buzzing and thinking they will win the title, which again will lift the United players massively. So there's no doubt that City's result will set the tone for the entire day.
If you want predictions, I think Newcastle will get a draw against City, 1-1, and then United will beat Swansea 3-1 to put them in pole position once again to win the title.
But given the season so far, nothing would surprise me.
Comments (15)
Jimmy Tennant (Manchester City fan) says...
it all depends on the starting duo up front, newcastle might have a gem in Cisse, dont forget it was quite a walkover in november and that was without tevez. i think if he starts then with our defence (the best in the league) I can see it being 2-0, although i think swansea could do us a favour & get a 2-2 draw, CTID
Posted 09:48 5th May 2012
Paddy sq Walker (Manchester United fan) says...
What a game it will be on sunday when Newcastle will show City how to win a final home game in front of your suppters. cmon Newcastle.
Posted 01:23 5th May 2012
Michael Stephenson (Newcastle United fan) says...
i see no reason why we can't beat city, if we rough them up like we did against man united (3-0) and liverpool (2-0) then even the strongest can fall. its going to be a very hostile atmosphere and even if we fall behind twice in the game, we turned the spurs game at home around and you can't forget the arsenal 4-4...who knows, maybe its one of them moments where its 0-0 with 10 mins to go and its smash and grab for the one team but i would like to think whoever wins this game will go on to win the final game of the season.
Posted 00:51 5th May 2012
Mark Pugh (Manchester United fan) says...
As a United Fan I pray that Newcastle get something from this game but I don't think they will, it will be close but I can't see them stopping Tevez and co for 90 minutes and if they go too gungho they will get slaughtered. I want Newcastle to win not just to help United but also so they can finish above Chelsea in the League and maybe get a Champions League place which is exactly what they deserve at the end of the Season for the way they have played recently. Also would'nt it be hilarious if Newcastle got a win and United won the League by 1 point with a win and a draw from the last 2 games, especially after the way City Fans gloated after winning the Manchester Derby and they have the audacity to call United arrogant and bigheaded. To see them cry again like they did at the Liberty Stadium after they lost to Swansea would make my day.
Posted 00:14 5th May 2012
Steven Dougherty (Newcastle United fan) says...
this will be a great match and which ever way it goes you after take your hat off to alan pardew i hope the geordies make st. james park as intimidating as possible because it is simply the best atmosphere anywhere in england and with our twelthman i think we might just do it all the pressure is on city come on the toon
Posted 22:17 4th May 2012
Faisal Riaz (Manchester United fan) says...
Hoping for a massive favour from Newcastle on Sunday. Realistically, if City win by whatever goal margin it's over for United. Even if we smash Swansea which I don't think will happen, Sunderland will be a very tough fixture to even score in, let alone win. Plus there's no way City will drop points at home to QPR when they know a win will seal the title for them. The next fixturess will decide the title IMO. IF Newcastle can hold City, or better yet even beat them which is very possible, then United have to go all out in their remaninig 2 fixtures to score goals. I fear with SAF though. If Newcastle get a result against City and we beat Swansea, he might go defensive again against Sunderland. That will come back to bite United like it did against City. We need a favour from Newcastle and we need to go on all out attack against Swansea and Sunderland to get the wins. COME ON UNITED!
Posted 21:57 4th May 2012
Bob Mcginty (Manchester United fan) says...
City have to play possession football, be patient and hope the goals come. Newcastle have such great counter attacking they cannot go gung-ho but they're soo good on the counter because they have good attacking players so if you let them attacking you'll end up losing 3-0 and not seeing the ball. (where've we seen that this season...) Hope Newcastle don't crumble under the pressure.
Posted 21:13 4th May 2012
Darren Hunter (Liverpool fan) says...
Jamie your a legend pal and new castle have been superb this season but as a liverpool fan I can only pray for a city win and a united loss end of season done.
Posted 21:03 4th May 2012
Thabo Moloi (Manchester City fan) says...
It's all wishes come Sunday you'll see the harshest realities when the blues dismantle the Newcastle defence. Remember Wigan score, i think the same will happen to Newcastle. Sorry Alex with your sympathisers.
Posted 18:54 4th May 2012
Colin Newton (Manchester City fan) says...
according to mr redknapp all the focus is on city for this game but after newcastles game on wednesday that focus has shifted now onto newcastle and papiss cisse's excellent form. the fact that newcastle we're away at chelsea and wigan in the space of just a few days means fatigue could be a key part of this game given that city have only played once during the same period and hardly had to break sweat beating our stretford neighbours. any other time i would like to have seen newcastle get the points they need and go on to champions league football but with our need being greater and the fact we are a stronger team i can see us edging this one.
Posted 17:13 4th May 2012
Steve Carney (Newcastle United fan) says...
Newcastle have had a great last 8 games, 7 wins, clean sheets to boot ! but we are realistic, Man City will be a very different challenge, our small group of players will find it hard to maintain the intensity required to match City and then produce again at Everton. I predict a draw at best Sunday & finishing 5th will be a great achievement. Well Done Alan Pardew
Posted 13:56 4th May 2012
Graham Mitchell (Newcastle United fan) says...
Its such a refreshing change to see Newcastle gain some positive press. 2nd season syndrome anyone?
Posted 13:14 4th May 2012
John Jones (Newcastle United fan) says...
could be right, really nervous about this game, mancini needs to go all out for three points, no good playing defensive against a superb newcastle team. i was 13 last time city won league, come on you blues
Posted 13:06 4th May 2012
George Batey (Newcastle United fan) says...
Hi Jamie I think the psychological advantage lies with Newcastle. The De Jong tackle on Ben Arfa will fire Newcastle to be aggresively controlled and City will be closed down very quickly when in possession. If City lie deep they will be caught at some stage. If they attack and become stretched they will be exposed. Newcastle's confidence will be SKY high (forgive the pun) They will not be beaten in their last home match and the very least they will get will be a draw, but I expect a home win. Just to keep Sir Alex happy.
Posted 12:40 4th May 2012
P Daniels (Newcastle United fan) says...
And don't forget that the brilliant Ben Arfa has some unfinished business with City after the leg-breaking tackle from De Jong last season - come on you Mags!
Posted 11:38 4th May 2012