It will be the biggest shock in Premier League history if Manchester City don't beat Queens Park Rangers on the final day of the season and go on to win the title.
They're at home in front of their own fans against a team whose away form this season has been pretty abysmal and I just can't see anything other than a Manchester City win, even with QPR fighting for survival.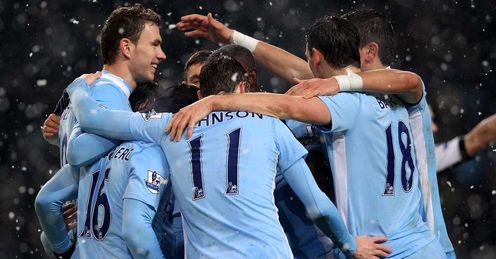 Mark Hughes returning to the club that sacked him will add a bit more spice to the occasion, but I don't think it will be enough for QPR to get the point they need to all but guarantee their place in the top flight.
It's been the most incredible Premier League season ever, but I just feel City have got too much quality for there to be another twist on the cards. There's a real work ethic about the team again since Carlos Tevez returned to the side in place of Mario Balotelli and they're playing some fantastic football right now.
The atmosphere will be electric at the Etihad, I'm sure, but the fans might have to be a bit patient like they were against Newcastle, and if they don't score early on I wouldn't be getting too stressed if I was them. Sometimes you have to grind results out and this might be one of those occasions.
Jamie Redknapp
Quotes of the week
SUPER SUNDAY
Man City v Newcastle
2pm, Sun. Sky Sports 1 HD
Sunderland v Man Utd
2.55pm, Sun, Sky Sports 2 HD
Watch on the move with
Sky Go
How to
remote record
QPR will make life as difficult as possible and will inevitably pack the midfield. They got beaten 6-1 by Chelsea a couple of weeks ago when they played both Bobby Zamora and Djibril Cisse up front, so I'd be amazed if they do that this time.
Hughes will be hoping that Samba Diakite will be fit to play after his virus because he could have a key role in trying to contain Yaya Toure. The Mali international has really impressed me since joining QPR in January. He's physically very strong and if he does start I'm sure he'll be asked to get tight to Toure whenever he has the ball.
The question for Roberto Mancini will be where does he play Toure? His brace against Newcastle last week came after he was pushed further up the pitch after Nigel de Jong came on to sit alongside Gareth Barry in the centre of midfield.
It meant Toure was free to roam a little bit more and support the two strikers with great effect, but I'm not sure it would necessarily be the way to start on Sunday for a number of seasons. Firstly, it worked last week because they made the change when Newcastle were a bit fatigued and the game was a little more open, so there was the space there for him to exploit. But QPR will be far more compact.
Secondly, it's sometimes more effective to make a change like that during the game to give the opposition something else to think about, and in truth I don't think this is the kind of game where City will need both Barry and De Jong to protect their back four.
Atmosphere
The atmosphere will be electric at the Etihad, I'm sure, but the fans might have to be a bit patient like they were against Newcastle, and if they don't score early on I wouldn't be getting too stressed if I was them. Sometimes you have to grind results out and this might be one of those occasions.
It can be tough playing in these games though, because there are a lot of messages being relayed to the players from the bench about scores elsewhere. That could affect both sets of players, depending on what's going on at the Stadium of Light between Sunderland and Manchester United, and from QPR's perspective between Stoke and Bolton, knowing full-well that if Bolton don't get all three points they'll be staying up.
I played for Liverpool in the game that saw City relegated on the last day of the season back in 1996 and I remember how odd that was. Niall Quinn was on the touchline at 2-2 telling Steve Lomas that other results were going in their favour and that City were safe so he should keep the ball in the corner.
But by the time he got into the corner a goal went in somewhere else and City needed a win to stay up. So the message got passed on to Steve once more and he started off on a Lionel Messi-like run.
Unfortunately for City, Steve was a decent player but he was no Messi and they ended up going down.
So it can all change in the blink of an eyelid and if Bolton are losing heavily at Stoke that could help City because QPR will know they're safe even if they lose.
Belief
Bolton will no doubt take some belief from the fact that Wigan went to Stoke on the last day of last season and got the win they needed to stay up and I think Owen Coyle's men can do the same.
It's not going to be easy, but this is no time for regrets and I expect them to go to the Britannia Stadium and really go for it. I was at the Bolton game against Tottenham a couple of weeks ago and they really didn't deserve to lose 4-1 that day.
They'll be gutted that they threw away a two-goal lead with 20 minutes to go last week against West Bromwich Albion, but they have to put that out of their minds. Stoke haven't been great recently and I think Bolton are in with a real chance of getting a result there.
Hope
As for Manchester United, they'll be going into their game with Sunderland more in hope than expectation, but they'll be professional as ever.
Again, I'm sure the players will know exactly what is going on at the Etihad and if City are two or three up I can see this game fizzling out.
It's going to be a thrilling end to an incredible season, but while you never say never in football I think it will be City and Bolton cheering the loudest at the final whistle.
Comments (8)
Sue De nim (Queens Park Rangers fan) says...
Good prediction...almost as good as Phil Mcnulty's one that all 3 promoted sides would go down. Chaos all season as usual, but we did enough and yet no one has given us any credit. Barton = an idiot, the only difference this time is that he's no longer a good enough player for someone to give him another chance.
Posted 10:43 14th May 2012
Jason Clarke (Manchester United fan) says...
Lol well since 2008 all it took for City to win was 45 new players and £500,000,000 + money, it reminds me of the scene in only fools and horses where trigger says abot the brush he has had for so many years, all it had was x number of handles and x number of heads, and its still the same brush. Ahh well im sure all the City fans that have came out over last few seasons will enjoy supporting Abu Dabi Utd Group, ooppps sorry i mean Man City. Bitter fan? maybe, i just feel sorry for the real teams like Man Utd, Liverpool, Arsenal, Tottenham, Newcastle, Aston Villa, Everton etc who built their historys and didnt buy it in 4 seasons.
Posted 17:48 13th May 2012
Arif Azim (Arsenal fan) says...
Congratulations to Manchester City. Now they will buy every footballer under the sun, including Alex Ferguson! Manchester City though have a habit of fading away after winning the title, and they were even relegated in the season immediately following their championship season, if I am not wrong (happened in the thirties or forties, I think!) First time in a three-team relegation season that three original founding fathers of the Football League have gone down together! Crazy season and a crazier finale. Despite hating Liverpool, I feel sorry for them having such a bad season. Well, Arsenal and Arsene Wenger, you have a post-season break to figure out how you are getting back into the act. We've been waiting too long, and can wait longer, but shouldn't be made to wait
Posted 17:47 13th May 2012
Matthew Mcloughlin (Queens Park Rangers fan) says...
Why does everyone just expect man city to turn up and trounce us! Anton is 100% right we are being shown completed and utter dis-respect. Yes it going to be hard and man city are likely to win but it football and football a funny old game. how many times have you seen this game before the best home record with only two points drop vs the worst away record and no wins since november but football being football (that why we all love it) do you see the away team cause a upset.
Posted 23:07 12th May 2012
Ignatius Jade (Arsenal fan) says...
i think man city will take the trophy this season, it's been long since they took a trophy
Posted 15:59 12th May 2012
Andrew Barker (Manchester United fan) says...
Couldn't agree more with Jamie's predictions, City will win comfortably against QPR and Bolton will grind out the win they need to keep them up. I don't envisage many twists this weekend.
Posted 13:31 12th May 2012
Craig Monks (Bolton Wanderers fan) says...
Interesting take on the biggest 2 games of the final day. If our squad, ravaged by bad luck and injuries manage to beat a stubborn stoke side that will be out to avenge the 5-0 defeat earlier in the season, I'll be amazed. But we live in hope!
Posted 08:22 12th May 2012
Robert Gaunt (Manchester United fan) says...
okay I accept manchester city are on top of the league but I wouldn't care if they do win it because manchester united have won more trophies and cups over the years the seasons have incredbile for manchester united many Great legends have came and gone but when manchester united first played their first ever game in the old divison they soon created goals and that turned into points. Then it turned into trophies then manchester city fans will see my point becasue it's a stark warning for manchester city. If they really want to get something out of this season then they need to win a league title . I mean manchester united overhauled liverpool last season to 19 titles. plus manchester city have had bad luck they try to get into a wining position then a week or a month later or sommet they loose it they loose then some other team jumps in front of them in the priemer league. PS: wining the league title in the priemer league is not all about being a top side in the league in england but it's about celebrating something special and maybe manchester united should get more confidence next season then more trophies :)
Posted 14:53 11th May 2012