You have to start Wayne Rooney against the Ukraine, but I don't think we should expect miracles from him. The other players must keep chipping in.
It's crucial that we put our best players out there and if the opposition see Wayne Rooney lining up in the tunnel it will put the fear factor into them. England aren't in a position where we can afford to rest a player like him, but by the same token his return does not mean everybody else can switch off.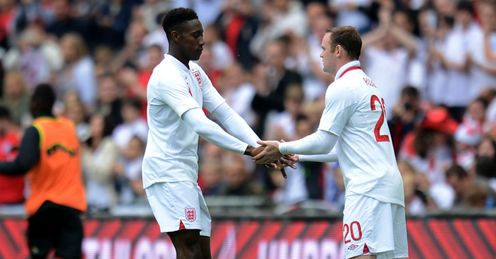 People like Danny Welbeck have really come to the fore during this tournament and it's really important they keep stepping up to the mantle. Just because Wayne's back it doesn't mean they can hand over the baton.
Jamie's backing England to beat Ukraine 2-1 with Sky Bet - 15/2
I'm nervous because they're a decent side and if we think we just need to turn up to win then we could be in trouble. England aren't great at playing for a draw - we've proved that throughout our history in major tournaments - so we've got to play to win.
Jamie Redknapp
Quotes of the week
JAMIE'S RED HOT TIPS
Jamie Redknapp is giving his predictions for all the Euro 2012 games. Find out who he is backing. BET NOW
I was so pleased that the three young lads - Welbeck, Andy Carroll and Theo Walcott - scored against Sweden. That's great for English football because it shows we're not just relying on the old guard. They've proved to themselves that they can do it and that will be of great benefit in future tournaments.
But I hope they look at the return of Rooney and think it's great to have him back, but understand that they have a big job to do themselves.
As we have seen in the last two World Cups, Rooney doesn't always perform in the major tournaments, so it's important we show we can do it with other players.
Also, it's difficult to come back into the team after you've been suspended. You're never quite at the game level straight away and it takes a bit of time to get your match sharpness back. You can try as hard as you like to achieve that in training, but it's never quite the same, and it will be especially hard in the heat of Donetsk.
So I quite liked the honesty I saw from Rooney during Sunday's press conference. He said it's not all about him, there are other players and they all need to chip in.
We've proved we can do it without him under Roy Hodgson and we need to keep getting goals from all over the pitch.
Surprised
For me, Welbeck should play up front with Rooney in this game because he's done ever so well so far in this tournament.
Hodgson has surprised us with some of his team selections. I didn't see Carroll playing against Sweden, but it proved to be a good move as he scored a fine header, but I think his role against Ukraine will be that of a weapon to throw on in the last 20 minutes if we need to go direct.
I'm sure Scott Parker and Steven Gerrard are dying for Rooney to get back into the team too. They'll be able to lend the ball to him, bring him into the game and then he will provide distribution and quality.
We need to pass the ball well in this match and take the sting out of the game because it will be a real cup tie. It will be fast and furious and Ukraine will want to play at a high tempo. We can't afford to sit back and counter too much because that would be asking for big trouble.
I'm not really a fan of the 4-4-2 formation that we've used so far. Having played in central midfield for England I always felt uncomfortable about being outnumbered in that department. I suspect Rooney may need to play slightly deeper at times and drop in when we haven't got the ball.
Andriy Shevchenko will play a similar sort of role for them, so we will need to match them up in that regard. We need to have a good team shape, remain difficult to beat and when we get the ball we need to be progressive. We need get the ball out to the wide areas and look to score goals.
Jamie's backing Danny Welbeck to score 1st v Ukraine - 13/2
It's important that Hodgson gets it right on the wings. I can see him sticking with Ashley Young on the left - it wasn't easy for him when he was being asked to play behind the striker - and he played well for England in the build-up to these championships on the wing.
On the other side I would probably play Alex Oxlade-Chamberlain. If Theo Walcott has any issues with his hamstrings then it's not worth taking a chance and hopefully he can play in the next round if we qualify.
But I still think Hodgson will stick with James Milner. He's a great player when you want to close a game out, but when you want to score and be more expansive he struggles a little bit.
If he plays then we've still got Rooney, Young and Welbeck to win us the game and Milner could have an important role to play in tracking Yevhen Konoplyanka, who is a very good player for them on the left-hand side.
Realistic
So let's play without fear because we're more than capable of beating this Ukraine team.
But we need to be realistic as well because there were times against Sweden that we looked dead and buried. It took the arrival of Walcott - and a fairly lucky goal - before we went on to win the game. Let's not try and convince ourselves that was a wonderful performance.
Yet if you believe what you read in the newspapers you might end up thinking this game is a foregone conclusion. People are talking about whether or not we can top the group and who we might be playing in the quarter-finals.
First of all, we've got to get past Ukraine, who have home advantage and there will be a great atmosphere, like there was in their first game against Sweden. Their team isn't full of star players, but they've got a good work ethic and I think it's going to be really tough. I don't think we should be taking too much for granted.
I'm nervous because they're a decent side and if we think we just need to turn up to win then we could be in trouble. England aren't great at playing for a draw - we've proved that throughout our history in major tournaments - so we've got to play to win.
The equation is very simple for Ukraine. If they win then they're through and sometimes that's not a bad position to be in. Our players only need to get a draw, but if you watched our last two matches we haven't looked like a side that was set up to get a clean sheet. We've been far too open at times.
So let's just get through and let's not worry about who we have to play in the quarter-finals. If we end up playing Spain, so be it, we may have to play them at some stage anyway. We've beaten them once in the last 12 months, so hopefully we can do it again.
It's just important to get through and not worry about anything beyond that. Let's get the approach right for Ukraine and make sure we don't get knocked out.
Redknapp Reckons
I'm nervous because it's not in our nature to go and play for a draw. It's important that we play progressive football and play with attacking impetus because if we sit back then we're asking for trouble as I feel Ukraine are good enough to beat us. But if we do things right then I'm confident we can win this game 2-1.
Comments (24)
Robbie Fisk (West Ham United fan) says...
come on england great game by all and best england squad we have on offer presently fit emagine if those pundits had changed hodgsons mind and he drpped terry glad hodsons got a football brain and knows his game win lose or draw now youve done us proud imagine emagine if ericcson i think it was had played the youngsters in last game years back and took the chance as hodgson would have what we would of done back they cole carrick lampard ferdinand defoe gerrad rooney owen redknap terry well done parker and gerrad for making midfield safe and covering one another allowing both to be at best and give us heart and also that man hart as a formiddable stunning game as always great show by all 10 out of 10 every player unlucky ukraine great game by all awsome keeper and great side players too 10 out of 10 to all and a very sad home journey for ireland heard they put down by a few upset fans supporters but what a squad and look at the group they played in and who else was in group all great sides amazing great spirit and play by all irish team the hardest group i think as all sides such formiddble oponents 10 out of ten to you lads so proud of you and make us proud to be a uk supporter and a fan of growing irsh team to great show lads just the luck of the irish to be drawn in such an hard talented group
Posted 04:08 20th June 2012
Luke Dean (Arsenal fan) says...
Would be interesting to see what would happen if we won 2-0 and France beat Sweden 3-2. That would mean us and France would finish on the exact same points, same goal difference, and same head to head with no other superior score line against other opposition. Would England finish top because of Alphabetical ordering? Or would there be another way to find an advantage? No doubt England would probably be accused of breaching rules and be fined and docked points. Probably be fined for racism aswell for affecting the French chances of playing weaker teams in the following rounds. And then probably fine Bendtner again because he plays for an English team.
Posted 17:21 19th June 2012
Mark Bendall (Tottenham Hotspur fan) says...
Rooney had better score a hat-trick! it's disgusting that a player who has just come back from a BAN automatically gets picked over hard workers(defoe, not carroll) he never plays well in major national tournaments, carroll scored a fine header but did little else apart from give away a free kick which led to a goal, you can bet ukraine will hack away at rooney to provoke a response and even if he costs us the game and tournament by retaliating he'll still get in the next world cup.Farcical.
Posted 17:16 19th June 2012
Richard Capes (Manchester United fan) says...
So I see that there are a few fans on here suggesting you leave Wayne Rooney on the bench? That's why your not a manager. "Yeah just leave Englands best player on the bench like thats a good idea!" I agree that giving players incentive is always a good plan, but you should always start the best team possible.
Posted 17:08 19th June 2012
Keith Lloyd (Liverpool fan) says...
let rooney play not carroll . why so he can kick players from behind and get sent off . as for carroll who will bully players from the front
Posted 16:41 19th June 2012
Danny Spence (Liverpool fan) says...
personally if i were andy carroll i would be slightly bitter after being dropped to the bench for a player take my place who hasnt scored a competitive goal for 8 years, rooney is heavily overated, there are better english strikers who are not even included in the england set up but for some unknown reason rooney gets selected everytime, why ????? rooney will shame the english before he brings the glory, he isnt god enough, shouldnt even be in the england team
Posted 16:23 19th June 2012
Thomas Hoole (Liverpool fan) says...
I think its very important that Rooney starts tonight. In the past I'm not be the biggest fan of his performances in major competitors for England. I think in the past his habit to drop into and run the midfield took up space when playing with gerrard, lampard and/or Barry. but i think this tournament we have looked weak in the middle and Rooney is the perfect player to support them in there and also give the quality striker that we need. I think weather milner plays or not is a decision based on weather we need the denfensive cover. I personally havent seen another of Ukraine to judge but i feel Hodgeson is defensively tactically minded to make the correct call.
Posted 16:20 19th June 2012
John Buey (Tottenham Hotspur fan) says...
DONT PICK ROONEY, give the players that got us this far a further chance. Yes have him on the bench. Whilst he is far better than Carroll Rooney is definitely overated nowadays.
Posted 16:16 19th June 2012
Geoff Chinnery (Arsenal fan) says...
Robert Kelly. If two teams are level on points it is firstly decided on "head to head" result, then goal difference.
Posted 16:14 19th June 2012
Lee Maidment (Liverpool fan) says...
Like most England fans, I am looking forward to his return to the squad. It is a shame that he looked upon as our saviour and hero but the fact is...he is the best English striker available. Carroll was fantastic against Sweden, god only knows why Roy didn't use him against France as he would of battled with Diarra and given the weak French defence a lot of trouble. Welbeck has also shown he can pull a goal out of anywhere and has the energy/speed carroll doesn't have. Realistically, it is going to be a Welbeck/Rooney strike force - rightly or wrongly. I'd like to see Young replaced with Oxlade-Chamberlain though - despite being younger...he will fair better against the strong eastern european style of football. Ashley Young however will be bullied and intimidated I fear. We shall see but I do envisage us topping the group to face Italy and eventually Spain in the semi-final! COME ON ENGLAND
Posted 15:46 19th June 2012
Liam Scholes (Liverpool fan) says...
@Robert Unfortunately for Russia, they fell foul to the head to head rule, which means that Greece went through because they beat the other team that was competing for the same spot, in this case Russia, despite Russia having a superior goal difference...i personally hate the rule.
Posted 15:39 19th June 2012
Charles Read (Arsenal fan) says...
In reply to Robert Kelly, in this years Euros when teams are equal on points they go to a 'mini-league' between all teams on the same points. Hence as Greece and Russia are on the same points, Greece go ahead because they beat Russia and therefore have 3 points in that mini-league compared to Russia's 0.
Posted 15:39 19th June 2012
Alex Warren (Liverpool fan) says...
@Robert Kelly Greece beat Russia so that trumps goal difference. What is Redknapp waffling about "England aren't in a position where we can afford to rest a player like him (Rooney)". Why would we want to rest him Jamie when he hasn't played yet? I tell you what, let's rest him for the whole tournament so he is fresh for United at the start of the season...
Posted 15:33 19th June 2012
Ross Turner (Inverness Caledonian Thistle fan) says...
No disrespect to anyone but how could you not play wayne rooney? if rooney played for liverpool or chelsea both sets of fans would think hes a legend, stop being like that u should b all in it together, and people say hes overrated, r u people mad!? people say he had an ok season, even though he scored 30 goals? how many did torres score? exactly but chelsea fans ssstill big him up? carroll? come on lets stop having the club mentality and start thinking like england fans, this is the problem with england fans, they never appreciate who they have on their team, beckham for example? Got england to the world cup on his own and still people doubted him, its really sad, going forward the passin is lacking a bit, looks like a lack of understanding, rooney will create the flow, with stevie g linking up as well, will be brilliant, im not english or a utd fan but please appreciate that you have a brilliant player, i really hope he proves himself tonight and silence his critics, good luck england
Posted 15:29 19th June 2012
Joe Wadsted (Arsenal fan) says...
Re: Robert Kelly - It is down to head to head games betweem the two teams.
Posted 15:12 19th June 2012
Martin Hanks (Chelsea fan) says...
Rooney and Welbeck always make a good combination. To pair them in the first 45 mins will produce goals. let Roy try and he will prove me light. chelsea fan
Posted 15:10 19th June 2012
Jamie Reece (Chelsea fan) says...
In response to Robert Kelly: I believe that when teams are joint on points, they only take account games between those teams or place them into a mini league if it's say three teams on equal points. So in that case I believe Russia's goals against Czech Republic don't count, but instead they go to a head to head matter with Greece to see who goes through. Well that's what I've gathered but I amy be wrong.
Posted 15:10 19th June 2012
Bill Jennings (Liverpool fan) says...
keep roo on the bench for 70 min to make the team that played sweeden feel like they can go out there and win again with or without rooney! this could be our time.... #believe
Posted 15:02 19th June 2012
Alex Pugh (Altrincham fan) says...
Rooney is one of the best strikers in the world, i know that it is unfair too leave out carroll or welbeck as they have been playing well but when you're at Rooney's caliber its a no brainer that he should be be one of the first names on the starting XI
Posted 14:52 19th June 2012
Paul smith Smith (Newcastle United fan) says...
At Robert Kelly. If 2 teams are level on points, the team that won in the game between those 2 teams will finish higher regardless of goal difference. If the 2 teams level on points drew their game then it goes to goal difference.
Posted 14:44 19th June 2012