Andre Villas-Boas has had a tricky start to life as Tottenham manager.
The Portuguese has lost some major players this summer, with Rafael van der Vaart joining Hamburg and Ledley King retiring, while the biggest blow of all was seeing Luka Modric, a man who bought so much guile to the team, sign for Real Madrid.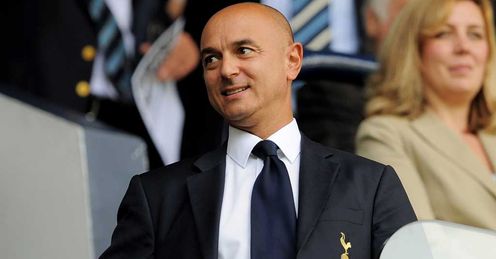 Some people have said that Modric won't really be missed, but that is a load of rubbish; he is one of the best midfielders, outside of Paul Scholes, that I have seen in the last 10 years in the Premier League.
Perhaps he didn't score enough goals, or even make that final pass, but he was the guy that gave it to the person who DID make that final pass; he could turn defence into attack and most of Tottenham's good football came though him.
Like most chairmen these days, Levy seems to want to play Championship Manager and not only pay for signings but choose them as well.
Jamie Redknapp
Quotes of the week
LIVE ON SKY SPORTSReading v Tottenham
3.30pm, Sun, Sky Sports 1 HD
Also showing on Sky 3D
Watch on the move with
Sky Go
How to
remote record
So Villas-Boas has watched real quality head out of the club and I don't think he will be entirely pleased with the incomings, either.
Moussa Dembele is a great signing but I don't see where they have replaced Modric's creativity and Van der Vaart's goals - and that is a problem.
Spurs chairman Daniel Levy has done good things for the club and is a great negotiator - he often gets opposing teams to pay well over the odds for his players - but I think he missed a trick by not really backing his manager this summer, something Villas-Boas needed after his tough time at Chelsea.
Faith
The two players Villas-Boas publicly said he wanted were Shakhtar Donetsk winger Willian and Porto midfielder Joao Moutinho - and he ended up getting neither of them, despite the money from Modric's sale being in the bank.
If Levy had worked harder to capture those players, it would have laid down a marker and shown everyone that he has tremendous faith in Villas-Boas.
Like most chairmen these days, though, Levy seems to want to play Championship Manager and not only pay for signings but choose them as well; I certainly saw evidence of that when I was at White Hart Lane.
That's the way footbalI is going these days and I would suggest that perhaps Sir Alex Ferguson, Arsene Wenger and David Moyes are the only Premier League managers who have complete control in terms of who comes into their club.
Chairmen do not know more than a manager - and they undermine the manager when they act like they do. Upstairs interference makes it doubly difficult for the man in the dugout who, of course, gets the blame if the signings don't shine and things don't work out.
Levy's transfer decisions have placed AVB - who probably felt he couldn't kick up a fuss after being portrayed as damaged goods in the wake of his spell at Stamford Bridge - under undue pressure, although he was always going to be under SOME pressure.
Functional
I don't think there are many people in football who thought Villas-Boas could get sacked from Chelsea in March and then four months later get an equally good job at Tottenham; he deserved a second chance but the fact that came at White Hart Lane was a big surprise.
He is a very a functional manager who wants his players to stay within an inch of where he has initially positioned them and to not be too expansive, something we have seen this season with him deploying two holding midfielders in Sandro and Jake Livermore.
Everything is structured, but I think that Spurs were at their best last year when they played with freedom and when players like Gareth Bale, Modric and Van der Vaart could roam and produce a little bit of magic.
Tottenham supporters expect glowing football but that might not be what is served up this season, and I think that really hit home in their previous home game with Norwich, in which the Canaries pinched a late equaliser.
Villas-Boas' team should be aiming for the top four and, even though Chelsea have spent money, Arsenal are improving and Everton are making great strides, I think they HAVE to achieve that goal.
Tottenham are not a club in transition; they finished fourth last year. Harry Redknapp was sacked because Levy wanted greater progression, so Champions League football is the minimum requirement.
Being an ex-Chelsea manager, Villas Boas will not get loads of time from the Spurs fans and if the team don't get a result in Sunday's big game with Reading, pressure will really start to mount.
AVB has much to prove - but I think Levy could have made it a whole lot easier for his manager to succeed.
Comments (9)
Larry Sequeira (Tottenham Hotspur fan) says...
Totally agree with Jamie about AVB. He is a very a functional manager who wants his players to stay within an inch of where he has initially positioned them and to not be too expansive, something we have seen this season with him deploying two holding midfielders in Sandro and Jake Livermore. Modric was a great midfield player. Even when he played at WHL though there were times when he seemed to lack cutting edge. I hope Spurs don't depreciate from Harry's values even though I considered him a fixer rather than a developer. AVB may be planning to develop Spurs as a European club but to win the EPL or the Cups, Spurs will have to play flair football. AVB's biggest requirement though will be to go back to George Graham's ideals and that is to have a solid back four who don't concede goals. Spurs have never managed to do that and only Jol came close to achieving this. Much to play for and learn.
Posted 15:53 14th September 2012
Franco Gallo (Tottenham Hotspur fan) says...
Please come back Harry...... Levy got itchy fingers & pulled the trigger one season too soon. Brendan Rodgers is the future of Spurs - AVB is not PL standard - Simple. We wont win a single game with AVB in charge. Poor Harry - when he watches Tottenham play these day's, it must be like watching your wife drive your Ferrari into a brick wall..........
Posted 15:30 14th September 2012
Borris Theboy (Tottenham Hotspur fan) says...
Sorry Jamie. I have to disagree with your assessment that Spurs HAVE to get top four. Harry achieved fantastic league positions and secured a Carling Cup for us and his signings of Gallas and Parker made a huge difference. I will be forever grateful for his achievements; the signings of and your dad's record was fantastic, but these achievements came with the best squad Spurs have had since I have been alive (I am only 28) and I think we should have finished third last season. I believe my Spurs will finish somewhere between 6-10 this year. I will be happy with this as we need to start again. We can¿t compete with the mega buck teams, and Arsenal are I'm afraid, far more stable than us as a club at this time. Expecting AVB to get 4th with a brand new team that has lost 3/4 key players is a big ask. We need to reshape the squad but in another season we will consolidate, grow and be back up there. We will get you big, rich clubs. COYS!!!!!!!!!!!!!!
Posted 11:33 14th September 2012
Matt Nicholas (Tottenham Hotspur fan) says...
It's what I've always suspected. Not sure really what Levy wants from Spurs, every time they get to a decent level he changes everything. 1st Martin Jol got us looking like CL contenders and got sacked for it, then Harry makes us look like future title contenders (a manager employed to save a sinking ship) and he gets sacked. I'm hoping AVB is not another Ramos. Praying in fact.
Posted 11:10 14th September 2012
Matt Pollington (Tottenham Hotspur fan) says...
I agree fully with this article. Bad times at the Lane this season in my opinion. Unable to replace our best players is obviously going to be our downfall.
Posted 10:42 14th September 2012
Chris Smith (Tottenham Hotspur fan) says...
Got to agree with these comments. Even though AVB's tactics have been questionable at the two home games, he really has had one are tied behind his back by Levy. AVB didn't get the players he wanted and we've sold our best (Modric) and 3rd best player (VDV). Levy runs the business side of Spurs very well, be he really needs to leave the football side to the managers. His transfer policy is shocking. Ok he may save a few million by doing the deals at 11pm on deadline day, but how much did writting off the first two games of the season cost us last year? CL football so probably about £30 million. He also never spends money at the right time, giving Ramos a fortune (2 points from 8 games), and Redknapp very little once we actually got into the CL. We should have consolidated. We are now paying the price. Again, this year our outgoings have more than covered our incomings for the 4th yr in a row. So we have actually spent nothing. Maybe it's the new Stadium and we can't compete until this is built. But AVB has not been backed and he will get the blame when it all goes wrong. Levy needs to take the majority of the blame. In years to come, when looking at Redknapp's league finishes in black and white (top 4 two out of 3 full seasons, spending little money), it will look like one of the most ridiculous decisions in PL history.
Posted 10:35 14th September 2012
Peter Huet (Tottenham Hotspur fan) says...
Dempsey replaces Van der vart who was to slow anyway. and im glad he has moved on. dempsey will be great with adebayor and bale in attack. dembele will help fill the spot of modric. modric was a top player and will be missed. vertongen replaces king and hugo Lloris will go on to be the best keeper in the premier league. that is guaranteed. avb needs abit of time to gel them. I doubt if he doesn't beat reading , qpr and get a draw against man u. he probly be sacked.Daniel Levy has let the club down. last 3 years we have been linked to big names like forlan aguero etc and he has never brought a big name in. showed it this year. he should of got mourthino. i dont blame avb i blame daniel levy.
Posted 10:17 14th September 2012
George Bannister (Tottenham Hotspur fan) says...
100% agree. This had to be the window where we showed intent! We needed to bring in both moutinho and Willian as we needed to replace the players we've lost. I trust Daniel Levy but he let himself down this summer.
Posted 09:57 14th September 2012
Paul Summers (Tottenham Hotspur fan) says...
Spot on JR. I cant see why Levy appointed somone that had failed so miserably at Chelsea. I also can't see what the hell was going on in the last transfer window - as usual. In my opinion we are now alot weaker than last year (but dont worry as we made 17m!).
Posted 09:53 14th September 2012