Jamie Redknapp said Arsenal's midfield dominance ensured they earned a deserved point at Manchester City.
The Sky Sports pundit felt Arsene Wenger's side were superior for much of Sunday's clash at the Etihad Stadium, but they required a late goal from Laurent Koscielny to earn a 1-1 draw after falling behind to Joleon Lescott's first-half opener.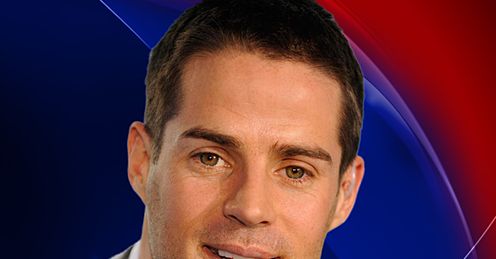 Roberto Mancini started with Javi Garcia and Yaya Toure in central midfield, but Redknapp felt they were overpowered by the strength of numbers that Arsenal had in that department.
"I felt it was a really interesting match-up tactically," he told Sky Sports.
"There were two different formations, but I felt Santi Cazorla for the whole game caused Manchester City so many problems.
"Javi Garcia didn't know what to do at times. He didn't know whether to push in and mark one of the other midfield players or go and mark Arteta or Cazorla.
"Both of them looked a little bit tired from their exploits in midweek at Real Madrid because it was a tough game in Madrid and it was tough for them today. It was two against three and every time they were outnumbered and they couldn't quite get hold of the ball.
"You didn't see Yaya Toure having any real influence, Javi Garcia hardly had a touch and that's where I felt Arsenal could dominate.
"That's exactly what they did today."
Protecting
Redknapp singled out Mikel Arteta for the excellent work he did as a defensive midfielder in protecting Arsenal's much-improved defence.
But he also had high praise for summer signing Cazorla, who he felt was a consistent threat throughout the game.
"Cazorla's been magnificent today," Redknapp said.
"What I like about him is that he plays off both feet; you don't know which way this little man is going to go because he's so comfortable on both sides.
"Arteta offers that nice bit of protection in front of the back four. He doesn't move too much.
"Alex Song did his best stuff going forward, but Arteta knows his strengths, sits in front of them and just patrols. He snuffs out a lot of danger that teams bring.
"It's a real collective job that they're doing there."
Mancini threw Jack Rodwell on after the break to try and strengthen the home side's midfield department.
But after playing the full 90 minutes against Real Madrid in the Champions League, Redknapp felt Yaya Toure and Javi Garcia were outperformed by their opposite numbers on Sunday.
"I felt Toure looked a little bit sluggish and not at his best with Garcia," he added.
"Mancini made a tactical change at half-time and brought on Rodwell to maybe stop Arsenal coming down the left-hand side. Did that work? Probably not. I don't think it was a negative substitution, but I don't think Scott Sinclair was doing that bad a job.
"I felt that Arsenal were the better team at times. They passed it better, they moved it and I felt their system worked better than Manchester City's did today."
Comments (6)
Jude Ogirima (Arsenal fan) says...
Absolutely impressive display of football by both teams, however Arsenal's squad especially Per Mertasacker was GENIUS
Posted 12:20 24th September 2012
Akinlawon Abdullahi (Arsenal fan) says...
Kudos to the boys! In Arsene Wenger we trust! I thank the coaching crew, players, and fans for the collective job well done Gunners for life
Posted 12:07 24th September 2012
Michael Obakhena (Arsenal fan) says...
A very good performance from the team. I think Mannone is really showing his ripe enough to give Schezny a fight for his money. Arteta and Carzola were exceptional in the middle of the pack. The defenders were always on their toes and I think Gervinho had a decent game. Overall,this team has got a big future ahead of them with the right approach and attitude. Every wing is highly contested now giving Wenger a lot to do in deciding who starts a match. Let's go GONNERS
Posted 11:12 24th September 2012
Deris Sesay (Arsenal fan) says...
Good performance by arsenal. They don't disappoint against the so called big teams but drop points to the smaller teams. Pick up maximum points against the lesser teams and I think we could be genuine title contenders.
Posted 09:53 24th September 2012
Bheki Moyo (Arsenal fan) says...
A polished perfomance by the Gunners. Consistence on this kind of perfomance is what will win them titles this time around. The discipline in the middle of the park is second to none. We still need accurace in front of goal. You got my support all the way guys.
Posted 08:53 24th September 2012
Ebi Egiye (Arsenal fan) says...
Arsenal wil b above city come May 2013
Posted 20:04 23rd September 2012