When Rafa Benitez arrived as Chelsea's interim boss last week some people suggested he would be able to help his former Liverpool ace Fernando Torres end his goal drought - but the Spanish striker's problems will not easily be resolved.
In his first 180 minutes playing under Benitez again, Torres' frustrations in front of goal have continued, with Chelsea drawing blanks at home to Manchester City and Fulham.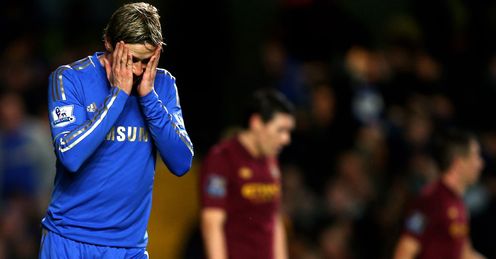 That doesn't surprise me because, in my opinion, Torres' failure to hit the heights he reached when he first arrived at Anfield is not down to who his manager is but the impact a string of injuries have had on his body.
Towards the end of his time with Liverpool it seemed a downturn in quality from the Spain international was caused by his desire to leave the club but, having seen how he's played at Chelsea, it proves it was much more than that. Injuries have taken their toll.
Hamstring strains and groin injuries are like kryptonite for these players; they can strip them of that extra yard of pace which would take them away from their marker.
Jamie Redknapp
Quotes of the week
Live on Sky Sports
West Ham v Chelsea

12.30pm, Sat, Sky Sports 2 HD
Certain players are superstars at a young age and hit their peak at 20, 21 years of age - but hamstring strains and groin injuries are like kryptonite for these players; they can strip them of that extra yard of pace which would take them away from their marker.
We saw it with Michael Owen and now we're seeing it with Torres. I can't remember the last time I saw Torres run away from a defender, get his body across them and score - his ability to do that used to set him apart. If he got in front of you it was 'goodnight' because he was so strong there was no stopping him. But now people can catch him - and once that happens you're just a mere mortal.
If it falls on his right foot in the box he'll score, because he can still finish, but, as good a player as he is, he hasn't got the little skill or trick to get out of trouble and that's why he's not the player he was. And I don't think we'll see that Torres who lit up the league in his first season or two at Liverpool ever again.
Suggestions Benitez could resolve his problems were misplaced - and besides, if you look at his goals at Liverpool, it was Steven Gerrard, not Benitez, delivering him the goal scoring chances.
Chelsea have tried everything with him now, and I think it's time they accept they need to look for another option in January - and unfortunately Torres can't complain if they do go and get someone like Falcao when the transfer window opens.
I remember an interview Torres did last year when he said he wasn't getting the supply he wanted - well now he has Eden Hazard, Juan Mata and Oscar and he's still not scoring. Chelsea made him the main man, got rid of Didier Drogba and the pressure of having the Ivorian ready to come on and take his place - and he's still not scoring.
It must be hard for him but Chelsea need to realise it isn't the manager, it isn't the supply line, it's Torres. Like Owen, when you lose that pace you become only a good player, instead of the great one that he was.
Benitez no joke
As for Benitez, he certainly didn't get a warm welcome from the Chelsea fans on Saturday. At the moment a lot of people are saying he hasn't got a clue - but that's not true. You don't take a team to two Champions League finals, win one and nearly win the other - which Liverpool could have done if things had gone their way - without a clue.
People shouldn't turn this guy into a joke figure because he's anything but that. He knows how to organise a team tactically as well as anybody. When he was at Liverpool he'd take them to places where you thought they had no chance and get a result.
Two goalless draws isn't an ideal start but he has had very little time with the players so we shouldn't judge him too quickly. I can understand the criticisms and if I was a Chelsea fan I wouldn't be happy either - he broke their hearts a few times when he was with Liverpool.
It was certainly a strange decision, as I said in my column last week, but they had to get someone in. Chelsea need to finish in the top four this season and with Tottenham creeping up behind them the Blues fans mustn't let the anger they have for Benitez's appointment affect positivity towards the team. Football's hard enough without having your own fans on side and their two performances under Benitez have suffered because of that.
It wasn't long ago I was watching Chelsea win 4-2 at White Hart Lane, playing brilliant football and, despite not fancying them at the start of the season, I started to buy into the idea of them winning the title. But what's happened in the last few weeks has certainly affected them.
Hammers a hard test
And things don't get any easier this weekend. A trip to Upton Park to play this West Ham side is as tough as it comes. Although Sam Allardyce's side have lost their last two, they've only lost one at home this season. They are a powerful team, physically very, very strong and Chelsea, without John Terry and Frank Lampard, two strong men, could be vulnerable at set pieces.
West Ham will put the ball in the box as often as possible, they'll be looking to hit Andy Carroll, Kevin Nolan will be running off him and Matt Jarvis will be whipping in crosses from out wide. It will be a real battle. The Chelsea team of Jose Mourinho were able to win battles like this and also play teams off the park, but this current Chelsea side can't get embroiled in a war; they're not set up for that. If they stick to their principles they can get a result, but if they get into a war West Ham will beat them.
I suspect there may be more misery for Rafa and another draw to add to the two he's already got. Man City only left Upton Park with a point and I think Chelsea will do the same after a 1-1 draw. This is a really tough place to go and West Ham have got the best line-up they've had for five or six years there.
Comments (21)
M J (Chelsea fan) says...
Totally agree with everything jamie has said there. its unfortunate for Torres but Chelsea need to cut thier losses now. This was always going to be the problem with Chelsea this season. The gamble of playing Torres alone without the addition of other world class strikers. Pundit after Pundit said it was a gamble that could prove costly. Well Chelsea took that gamble and its backfired. After a brilliant start, its back to the drawing board. Its unbelievable to think that this team looks flat, struggling and shot of confidence. Everything needs reconfiguring and with the arrival of Benitez its going to take time. Will Abramovch be patient though? History tell us not. It looks like a difficult rest of the season and i cannot see them getting a result at West Ham tomorrow who will be massively up for the game compared to a Chelsea team that does'nt look up for anything right now. Like jamie said, they absoulutely must get in that top four this year anything less would be a disaster with Torres ending up costing them much more than the £50 million they paid for him.
Posted 15:16 30th November 2012
Stefan Bryson (Arsenal fan) says...
To Jamie's point, Rafa is the guy that rushed Torres back from injury after playing him for weeks injured, making it worse with each stride. I think most players these days with the exception of maybe Arsenal, rush their players through rehab of simple injuries for results. My impression of Torres is that he just needs confidence, maybe in the MLS he can regain it. He is done in England and no other top tier team will touch him.
Posted 14:39 30th November 2012
Jinto Kappen (Chelsea fan) says...
Before firing the managers frequently,Mr Abramovich should think that why his managers are failing....If he is showing the courage to sack the manager in firing the players, blues can win all they want.
Posted 14:33 30th November 2012
Ibrahim Brohim (Liverpool fan) says...
When Torres played for Liverpool, he was the main striker. In joining Chelsea, he competed with Drogba who was the main striker and therefore his playing time was limited. Also, the style of football at Chelsea did not suit his style. So for a whole year, he had limited opportunities. This played a bigger factor in his form more than just injuries in my opinion.
Posted 14:25 30th November 2012
Liverpool fan Hamy (Liverpool fan) says...
Why did Torres leave cause his career is ruined now what was the problem at Liverpool
Posted 14:14 30th November 2012
Frank Solo (Liverpool fan) says...
Spot oon Jamie. Been saying this for a while. We'll never see that Torres ever again. Those Injuries and the confidence he lost like you said have made him a mere mortal.
Posted 14:07 30th November 2012
Mike Geoghegan (Barcelona fan) says...
Strange that Torres is getting such flak playing as a lone striker when he has scored 4 goals and not a word about Rooney and he has two premierhip goals.Is it a case of the media going easier on an English player
Posted 14:05 30th November 2012
James Harvey (West Ham United fan) says...
Great collum there! As a westham fan I usually fear this fixture...But as Jamie said this is the best line up westham have had in years and we are a lot physically stronger than chelsea...and the form they are in at present I can see us getting a result from this game! I am not at all saying it will be a walk in the park we will still have to be at our best for any kind of result...but I can see this being one we may nick a win! COYI
Posted 13:54 30th November 2012
James Ryan (Chelsea fan) says...
I don't think it's injuries causing his problems, I genuinely agree with everyone that says it's a confidence issue. Everytime I see him play he looks like he's afraid to strike the ball unless he's really close to goal or have a clean view of it. You always see him cutting in out and eventually losing the ball rather than just hitting the damn thing!! Speed is everything in the PL and he just takes far too long getting his shot away allowing defenders and the keeper to suss him out. You never see a first time shot from him anymore, you never see him darting infront of a defender just before a cross comes in like he used to for liverpool and atletico, he just seems like he's afraid to have the ball incase he messes up, he's forgotten what makes a good striker great. I'd love the chance to have a chat with him!
Posted 13:43 30th November 2012
Bradley Shelton (Chelsea fan) says...
ilove torres
Posted 13:39 30th November 2012
Abiodun Damiro (Chelsea fan) says...
Jamie, I am a big supporter of Chelsea and a huge fan. I agree with you on some of the facts you're claiming. I think what we'll see is the emergence of Daniel Sturridge becoming a better player. Daniel is selfish and a poor finisher and Rafa being the man he is would change him. Torres can still reach his heights, He is not even 30 years yet so lets see what happens
Posted 13:37 30th November 2012
Mark Thompson (Liverpool fan) says...
Remember when Torres was injured at LFC - needed a knee op & Rafa made him play on & delayed the op?? The only backup striker we had was Ngog, so he had some sort of excuse for it. But, delaying the op caused Torres to miss the world cup, & he has not been the same player since. I have been saying this to anyone who will listen for 2 years, & finally someone agrees with me - maybe I am not as stupid as people have said. So, to all of you who think Rafa was a god (haha), & all of you who think Rafa will get Torres back to his best, I suggest that you think properly about what you have just read & maybe the realisation that Rafa is the one who ruined Torres, & also helped LFC into the mess it was in when FSG stepped in to prevent it going bust, will actually sink into your heads. J496. YNWA.
Posted 13:24 30th November 2012
Gavin Woods (Manchester United fan) says...
Excellent article on Torres/Benitez from Jamie. Hit the nail on the head I think. As a Man Utd fan I find myself (almost) feeling sorry for Benitez and the abuse he's getting. Is it his fault Robbie Di Matteo has gone? No. Is it his fault that Chelsea have declined since losing to Man Utd? Nope. The owner is to blame for the instability at the club but the fans will never criticise him for the cash he pumps into the club and were he to leave then Chelsea would be in dire trouble. Benitez is an easy target....
Posted 12:46 30th November 2012
Harry Rinston (Arsenal fan) says...
Largely agree with Redknapp here, although as far as I'm concerned this was apparent long before he left Liverpool. I didn't even think it was a case of revitalising him, it was clear he had lost something. That's one of the things that makes football so bizarre to me, how can a clearly intelligent business man go out and splash £50m on a player that mostly anyone paying a little extra attention to his game can tell you isn't what he used to be? Football is mad, Liverpool still mustn't believe their luck. The reason I'm commenting though is because of this - "Chelsea need to finish in the top four this season and with Tottenham creeping up behind them". I'm an Arsenal fan and have been getting used to disregarded over the past 5 or so seasons. Warnings of Tottenham's imminent overtaking of us to become kings of North London is something I've become very accustomed to hearing be it through friends or the media. When has a Tottenham team ever finished above a Wenger team in about 14 years? Never. Stop disrespecting us in this respect, I have nothing against Tottenham but until the day they finish above us comes I won't even begin to consider letting comments like that go by.
Posted 12:39 30th November 2012
Ramanath Shastri (Chelsea fan) says...
Chelsea fans are now becoming experts in Maths. Last year they were counting how many hours did Torres take to score his first goal. This year, they have started to count how many hours will it take for Benitez to give their first win. the positive side of the change. All my family members are Chelsea supporters and we are excited about this.
Posted 12:25 30th November 2012
Benedict Barau (Chelsea fan) says...
It's becoming a old song fast. Torres was once one of the most feared strikers in Europe, but his body has failed to return to those heady days. An example of a player who has suffered injury and is on the way back is Torres' Spanish teammate, David Villa. He has been out for months and yet he's back scoring for Barcelona. The same can't be said for Torres despite what the club has done for him. A move for Falcoa would re-invigorate the squad and keep us in line for the Premiership title.
Posted 12:09 30th November 2012
Amo Ghariba (Liverpool fan) says...
all Torres needs is time, he was not one of the best, if not the best striker in the world not so long ago, he will come back to what he was, its the expectations put on him because of the price tag, Benitez had or has nothing to do with his development as a striker, it all rests on his own shoulders, like suarez, he will also prove everyone wrong.
Posted 12:04 30th November 2012
Bernard Mcgowan (Chelsea fan) says...
Very good summing up! Quite right about Torres not being in a position to complain as when Drogba left the stage was set to step into the main part-it simply hasn¿t happened. On another tack I feel that despite his business acumen the owner is actually on a learning curve where football is concerned and it could well be that over the next few seasons situations like Shevchenko & Torres as pet signings might be replace with football acumen!!
Posted 11:11 30th November 2012
Ben Rose (Manchester United fan) says...
couldnt have put it better, the general movement of the man is not what it what a few years ago. unfortunately i think he has joined the ranks Of Kaka, Adriano, ronaldinho etc who simply passed their best before they reached 30.
Posted 11:03 30th November 2012
Lee Crawford (Newcastle United fan) says...
Spot on about Torres. Though I would say he has that bit of skill or turn in the box because he used it so often at Liverpool, he has just lost that extra yard. Shame!
Posted 11:01 30th November 2012