It was good to see Arsenal sign up five of their brightest young talents this week - but this is how it should be.
So often over the last few years the Gunners have allowed the contracts of their key players to wind down and they've paid the price.
They've been forced into selling the likes of talisman, top scorer and captain Robin van Persie for far less than his true value - and that shouldn't be happening at a big club like Arsenal.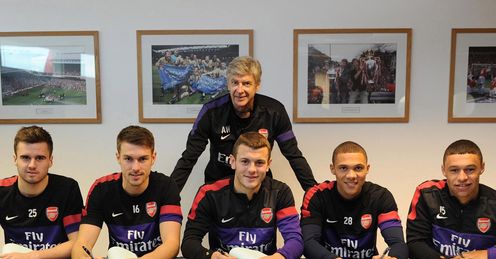 Too often, by not securing players on long-term deals, Arsenal have allowed the players to boss situations. When players only have six months on their contracts - as Theo Walcott does now - they hold all the cards.
A great football club like Arsenal should have been saying to Van Persie: 'You've got three years left on your contract, you can sign now or we'll sell you for £30m-40m', instead of letting him go for £24m. Sir Alex Ferguson said it was good business - well, yeah, it was for Manchester United!
Theo Walcott's a good player. He gets a lot of unfair criticism but he's quick, he scores goals, he makes goals and he showed with his left-foot finish against Reading what he can do.
Jamie Redknapp
Quotes of the week
LIVE ON SKY SPORTS
Wigan v Arsenal
12.30pm, Sat, Sky Sports 3 HD
So, it's right for Arsenal to tie these players down and I'm pleased they've done it because otherwise they'd have a similar situation with the likes of Wilshere down the line.
As much as he says he wants to stay, if the club isn't going in right direction he'll soon go. It's happened before; Wayne Rooney did it at Everton. But Arsenal have now given themselves some security.
Example
Their next task is to get Walcott on a similar contract.
I've heard lots of Arsenal fans say it doesn't matter if they lose him - well it does matter. Being forced into selling Walcott at a cut-price because his deal has run down will set the wrong example once again.
Arsene Wenger says Arsenal is the right club for Walcott, but he said the same thing about Nasri and Van Persie.
Walcott's a good player, he gets a lot of unfair criticism but he's quick, he scores goals, he makes goals and he showed with his left-foot finish against Reading what he can do. Other clubs will see it as a no-brainer to try and sign him if January if Arsenal don't tie him down.
If it means giving Walcott a bit more money, then so be it. If Arsenal don't like it, they can sign him up and then sell him in January or in the summer - they'll get more for him when he's got a four-year deal than just six months to go.
With all this talk about matters off the field there has also been a lot of criticism of Arsene Wenger. But the world hasn't caved in on Arsenal.
They're only two points off third and with Wigan this weekend followed by matches with an out-of-sorts Newcastle, Southampton and Swansea over the festive period they can cement their place among the top five in the division.
The frustration, though, isn't just about this year, it's about Arsenal selling their best players every year, having to build new teams every year - and the fans don't want it this way. Every year there's more talk about who's going than who is coming and that's not good.
Positives
However, there were positives on the field for Arsenal supporters in the 5-2 win at Reading.
The hosts were poor, make no mistake about that, but I liked the balance of the Arsenal team. Back when Arsenal were winning Premier League titles the word I'd associated with them was 'pace'. From the wide men to the centre forwards and even midfielders running through, they all had pace.
Against Reading they had Lukas Podolski, Walcott, Alex Oxlade-Chamberlain across the front with Santi Cazorla and Jack Wilshere in midfield. That is as good a front five as you could wish to see and they had the experienced Mikel Arteta sitting in behind them.
They showed real quality and speed in their movement and there was a lot of promise there. The problem is what happens when they lose one of those to injury as I don't feel the replacements are up to the same level.They should have another successful trip on Saturday, though, when they travel to Wigan for a lunchtime kick-off live on Sky Sports.
Roberto Martinez's side have been unfortunate to have eight players out injured recently and that's resulted in a poor run of form in which they've lost five of their last seven, including what would have been a painful loss to Norwich last weekend.
Games against teams such as Norwich - rather than Arsenal - would have been targeted by Martinez but their problem is strength in depth and with eight out their already-small squad is always going to struggle.
They'll still try to play football the right way this weekend, though, and it should be a good match to watch - however, Arsenal will have too much for them and, I think, they'll win 2-1.
Agree with Jamie? A 2-1 win for Arsenal is available at 7/1 with Sky Bet here.
Comments (2)
Alban Obianyor (Arsenal fan) says...
Jamie, I like what you are saying but you seemed to have missed a big fundamental with the RVP situation. When he had "3 or 4 years" left on his contract, I doubt even Liverpool (who so happen to be desperately searching for a striker now) or any club for that matter would have offered tuppence for a player who was called, and proving to be very injury prone much less "£30-40million". RVP came good in December 2010/January 2011 and I am sure I wasn't alone in believing when he scored the equaliser against Birmingham in the League Cup Final, we were in for another long spell without him as it looked to me like he might have hyperextended his knee on contact with the City player, and even then every commentator expected him to get injured again. The fickle amongst the Arsenal fans had already called for him to be sold or given away, same as they call for Abou Diaby now. Arsene Wenger showed faith in him, RVP, and stuck to his guns (for say seven+ seasons if I have got my numbers right) and RVP repaid him for a sason and a half before deciding he didn't like the way Arsenal were going. The way Arsenal was being run was waiting for the likes of him, RVP to come good! I only hope Diaby realises what Arsene is suffering for him and pays him back properly. The same thing I wish for Theo. I will admit that I wouldn't have shed a tear had he, Theo, been sold last January but again Arsene seemed to have stuck by him so now it's payback time. I can only hope that one day one of these footballers works out that what goes around comes around. Always has and always will. I have learnt over time that when people say 'In Arsene we trust', it makes sense.
Posted 14:08 21st December 2012
Adrian Page (Charlton Athletic fan) says...
I'd live to see the wages and lengths of contract they have just signed. With it being reported that Wilshire and Ramsey were on £50k a week before these contracts (I'm willing to bet Oxlade-Chamberlain was on similar wages as well), there's a high chance they're on £70k+ a week. Even for a 5 year contract this only takes them to 25-28 years old and they're currently on wages which or 3 or 4 times what they'd get anywhere else. If they fulfil their potential they'll be coming in to their peak at the end of these contracts giving them all the power in negotiations and potentially meaning that Arsenal will again be forced to sell them on at a relatively cheap rate or lose them for nothing. If they don't fulfil their potential, they have 5 years on a contract 3,4,5 times greater than they'll get anywhere else, then they can get the contract which is their market value after. Admittedly this is all hypothetical based on my assumptions of the lengths and wages. As for Walcott he' s a good player not world class and he's always going to be one serious injury away from losing a yard of pace and then being hust an average player, so £100k a week is a huge gamble on him
Posted 10:16 21st December 2012