As the Premier League takes a break for the FA Cup third round weekend, Sir Alex Ferguson will be happier than his Manchester City counterpart, Roberto Mancini, with his Manchester United side seven points clear at the top of the table.
But the title is far from won yet.
United are favourites to reclaim the crown but there's a long way to go; both teams have factors which could affect the title race falling in their favour - and the drama of last season's finale shows how quickly things can change.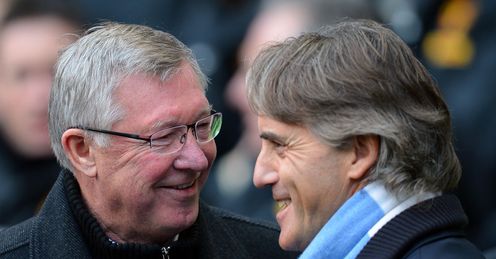 With six games to play at the end of last season Ferguson's side had just moved into an eight-point lead with a win over QPR, and Arsenal's defeat of City, after Mario Balotelli had been sent off, left most - myself included - expecting United to win a 20th league title.
United were right where they wanted to be and it was assumed Ferguson's side would - as they usually seem to do - avoid any mistakes and get the required points needed to win the league - but last season the rulebook was thrown out the window.
Both teams have factors which could affect the title race falling in their favour - and the drama of last season's finale shows how quickly things can change.
Jamie Redknapp
Quotes of the week
Free £10 bet
New to Sky Bet? We're offering all new customers a free £10 bet.
Claim now
United lost to Wigan, dropped two points against Everton (despite leading 4-2 going into the final ten minutes) and defeat to City at the Etihad swung the advantage back to the blue half of Manchester.
So, despite the seven-point deficit, there's no reason for City fans or players to think they aren't able to turn this around.
Chance
However, it's vital the champions are still within touching distance of their neighbours come April 6 when the sides meet at Old Trafford.
If City can still be seven points behind - or better - going into that game (and they'll need to cut out the mistakes which saw them lose to Sunderland on Boxing Day and nearly get caught out against Reading before Christmas) then they'll have a chance.
If City win that encounter and reduce the difference to four points then United will get nervous, the pressure will be on and who knows what will happen; footballers are only human after all.
Mancini will, no doubt, be quick to remind everyone what happened when United began to let a cushion at the top of the table slip last season...
However, City would much rather be playing that crucial, decisive second meeting at home, as they did last season - but the fixtures have fallen in United's favour this time round.
Both sides still have to play the rest of the current top six once more in the league - but for United three of those five games are at home, while City must play all but Chelsea away.
United, though, have the added complication of the Champions League to worry about; while City will be disappointed to have finished bottom of their qualifying group, their absence from the knockout phase is an advantage in terms of their Premier League ambitions.
United face trips to QPR and West Ham after their away and home ties to Real Madrid, respectively, and, although those fixtures could have been tougher for Ferguson's men, it is still not ideal to have to play on the road after the physically and mentally draining experience of Champions League knockout games against the Spanish giants.
Key
Ferguson, though, has the added advantage of Robin van Persie in his line-up; last season Unitedy lost the title on goal difference so in the summer he went out and bought the best centre-forward in the country.
I predicted he'd be the difference between the teams this season and that's proved to be the case so far, with even Mancini admitting last week that the Dutchman has played a key role in United pulling clear at the top of the table.
In contrast, City have the troublesome Mario Balotelli in their squad, who wouldn't last two minutes at Old Trafford.
He's a problem in the dressing room; he always has been and always will be. Yes, he's a talent - but is he worth the hassle? He just seems to bring negative press on the team.
City won the title last year but Balotelli nearly blew it for them with his sending off against Arsenal. He's extremely lucky a lot of the fans still stick by him and the manager is very protective of him, but I fear he could be their downfall in the end.
The contributions of Van Persie and Balotelli to each side's cause over the next few months will be interesting to see, but there are many factors which decide a title race - from fixtures and talent to attitude and experience.
And, as last season taught us, we should expect plenty of twists and turns before the final whistle in May.
Comments (6)
Atish Rahbar (Manchester United fan) says...
This is the 2nd time I have read Jamies article about how it is a disadvantage for Manchester United in the league for their involvement in the champions league where Man city is out of it. But I must point out that lack of games for the relatively huge Man city squad will also mean lesser chances for some bigger players. This means, he either has to rotate his squad a little too often which will result in not gelling the first XI perfectly and also this will result in downward moral for the big names not getting games as regularly as they would like. Manchester United has a big enough squad to cope with 3 ongoing tournaments but does Man city has enough games to boost up their players moral and keep them happy? In my opinion this is a million dollar question to the players of any team who wants to perform at its best. "Are you happy?"
Posted 04:44 8th January 2013
Alan Clarke (Manchester United fan) says...
utd are up for it after the disapointment of last season and so for me utd to win by a big margin at least 8 points
Posted 23:12 6th January 2013
Umair Ali (Manchester United fan) says...
I see everyone talk about being in the Champions League. Well i dont see it as an disadvantage. Its good psychology that you are involved in best competition of hte world. United were knocked out in 2006 but it was never an advantage to chelsea
Posted 12:45 6th January 2013
Rob Mudriczki (Manchester City fan) says...
Good analysis. Utd have pulled clear with a high win percentage and the 'we'll score more than you' approach. I'm a City fan and think that Utd will be succeptible to the odd defeat here and there and don't think that City can play any worse than the first half of the season so it'll be interesting. The Top 6 away games may prove difficult as these are the games that you need to play well in to win. Chelsea were shocking when we played them not so long ago but we completely let them off the hook whereas Utd got a somewhat fortunate win albeit through a more positive approach. I think last season proves anything can happen in this league and that although both teams play a different style they are well matched.
Posted 13:28 5th January 2013
Reno Diamonte (Manchester United fan) says...
Jamie you hit the nail right on its head...Ballo wouldn't have lasted 2 minutes at Old Trafford. As for City, well they still have other issues. Not just Mario Balotelli. Mancini's atittude with the other players, for example. Even if Citeh beat(which I doubt very much) Man Utd they will have no chance of catching up with United. Why.? Because the players at United learned their lesson well last season. I honestly think that Chelsea will overtake Citeh and finish second in the PL.
Posted 07:27 5th January 2013
Dave Imeson (Manchester United fan) says...
Mr jamie redknapp your opinions are of your last season yes utd blew 8point gap and ony lost title in last few seconds .this season utd have leant their mistakes of past.with rvp he's made diffrence not rooney yes defence is leaky but vidic is back but not as sharp as of yet.hopefully if a certain transfer of sergio ramos goes though the defence will be sharp as ever.do we need rooney??? Snejiear would be a benefit in midfield to me sir alex needs to look at future rio evra and vidic will be moving on or end of contracts injurys fitness is a question mark hanging over them.if he signs ramos as rumored need to replace evra asap buttner is not up to it as off yet
Posted 17:24 4th January 2013