Jamie Redknapp says Tuesday's World Cup semi-final against Germany could be 'a game too far' for hosts Brazil.
The Sky Sports expert believes the loss of Neymar and Thiago Silva for Brazil, will be too much for the home nation, against a well organised German side.
Forward Neymar had been one of the few bright lights for the five-time champions, who have otherwise struggled to sparkle, but his tournament ended in the quarter-finals are suffering a broken bone in his back. Captain Silva, will also miss the clash in Belo Horizonte after picking up his second yellow card of the tournament against in the same game, against Colombia.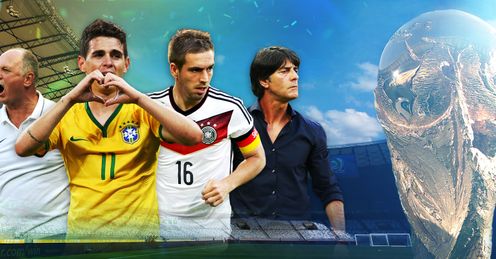 Speaking to Sky Bet's Ed Draper, Redknapp says these players are 'very difficult to replace'.
He said: "If Brazil had their two main players I would go with Brazil, but I think that's such a loss for them. It's your captain and your talisman, that's the key to this, it's not like you're losing two players that are okay and you can fix.
"They're very difficult to replace. You're obviously going to ask Willian to come in, or I'd have thought he would be the ideal replacement because he's had a really good season for Chelsea, but I think that the pressure will be so much for him. Neymar has thrived on it, but I don't know if Willian will be able to handle it as well".
Redknapp also questioned Brazil's defensive frailties against an experienced and well-organised German side, who could focus on their opposition's inconsistent and shaky back four who are now missing their leader Silva.
He said: "Defensively I don't think they've been at their best. You look at David Luiz - he's capable of moments of genius but he's also capable of doing something horrendous defensively so there's an awful lot of pressure on him. He has to be a very solid defender now, he's not got his mate alongside him.
"They've got it all on against this very resilient and experienced German side.
"This isn't a great Brazil side...look at all the great forwards they've had in the past and now they've got Fred who's their out-and-out striker and I think that just shows you how short this Brazil side is. 
"They want to attack, but because they've got Fred up front, he just doesn't look capable of doing the exceptional things, that, say a Ronaldo or Bebeto or one of the world-class footballers they had for many years like a Romario – but, I've just got a feeling this is a game too far for them for them and I'm going to go for a Germany win."
The Saturday Night Football pundit believes Joachim Low's side have more potential match winners, such as 2010 Golden Boot winner Thomas Muller who, he says, 'does great things on the field'.
"With all the players they've got and with all the experience I've just got a feeling they'll beat Brazil" he said.
"I look at Thomas Muller and he's such an interesting player. At times his socks are down and he looks scruffy, but he does do great things on a football field."
JAMIE'S SHOUT: Brazil 1-2 Germany
"I've got a feeling this a game too far for Brazil and I'm going for Germany win but I think there will be goals. Germany play such a high line defensively and it's a dangerous game and will come unstuck and sooner or later someone will get in behind them."
Post to your View!
Be the first to post a comment on this story