There's something about standing on the tees at a massively long course. It sort of stretches away from you into the distance and you find yourself wondering where the hell it all ends.
That's the sort of feeling you get in Hamburg.
Hamburg is long. Very, very long.
There are six of each par on the course, and of the six par fives only one is less than 600 yards. One of them is 705 yards?! Every hole has the same feel to it; tee it up and then try and smash the driver.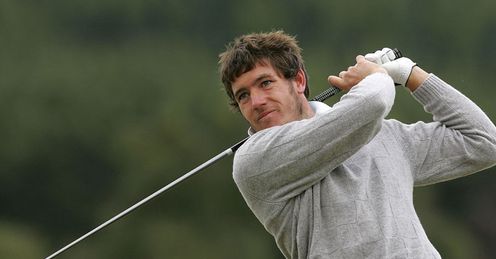 It is rumoured to be one of the longest courses in Europe, and it was hard yards.
Even so, after few weeks off, it was good to be back on the road again.
You get into a routine that is almost like clockwork. Up at 0430, off to the airport, meet the same faces, and start the banter and mickey-taking.
One of the guys on our flight had his picture up on the European Tour website, showing him at the top of his backswing.
For all the negatives, I hit two shots that reminded me of why I play the game, and why I keep chasing the dream.
Adam Gee
Quotes of the week
SKY SPORTS ON SKY
From football to fishing and everything in between, including cricket, rugby, golf and tennis - there's some amazing coverage coming up on the five Sky Sports channels.
Click
here
for more.
He was annihilated for it. "Oooh, dodgy swing that", "why aren't you doing a proper swing?", "that shot must have gone left", and so on.
Good to see the psychological warfare had not eased. Don't bring your demons, or you are in real trouble.
Trouble
One thing that kept me occupied during the week was this question sent by a mate; "When Paulsen plays for Liverpool he will become the seventh player to have played in the Premiership, La Liga, Serie A and the Bundesliga. Who are the other six?"
It took a while and we did have to use Google and ask for clues but eventually we got them!
I'll have the answers for you at the end of the blog. I just wish I had them when it came to my golf in Hamburg.
Apart from giggling at the starter who asked me to please advance my ball, there weren't a lot of laughs to be had.
I played OK, but dropped shots when I didn't need to and put myself in trouble when I could have avoided it.
Poor shots are always going to happen but shot selection is totally within my control and twice I chose the wrong club and paid the penalty, missing the cut by one.
Dream
However, for all the negatives, I hit two shots that reminded me of why I play the game, and why I keep chasing the dream.
On the 12th, I had 191 yards to the flag into a decent breeze. The flag was on the left-hand side just past a little ridge.
The ideal shot was a low one with a bit of right to left shape on it to get to the flag. Now right to left isn't my strongest shot, as I have said before I'm more of a slicer. But a fade here was no use, so I had to try and get it going right to left.
My target was a tree in the distance 10 yards right of the flag. Rehearse the shot getting a good feeling of what you want to do and how it feels, then see the target and replicate. Take a five iron, slightly back in the stance.
I ripped it, and it pitched and stopped 10 feet to the right of the hole.
So often in this game people that play it never take time to remember the good shots or congratulate themselves for hitting good shots. But this time, I made sure I did.
On the 8th I hit my second "best" shot of the day. I had 203 to the flag straight into the wind and I need a birdie. The flag was back left an again I needed to hit a slight draw.
Again the ball started bang on my target and drifted left towards the flag. It finished 12 feet short.
A really good shot just when I needed one, and it will give me some positive thoughts as I try to bounce back this week.
And for those of you that are interested, the answer to the football question was:
Maniche, Abel Xavier, Pierre Wome, Jon Dahl Tomasson, Gheorghe Popescu and Florin Raducioiu.
Click here to find out how you and your friends can become part of Adam's support team and back his bid for a European Tour card! Come and join Gee Force!