A much better week! After some missed cuts, I came in seventh in Kazakhstan.
That's a good result, and some money in the bank. It means a huge amount in terms of backing myself and proving that I am good enough. Vital steps, and I have to keep plugging away.
I played some good golf. One round of 65, two of 69 and a 71. That's the sort of scoring and consistency that I need if I want to make it.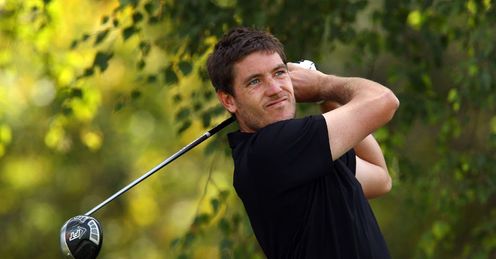 The course was in great shape, with fairly thick rough lining the fairways and greens. If you played well there were good, low scores out there, but if you were wild then it was hard to post a good number.
I decided to focus on my routine and let the swing take care of itself.
I really tried to immerse myself in my thinking and strategy. It has been a while since I had any sort of lesson so there is a temptation to try stuff out, but that could really de-rail things if it goes wrong. In the end, it paid off.
Divots
As for being in Kazakhstan I didn't really see much. The roads were always busy and the traffic was slow. It is very warm and the view of the city from the golf course sees the familiar cloud of smog that you get in many cities. It would be nice to see more of the town but time isn't always on my side. That's the trouble with working and not going as a tourist.
As he picked up the headcover the caddy turned and proceeded to recreate Michael Johnson at his Olympic best!
Adam Gee
Quotes of the week
In many ways, this was really a week that was about caddies.
I was talking to one female caddy who made me realise how lucky I have it, even if I ended up washing my socks and pants in the hotel room sink to save money.
She said she usually left home at 0430 and got to the club by taxi just after 5. Once at the club she was responsible for organising the trolleys and other caddy-related tasks.
She then waited until it was time to caddy, and for her five hours out in the sun she would get $25 during a tournament week. On completion of the round and any practice the player wanted to do, she has to put away all the trolleys, and other equipment, then walk the course repairing ball marks and replacing divots.
Getting a taxi home again she said she normally returned home around 2000. Now that is a shift for not much reward.
Apology
In terms of my caddy, he was an interesting bloke. He had some trolley issues that mean he often wrestled the clubs to the floor. But he also showed some incredible running speed. During one round he noticed that he had left a headcover on the ground, and started back to retrieve it.
A referee noticed what was happening and followed him to give him a lift back. As he picked up the headcover the caddy turned and proceeded to recreate Michael Johnson at his Olympic best! He flew past the bewildered referee at a pace never seen on a golf course. He ran bolt upright face to the sky, absolutely busting a gut to get back his trolley. Awesome. He got to the bag and puffed and panted an apology. This guy took his job seriously.
He was also keen to do some practice himself quite often walking off to the next tee while I was putting and doing some swings with my clubs. This unfortunately was brought to an end when he took an almighty divot out of a freshly cut tee box and rather sheepishly put the club back... Dad, your job is safe. See you at the next one.
Click here to find out how you and your friends can become part of Adam's support team and back his bid for a European Tour card! Come and join Gee Force!