I don't want to sound like a moaner, but sometimes life on the road can get to you. This week was one of those times.
I have not felt well or comfortable since arriving in Moscow, and that has been reflected in my play.
I missed another cut, and what makes it all the more is that I had left Kazakhstan with high hopes after finishing fourth.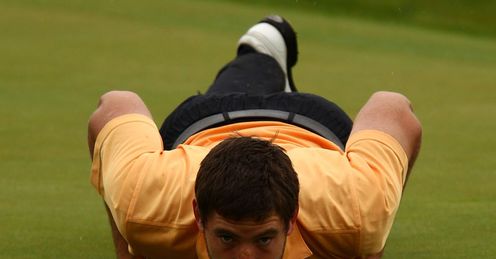 In fact, the result was such a lift that we had a little celebration before catching the 0300 flight to Moscow.
We just about paid our bills, made the bus, and headed to the airport, where we encountered the Kazakhstan officials.
As we queued up, not feeling too clever, one of the caddies, who was worse for wear, was lead away.
Moments before this he had been speaking with us and having seen this one of the officials asked me to go with them.
It was a bleak bus ride. Grey skies, grey buildings, grey faces and not a town in site. Our hotel was in the middle of nowhere, a prison for the week.
Adam Gee
Quotes of the week
I was taken into the basement where I found police cells and a very drunk caddy. I was told that: "You must pay to go on flight. You must pay for you and your friend".
This dialogue continued for a while with me stating my innocence and them demanding money, of which I had none!
Then as quickly as it happened, I was let go and told I could fly. Crazy!
Bleak
As I re-joined the group the translator from the police room found me and asked for $50 for all her help. She took me downstairs again, where she demanded I pay.
She didn't want me to get the flight and now she wanted money or I would be detained again. Incredible scenes! I paid, not because I wanted to, but because it was 5am, I was tired and I just wanted out of the place.
We got the flight in the end. It was delayed by an hour, and five hours later we got into Moscow.
Here we trudged through customs with them taking an enormous length of time over each and every Visa and got to the baggage reclaim area. Half of our gear hadn't arrived. The ones with bags got on the bus and had to wait a further hour while everything got sorted.
Finally we began the final leg of the journey.
It was a bleak bus ride. Grey skies, grey buildings, grey faces and not a town in site. Our hotel was in the middle of nowhere, a prison for the week.
We arrived at 1330 and were told that our rooms were not ready and they would not be ready until 1700. The hits just kept on coming, and unfortunately most of the ones I had to endure were on the course.
Which was, all in all, pretty good. No complaints there, it's a Jack Nicklaus Design and very enjoyable to play. But I just wasn't with it.
My game feels like I need a fresh bit of direction, because when I spent Wednesday practising I noticed a real lack of clarity, focus and intensity.
When this happens I tend to start trying out stuff and unfortunately that followed me to the first tee yesterday. Instead of sticking to the process and the target my mind wandered.
In the end, I shot a 79 and a 74. A bit unlucky, but not good enough by half.
Being my fifth week on the road and third away Moscow wasn't a great place to be. Same hotel restaurant every night, same faces, same menu and if you got your food within an hour you were the lucky one!
Just one of those weeks on tour. But one I am going to have learn to cope with better if I am going to make it. Simple as that.
Click here to find out how you and your friends can become part of Adam's support team and back his bid for a European Tour card! Come and join Gee Force!