I am not someone who normally worries about God when I am playing golf.
But in Egypt, he kept popping up.
During the third round I asked my caddy a few times where he thought my ball had landed, as a few shots were to raised greens. His answer was always the same - Inshallah.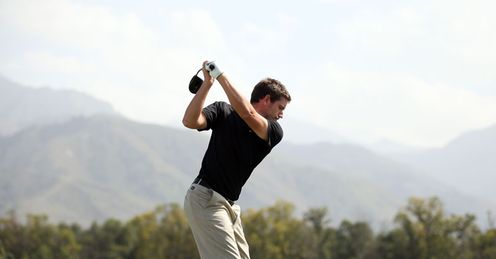 I knew that this meant God willing, and I wanted to start a debate on the matter stating that I am an atheist and therefore didn't believe in the existence of a God, and I believed that the ball got there because I had used my talent to hit it there. But I kept these thoughts to myself and said nothing.
However, when I missed putts I instantly thought Inshallah and immediately rationalized that God hated me and it was his fault that I wasn't making any putts!
I walked off convinced I had missed the cut. I signed my card in a foul mood, not speaking to anyone. Level par was a decent score on a tricky day but it was scant consolation.
Adam Gee
Quotes of the week
It didn't help that I was skirting the cut for the season's Grand Final. If anything makes you pray for help, then that will do it.
Fate
I began the week in 44th place on The Order of Merit (OOM) and knew that I need to finish inside the top 45 to play in the Grand Final next week and to qualify straight to the final stage of Qualifying School.
My fate was at least in my hands. I play well and I play next week.
There was an added distraction in that Rory McIlroy was playing in Egypt to promote the event and to promote tourism. But in the end, you just have to treat him like any other player and do your best to beat him and them.
Round 1 was boring, and while I hit most fairways, I missed some key putts. I finished the day in a tie for 74th, two shots outside the cut and with a mild case of heat stroke.
Round 2 was almost Faldo-esque. I had 15 straight birdie chances. A few good chances but I wasn't able to capitalize.
I walked off convinced I had missed the cut. I signed my card in a foul mood, not speaking to anyone. Level par was a decent score on a tricky day but it was scant consolation.
Then I glanced at the computer in the scores hut. I was in a tie for 53rd place. The cut had moved all the way to +3!
I was amazed and very relieved. I was still there fighting for that top 45 place.
I also felt pleased for my caddy Ahmed. He had travelled from Alexandria a town some 140 miles from Cairo just to caddy in the event and try to make some money; he now at least had employment for the full week.
Possibilities
Sadly though, the third round followed the same pattern.
Straight hitting, but a real lack of birdies. Not the birthday I was wanting. My short game wasn't tight enough and my putter was beyond cold.
I had to shoot a low final round and then hope that I would have enough money on the OOM to remain in the top 45.
It didn't happen. I shot +4. It was not going to be ok. I was gutted. T-58th, around 550 Euros.
Not a great amount and not an amount that would create much of a buffer. In my head I was doomed, I was in prime position to finish in 46th place.
I went back to the room and finally looked at the OOM and the scoreboard.
Out came the calculator and the sheet of possibilities. Tight. Very, very tight.
I watched the scores for an hour or so until it became too unbearable. I packed up and headed off to the airport not knowing what was happening but with a bad feeling.
I checked in and wandered aimlessly around the airport. Then a text came through. Dad wanted to know who was in what position on the OOM, etc. I filled him in, he wrote back saying there was still a chance.
Relief
Then the phone rang, it was Dad, he must know something!
He didn't. He'd rung to tell me that he thought he had gotten his sums wrong. A false dawn, I was back to thinking that I was going to be number 46.
Then another text. This time a reliable source, George Murray, who had just finished second, texted to say that I was last man in, again!
For the second year running I had snuck into the Grand Final taking the last qualifying place. Relief! Complete relief.
Last year it was pleasing to make the top 45 for the first time, this year it had been a minimum requirement.
When I thought I wasn't going to make it all manner of thoughts crossed my mind, but to now have a chance to improve my ranking and still have an outside chance to get my card is good news.
I finished 163 Euros ahead of the man in 46th place. I feel for him but I'd much rather it be this way round.
Click here to find out how you and your friends can become part of Adam's support team and back his bid for a European Tour card! Come and join Gee Force!
Comments (1)
James English says...
Hi Adam, I am delighted that you made the grand finale, according to what you are saying you are giving yourself birdie chances at least so hopefully if they start falling, who knows you may end up having a great week. Anyway good luck with it.
Posted 13:15 26th October 2010