What can I say?
It was the biggest week of my golfing life so far. In the end, I got my card for the European Tour. But it all started so badly - here's how it all unfolded....
Things were looking good in the lead up. Then one morning as I approached my car to set off for a practice game I noticed a collection of empty CD cases and broken glass on the road.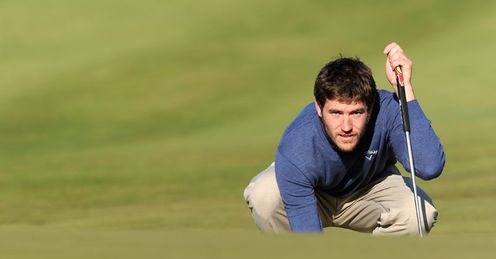 The radio was gone and then as I checked the boot, the icing on the cake, my clubs, spare clubs and balls had all been nicked as well.
I know. I know. I know. My fault, call me Steve Naïve, but it is a mistake you only get caught out for once.
It won't happen again. The problem now wasn't getting through Q-School; it was getting something to hit the ball with at Q-School!
I just felt so happy that I hadn't let people down, and that I had held up my end of the deal by getting myself a card.
Adam Gee
Quotes of the week
LIVE ON SKY SPORTS
South African Open
8.30am, Thu, Sky Sports HD3
8.30am, Fri, Sky Sports HD3
10.30am, Sat, Sky Sports HD3
10.30am, Sun, Sky Sports HD3
Callaway were brilliant, I received a complete new set three days later, and can't thank them enough. But by the time they arrived there was over a foot of snow on the ground and so playing golf was impossible!
Desperate
So I set off to for the airport not really knowing what was on the cards.
As a last-minute addition I also picked up an old three wood that I hadn't hit a ball with for around four years and had been gathering dust in my parents loft, desperate times and all that.
By the time Saturday came round, the waiting was getting to everyone.
I had tried very hard to down play the importance of this event in order to alleviate the pressure and ignore the possible outcomes.
But the problem with golf is that you have a lot of time to think about stuff, and generally you do end up thinking about every possible outcome and scenario from winning the school and having a European Tour card, to cold topping of the first tee!
Luckily I didn't top it. I started with two pars and then as we finished the second hole we were told by an official that play was suspended. The third green was still frozen and so play wasn't possible. The waiting now recommenced...
Lash
We picked up again on Sunday. The main thing that caught my attention was the fact my playing partner had a new caddy.
I made no comment as I assumed that it was all planned out. Then as we finished the fifth hole a lonely figure appeared from the woods. It was a very tired-looking caddy. The bags under his bloodshot eyes told us all we needed to know. He'd been out on the lash and his boss was not happy.
By comparison my round was a lot healthier, and nearly very good. I played nicely and when I holed a 40ft putt for eagle at the 10th I went to -6 for the day. I didn't add any more birdies and dropped two shots over the closing eight holes, but -4 was a good solid start.
Attack
Monday and Tuesday were more of the same, and I managed to keep my scoring going. The dusty three wood was becoming a star performer as I decided to take whatever was needed to hit the fairways and only attack accessible pins.
Wednesday though was a bad day.
I slept poorly, Dad managed to set his alarm an hour earlier than we had planned on getting up and thus ruined the shower order that I had been a bit too superstitious about and sadly this set the tone.
My swing felt stiff and out of rhythm, I felt grumpy and snappy. I have no explanation for it; I just got out of the wrong side of the bed.
Luckily my score of +1 wasn't too damaging, I only slipped to 12th place but I was really annoyed that my attitude had been so poor and that by thinking poorly and by being in a mood I had jeopardized the whole week.
Still, four rounds done and I was still in the hunt.
Sick
On Thursday, my mood had lifted but a good start changed with the weather.
As the clouds darkened, so did my thoughts. I had a putt of no more than 2ft for par at the 14th and missed it. I was furious but also totally shocked.
I played the next hole poorly and then came the tricky par 3 16th.
I hit a poor tee shot to around 65ft. I mis-judged my first putt and it went a ways past the hole.
My second putt also missed and ran 3ft by. My third putt also didn't find the hole and I had to tap in for a four-putt double bogey.
After 10 holes I was -3, I was now +1 for the day with two holes to play, this is Tour School. I felt sick.
I managed to bounce back a little with a birdie at 17 and that really helped. It was only one shot but it meant I shot level par and had slipped back score wise.
One of the keys to Tour School is to keep big numbers off of the card, two double bogeys in the last two rounds wasn't helping!
I finished the day in t-25th.
Cracked
On Friday, it all got to me and I cracked. I started to think about what getting through Tour School would mean to me.
I had avoided it all week but now it was all I could think of. But I wasn't thinking of the good things that would come my way, all I could think of was missing out.
All I thought about was that I had been inside the top 30 all week and I didn't want the only time I was out of it to be when I was on the flight home.
The mark at the start of the day was -9 and I honestly thought I had to shoot -2 to be safe.
Hitting balls on the range I felt good, my swing had been feeling good all week so that certainly helped things.
But as I hit balls my only thought was of the first tee and how a snap hook would be a terrible way to start! I wasn't doubting myself, I just wanted to play well.
As I walked to the putting green to finish my warm up, a rules official informed me that there was a 15-minute delay. More waiting.
Better
The first tee. The trees on the left seemed to have grown a lot over night. Luckily there was no wind so it was down to the dusty, old three wood. Straight down the middle. I felt a lot, lot better.
Before I teed off I was talking to a friend and we discussed what we thought would be needed. We both thought a couple under would be enough with maybe -1 being fine.
As I left him I said play well and that why didn't we just rip it up and get the job done as early as possible?
I birdied 2, 3 and 4 and then holed my 20ft eagle putt on the 7th. I was -5 thorough seven holes and now two off the lead. My idea was being put into practice.
It didn't feel like I was doing anything special. It was probably the most important round of my career, but I felt strangely relaxed and in control.
All night I couldn't imagine doing anything other than losing my ball off my opening tee shot and finishing in 31st place, but as I played it was very straightforward.
I bogeyed the 9th but was still in a very strong position. I picked up further birdies at 12 and 15 and then came to my nemesis, the four-puttable 16th.
This time, however, I hit it to 12ft and made the putt. Nemesis defeated. Two pars followed and that was that, done, card secured.
Special
I guess you always imagine that when you achieve your card it's going to be a magic moment and big display of emotion will follow but it didn't really.
It was great to have Dad there for that moment and being able to share that with him was incredibly special. But I didn't feel a sense of achievement, I felt relieved.
I just felt so happy that I hadn't let people down, and that I had held up my end of the deal by getting myself a card.
And the week was over. All the build up, all the anticipation and the suddenly, just like that, there was no more golf to play, the job was done and I'd be flying to SA in two days time to play my first event as a European Tour card holder.
I guess I'm not overwhelmed by it because the work has only now just begun.
I'm immensely proud of the way I played and to have won the right to play on the European Tour. But if I slack off now then all this will be for nothing.
The job now is to make sure that I press on and make the most of this opportunity.
Click here to find out how you and your friends can become part of Adam's support team and back his bid for a European Tour card! Come and join Gee Force!
Comments (1)
James English says...
Hi Adam, Fair play to you on getting your card. I am sure you will become a great pro, good luck in SA. Wouldn't it be nice if you got to play beside one of the greats Ernie or Retief throughout the week.
Posted 14:35 15th December 2010