There's something of a love-in between the Kiwis and the Irish at the moment.
News that Canterbury man Rob Penney has signed on as Head Coach of Munster for the next two years adds another New Zealand name to key coaching positions in the Emerald Isle.
Joe Schmidt at Leinster is obviously enjoying huge success, along with former All Blacks Jono Gibbes and Greg Feek, while Mark Anscombe is hoping to hit the ground running with fast moving Ulster, who will of course contest the Heineken final with Schmidt's men at Twickenham.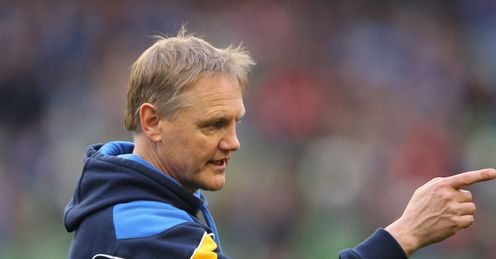 Clearly the New Zealand rugby way works at the Irish clubs, and so it comes as little surprise that the recruitment continues.
But why then do so few give the national team any chance against the All Blacks in June?
Ireland's inability to translate club form into international success has long been a topic for debate, and the expectations should only rise now that Ireland officially boast the two best club teams in Europe.
Ireland's inability to translate club form into international success has long been a topic for debate, and the expectations should only rise now that Ireland officially boast the two best club teams in Europe.
James Gemmell
Quotes of the week
Perfect opportunity
They have never beaten New Zealand in 24 test match attempts, but must consider this summer as a prime opportunity.
Firstly, the All Blacks' form after the year that was cannot be guaranteed. The monkey's off the back and the pressure has eased. They're under the guidance of a new coaching set-up, and the feeling is, if they're ever going to be vulnerable, this summer could be the time.
Then there's the swotting that can be done pre-tour. Whether the Heineken Cup returns to Dublin or Belfast, Declan Kidney should immediately be on the phone to Leinster's Kiwi contingent. Think of the insight they could offer.
Sorting out the scrum
Leinster will contribute the core of the Irish side, and after their inglorious Six Nations conclusion, tapping into the scrum success and defensive commitment so evident in last weekend's Heineken semi will be essential for national confidence.
Greg Feek's the man at scrum time, and it just so happens he reached his best for Canterbury, the Crusaders and New Zealand between 1999 and 2001 - years when current All Black coach Steve Hansen was his provincial forwards coach.
Feek knows Hansen well personally and professionally, and will have a better understanding than most of how best to approach, and attack, the new head coach of the world champions.
Fellow former All Black Jono Gibbes could be of similar help to Kidney. Hansen's new assistant Ian Foster is untested at test match level, and few in this part of the world know much of his pedigree.
He's cut his teeth with Waikato and the Chiefs in Super Rugby, two teams who count Gibbes as a favourite son. Gibbes and Foster worked in tandem with success for many seasons, and as "Fozz" steps up to the big time, few others could give a better background than Leinster's current forward coach.
Of course I'm not saying that two proud Kiwis would happily plot the downfall of their countrymen, but with the love Irish rugby has shown them, perhaps they'd be happy to give a little intellectual property back?
Comments (2)
Mark Bourke says...
The old school tie is still very very much in evidence in Irish rugby. Kidney seems to be a very weak man. Darcy and ODriscoll are past it and should move on. There are a number of others over the sell by date as well. It seems that the players themselves decide when they go...this cannot be right. Sexton is well over rated and needs some serious competition for that number 10 shirt. Darcy was never international class and was always preferred to the better player Paddy Wallace. There is a 'Cosy Club' about the Irish team and that needs to be shattered. They need to look at the fantastic athletic specimens playing gaelic football and try to get these guys playing rugby. But rugby in the Republic remains the premise of select public schools. Where would we be without the Ulstermen to bolster the ranks. I have still not got over the damp squid performance against the All Blacks at, of all places, Croke Park a couple of years ago.
Posted 13:41 17th May 2012
John Legend says...
Genuinely, Leinster's dominance in Irish rugby was a long time coming. The Leinster teams of the early 2000s massively underachieved. In comparison, Munster knocked at the door twice and Munster won their deserved Heineken Cups, twice. It's not a criticism of Irish rugby but population wise, it was only a matter of time before Leinster realised the potential within the province. It's urban myth here that Brian O'Dioscoill didn't even start for his senior cup winning team in school. He's still the greatest Irish player of all time but makes one wonder, whether politics dictated that team's selection or there was a serious hemorrhaging of talented rugby players within Ireland for a long time. I hope Schmit stays on. He's a wonderful coach and economically, we really need the continued success in rugby to deflect from our abysmal record at ruling ourselves.
Posted 03:32 5th May 2012