This is the moment I've been waiting for - the chance to win The Ultimate Fighter (TUF) and test myself against the very best in the UFC.
Many great fighters have used The Ultimate Fighter as their route into the UFC and I'm hoping the same can happen for my own career.
I take inspiration from guys like Forrest Griffin, Diego Sanchez and Rashad Evans, who have all gone on to either win or compete for UFC world titles after winning the reality show.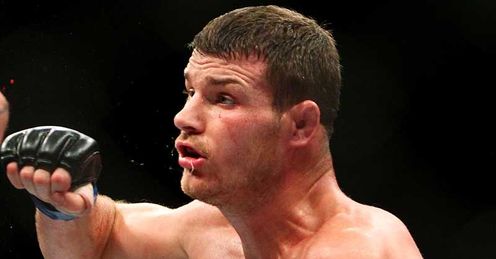 More than those guys, though, my biggest inspiration is unquestionably Michael 'The Count' Bisping. Mike won season three of The Ultimate Fighter and is now considered one of the best middleweights on the planet.
He's also one of the most recognisable mixed martial artists in Britain and is a massive star Stateside. Not only that, he's also my friend and training partner. With Mike's input and advice ringing in my ears, I simply had to take this chance and enter The Ultimate Fighter.
LIVE ON SKY SPORTS
Watch the new series of The Ultimate Fighter only on Sky Sports 2 and Sky Sports 2 HD
After deciding this chance was too good to turn down, I pursued the correct avenues and found out there were some trials for the show out in North Carolina. I fought and won my last fight March and then four of us from the Wolfslair flew over to America and took part in the trials.
Mick Bowman and I got through to the second stage of the trials, and were lucky enough to go on and do the grappling, striking and interview parts of the audition.
We then got invited back for medicals, but were held up by the volcano and the ash cloud in May and weren't able to fly out there. We had to cancel our flights and wait a week. By that time they'd cut Mick, which was very unfortunate.
Thankfully, I was able to get out to Las Vegas, do the medicals and was then told that there was a good chance I was in, but they couldn't confirm anything for a few more weeks. I waited two or three weeks and was then suddenly contacted and told I was going to compete on the show in one week. I was made up to get the chance.
I've always had confidence in my ability and entered the trials with the belief I was good enough to get on the show. Much of my confidence comes from the people I train with in the gym on a daily basis at the Wolfslair.
I get to spend a lot of time with high-calibre fighters from the UFC and that helps me improve my own game and also gives me a lot of self-belief.
Great experience
I'm lucky enough to train alongside Mike Bisping, Quinton 'Rampage' Jackson and a few others that have now been signed up by the UFC. It's all great experience for someone like and and I wouldn't swap it for the world. I've now got a good idea of the standard in the UFC and, when I decided to try-out for the show, I knew I was good enough to compete with the other guys there.
The Ultimate Fighter is something I always wanted to do in my career and something I've followed for many years now. I felt the time was right for me this season and just gave it a go.
I was a little worried about the weight-class this year, as it's very hard for me to make lightweight at the best of times. I knew that while staying in the TUF house I wouldn't be able to make the weight the way I normally could back home, with the benefit of an eight-week camp.
I expected it to be difficult to make weight on only a few days' notice. I didn't really diet during my time in the house - I just starved myself.
I couldn't afford any risks or shortcuts, as one bad day of eating could have cost me a place in the house. I knew I was tight at the weight and knew I had to treat my entire time in the house as a training camp.
I always thought I'd have to enter The Ultimate Fighter as a welterweight - as that would be more comfortable for me - but I simply couldn't turn down this opportunity. You can't pass up a chance like this, as it could do something big for my career.
My plan was always to get on the show, win the entire thing and then receive a contract with the UFC at the end of it. Failing that, though, I felt it was important to just go out there and put on some great fights and show just how much potential I have.
I'd seen other fighters win contracts over the years despite not winning the show, and I wanted to make sure that, even if I didn't end up winning the show, I'd still get far enough and show enough talent to warrant a contract at the end of it.
My main goal has always been to get to the UFC and compete against the very best. That's why I do what I do...
Aaron Wilkinson was speaking with Elliot Worsell