Nobody wants to be the last pick when it comes to the coaches choosing sides and, thankfully, I was spared such humiliation.
I was happy to be on either team, of course, as I was a massive fan of both Georges St-Pierre and Josh Koscheck.
I knew both guys would be able to give me a different kind of wrestling to what I get back home and that could only develop my game further. There was lots I could learn from both, as they are two of the most well-rounded fighters in the entire sport.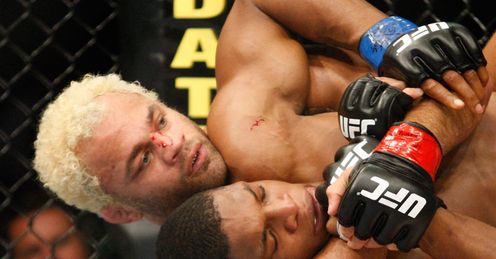 In the end, I slipped on a yellow vest and headed over to join Team Koscheck.
Josh and his team had a really high work ethic and they made sure they got a full effort from every person on the team. You couldn't slack off or take any shortcuts with Josh.
In many ways, Josh ran his team similar to how we do at the Wolfslair. We've got a similar work ethic back home and so nothing really took me by surprise with Josh. I was used to working at that kind of pace and intensity. After all, you only get out of it what you put in.
I rated Kosheck really highly going on to the show, and he only went up further in my estimations after working with him.
He started as a pure wrestler when he first came into mixed martial arts and now he's really well-versed in all areas. He's world-class in every area of his game and it's hard to pinpoint a weakness. It's phenomenal to have the chance to work with a guy like that.
Good room
It was also great to finally move into The Ultimate Fighter house, and I instantly took a liking to the set-up. I had a good room, separate from everybody else.
There were four of us separate from the rest, as everybody else had rushed to get their beds and ended up as seven in one room. We then found our room a little later. Patience was a virtue in this case.
I didn't like the idea of sharing a room with six other guys, as there was always going to be a chance that one or two stayed awake and messed around while the others were trying to sleep.
Nobody wanted to call me 'Aaron' in the house and Josh instantly gave me the nickname 'English', a tag which seemed to stick. I didn't mind the nickname, as it helped differentiate me from the rest of them and I was proud to represent England on the show.
The first few days in the house were fairly quiet, as we were all figuring out who was who and what our roles were.
The first fight on the show was between Alex Caceres, A.K.A Bruce Leroy, and Jeff Lentz. I saw the fight going pretty much the way it went, but didn't anticipate Bruce Leroy pulling out the submission at the end.
I believed Jeff was the better fighter and that he'd dominate the fight. I think Jeff would probably beat him nine times out of ten. Jeff came out strong, worked a good game plan on Bruce, but then just got caught.
After the fight, Bruce was going on like he was God's gift to mixed martial arts. To be honest, it was a pretty poor fight and he looked anything but impressive.
He was getting dominated the whole way before he locked in that lucky triangle. Jeff shouldn't have tried escaping it the way he did, as, by slamming Bruce, he only sunk the triangle in deeper. If Jeff had escaped the proper way, he'd have survived, got out and won the fight.
All in all, Bruce had nothing to shout about that night. He looked nothing special. If Jeff had hung on, we'd all have been saying Bruce was poor, brought nothing to the table and was only there because of the TV cameras.
I still think he was, to be honest. I thought he was a gimmick as soon as I laid eyes on him. The guy is 21 years of age, and I think Americans must mature a lot slower than we do over here.
They stay in school longer than we do and are not allowed to drink until they are 21, so it must stunt their growth or something. Guys like Bruce Leroy have never really had any life experience.
When I talked to him, he just sounded like one of the 16-year-olds back in England. He thought he knew everything already and didn't believe anyone could tell him otherwise. I didn't really like him that much, to be honest.
Jeff Lentz, on the other hand, was really cool. He annoyed me a little bit, because I think he could be an even better fighter than he is. Jeff is one of these guys that just does the bare minimum and likes to take shortcuts. If he cut out the drinking and smoking, he'd be an even better fighter.
If there's one thing I learnt from my time on The Ultimate Fighter, it's that you must be ready to fight at all times...