Everybody was looking for an excuse to start an argument and a fight with Bruce Leeroy. He just had that kind of face and that kind of effect on people. He was an idiot and a clown. I'm sure everybody at home is now beginning to realise exactly what kind of fool we had to live with for six weeks on the show. It's there for us all to see.
Bruce was shouting a load of rubbish during my fight with Michael Johnson, and I think it offended Sevak Magakian quite a lot. Even if it didn't, Sevak certainly used it as an excuse to pick a fight with Bruce. He just wanted a reason to try and chin Bruce before somebody else got there first. It's fair to say there was quite a long queue!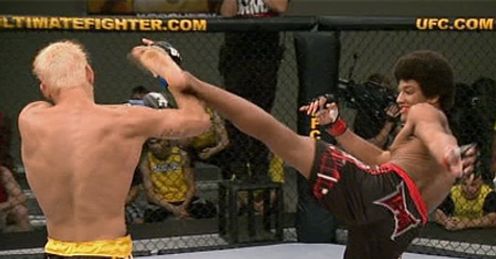 I had no interest in spending any time with Bruce Leeroy in the house. He was just completely unlikeable. I got on well with everybody else - and there was some great guys in there - but, to be honest, I've got nothing nice to say about Bruce. He wasn't pleasant at all, and I'm sure everybody that watches the show will begin to realise that as the weeks go by. Bruce Leeroy wasn't a fighter - he was just a gimmick used to wind people up.
Back to the Octagon
The real fighters in the house were far more interesting. Kyle Watson and Andy Main were brilliant people and I really enjoyed my time spent in their company. They were both humble and grounded individuals, and both were pretty bright as well. They were a lot more intelligent than I am, that's for sure! Their conversations sometimes got a little bit too deep for me.
He wasn't pleasant at all, and I'm sure everybody that watches the show will begin to realise that as the weeks go by. Bruce Leeroy wasn't a fighter - he was just a gimmick used to wind people up.
Aaron Wilkinson
Quotes of the week
Brit hope Aaron Wilkinson's attempt to become The Ultimate Fighter continues Tuesday, only on Sky Sports 2 and Sky Sports 2 HD
When it came time for Kyle and Andy to fight, the entire house were excited to see them do battle. Andy has a brilliant jiu-jitsu game, and so does Kyle. It was great to watch both of them rolling. They weren't just jiu-jitsu fighters, either. They had well-rounded games and could do a bit of everything.
We all thought Andy had a good shot of beating Kyle beforehand. If he'd have stuck to the game plan, he possibly would have beaten him, too.
Andy had a reputation as a jiu-jitsu guy, and he's probably been able to catch a lot of the guys he's fought with submissions early on in fights. He's been able to get submissions at the level he's been fighting at. As a result, he's going to stick to what he knows and carry on attempting the stuff that has brought him success in the past. I think he maybe tried reverting to type little bit too much during the fight, and needed to focus on other areas of the game to beat Kyle.
Saying that, though, I think the time spent rolling with Kyle in that fight will only improve Andy's game and make him a better fighter. He lost to a more experienced jiu-jitsu player, but there's really no shame in that at all.
I don't suffer from nerves before a fight, so it was interesting to see Kyle trying to cope with them on the show and before his fight with Andy. I'm not really fussed by anything when I fight. I just go out there and do my job. I do know a lot of other fighters that get worked up and emotional when they fight, though, and Kyle was obviously one of those guys that suffers a bit from anxiety and self-doubt.
To be fair, once the bell rings and the fight starts, Kyle does the job. It doesn't matter how nervous or shaky you get beforehand, if you can go out there and fight like Kyle did, you're on to a good thing. He did really well to get over his nerves and then perform the way he did. He used all his years of experience, as well as a slight edge in jiu-jitsu, to come out on top against Andy.
Everybody on Team Koscheck was a bit down and dejected after that loss. It made us 0-3 in the series, and I think we all felt the strain. We all wanted to get back out there and fight some more. We wanted to change the scoreline and get some wins back...