Episode six began with Josh Koscheck still goading and taunting Team GSP following our side's first victory of the season.
To be honest, as much as I was a part of Josh's team, I just didn't really want to get involved with all that nonsense.
I got on quite well with everybody in the house, and didn't like or dislike someone just because of the team they represented. At the end of the day, we were only wearing coloured vests. There was no greater meaning or importance to it all.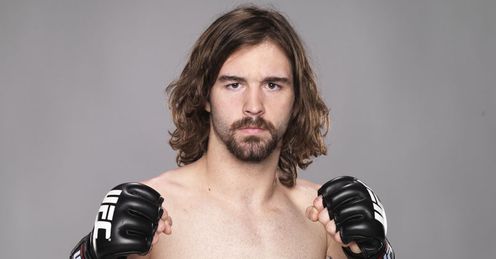 Josh obviously tried to get under a few people's skins after we won our first fight, but it didn't really mean all that much. Some other guys on my team were all over it, and were keen to back Josh up, but I preferred to stay in the background.
It was pointless starting any confrontations with anyone in the house, as you had to live with those guys on a daily basis. You'd only be making it all worse for yourself if you started having arguments left, right and centre.
At the end of the day, we were only wearing coloured vests. There was no greater meaning or importance to it all.
Aaron Wilkinson
Quotes of the week
I got on well with both Cody McKenzie and Marc Stevens, and it was interesting to see them get paired to fight in the first round.
Marc was on my team and actually showed me a lot of things over the weeks. I was picking up a lot of wrestling-based stuff from him and it was good to train with somebody so experienced.
Cody, on the other hand, was just a real sound bloke and was really interesting to listen to and talk to. He had some really cool stories to tell.
Going into their fight, we all knew Marc had a lot of ability and a lot of experience to go with it. He was Josh's first pick for a reason and we were all aware of how good the guy was. Technically and in the gym he was awesome.
Confidence
Cody just had this strange sense of confidence about him, though. He was super relaxed the whole time and never felt the need to boast about how good he was.
He knew he had a load of guillotine submission wins and he knew the reasons why. He obviously had something special about him and had a knack of winning fights.
I thought Marc would win the fight, but I didn't expect it to be easy. Cody was too tough and dangerous for it to go down like that.
As it happened, Cody was even tougher and even better than people thought. We knew the threat was there, and Marc was prepared for it, yet Cody was just one step ahead of the game. It was a brilliant finish from him.
Cody seems to get a lot of joy with that submission, simply because he's so relaxed and knows when to put it on. He's an expert with the move.
Tremendous
Just as impressive was Jonathan Brookins, another member of Team GSP. Jonathan beat Sevak Magakian in the same episode and looked tremendous in doing so.
Sevak was always in the group and always cracking jokes and laughing, whereas Brookins was a bit more reserved and mellow. He was always dead placid and quiet. They were total opposites.
I'd heard bits and pieces about Jonathan going into the fight, but didn't truly know how good he was as a fighter. On the flip-side, I'd seen plenty of Sevak in the gym and knew just what a tough customer he was.
Sevak looked great in the gym, but I really didn't know how good Brookins was at that stage. I didn't expect Brookins to be a walkover, but I expected Sevak to have enough to see him off.
As it happened, Brookins excelled and looked something really special. He's an awesome fighter, as you've now all seen...
*** Brit hope Aaron Wilkinson's attempt to become The Ultimate Fighter continues Tuesday, only on Sky Sports 2 and Sky Sports 2 HD ***