We're now less than four weeks away from the night I meet Japanense MMA star Yoshihio Akiyama at London's O2 Arena and I'm itching to throw some punches and kicks.
The fight takes place on Saturday, October 16 at UFC 120 and it feels fantastic to be back headlining a major UFC show in England. My last couple of fights have taken place overseas and, while it's always great to be a part of any UFC event, there truly is no place like home as far as I'm concerned.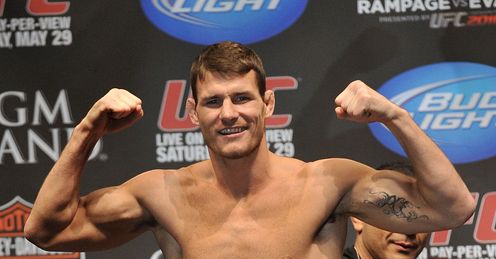 I've been lucky enough to have been part of some big events lately - and have been co-main event on some international shows - but you can't beat fighting in England and fighting on your home turf.
There is no greater feeling than entering the Octagon and being cheered on by your home fans. It's also great to be back fighting at the O2 Arena, which is a venue I consider to be one of the best on the planet. I just can't wait to get out there and perform and to give the fans what they want to see.
LIVE ON SKY SPORTS
The Ultimate Fighter - the series which launched Bisping's career - can now be seen on Sky Sports, every Tuesday at 10pm

With headlining a card comes plenty of responsibility, and I'm embracing it all this time around. I love being in a position to promote and hype an event, as I'm always looking to help take this tremendous sport to the masses. The promotion and pre-fight demands can sometimes get pretty intense but, to be honest, it all comes with success and, as a fighter, you'd much rather have the attention than not have it, I can assure you.
It's a Catch-22 situation for most fighters. Ideally you'd want to be training all the time, but sometimes the media interviews and appearances can get in the way of things a bit. At the same time, though, fighters need to realise that if they don't embrace the media and make themselves accessible, they'll never rise above a certain level.
I'm a professional fighter and all this extra stuff comes with the territory. Nobody can get by just on their fighting ability. I want to make this event as much of a success as possible and I want to do everything in my power to hype and sell this fight and the event.
I enjoy hyping fights, I enjoy promoting what I do and I'm now really embracing the opportunity I have to make an event as big as can be. I want the O2 Arena to be bouncing on October 16 and I want to hear the loudest noise I've ever heard when entering a fight venue.
Confident
In terms of my mindset right now, I'm more confident than I've ever been before. I've had my ups and my downs, but I feel as if I know what I can do and what I can achieve in this game.
The loss to Dan Henderson last summer was a bad setback for me at the time, but it was also probably the best thing that has ever happened to me and my career. That sounds like a cliché and something all fighters feel like they have to say, but I truly do believe that.
I've now realised I've got a few weaknesses and a few things that need working on, and that loss made me concentrate hard on becoming the fighter I can be. It taught me a lesson and forced me to get better.
Mark Kinney, my boxing coach, has brought me on leaps and bounds since that loss, and I've got no doubt Mark is the best boxing coach in MMA right now. He's done remarkable stuff with me. Mario Sukata and all the other coaches have really worked hard on improving my game and I'm starting to reap the benefits now.
I feel better than I've ever felt before and also feel as if I'm now entering my prime years as a mixed martial artist. Everything's coming together right now. I feel I'm one of the best wrestlers in the division, my boxing is fantastic, my jiu-jitsu has gone to the next level and my all-round game is so much improved.
I'm not doing it on purpose, but most of my sparring sessions nowadays end with me either dropping or knocking out the guy I'm sparring with. I'm not trying to knock them out or do it through bad intentions - it just happens.
That's not something that used to happen during my sparring sessions, but I'm now planting my feet more, using better head movement, picking my shots more and believing in my striking.
I truly believe that I'll be middleweight champion this time next year. The hard work begins with Akiyama on October 16, but, with a great win over him and one more victory against a contender next year, I believe my time will arrive. Within three fights I'll be fighting for and winning the belt...
Comments (8)
Gary H says...
Good luck against Akiyama and for all your fights, you do UK MMA proud.
Posted 13:48 25th September 2010
Paul Pou says...
Mike, question for you - do you think Aki will stand and trade with you or go for judo and Ground and Pound? Awesome site, about time SKY SPORTS covered UFC.
Posted 18:31 24th September 2010
Dan Beattie says...
Defo think Mike can win this fight using take down and GnP.. think Bisping fights better when he gets back to what he does best and overpowers opponents on the ground...im sure this will happen at the o2 with 15000 + Bisping fans... needs to transfer the KO''s and dropping guys from the gym into the octogon though to really be a threat for the title.
Posted 16:35 24th September 2010
Roger Davies says...
Absolutely fantastic to see Sky Sports covering UFC events.
Posted 16:33 24th September 2010
Scott Youngdahl says...
I will never order a PPV fight if Michael Bisping is on the card. His total disrespect for the United States makes me sick. If he just stayed in Britain and never came to our country again,I''d be happy.
Posted 14:00 24th September 2010
Dr Phil says...
"I feel I''m one of the best wrestlers in the division" LOLOLOLOLOLOLOL!!!
Posted 22:36 23rd September 2010
Duke Jones says...
Bring it home Mike!!!!!
Posted 22:34 23rd September 2010
David Harris says...
Great to see the UFC back on Sky! :)
Posted 19:24 23rd September 2010