There will be a total of eight British fighters competing at UFC 120 next weekend (October 16) in London, and I'm confident all can grab victory on the night.
On the whole, us UK guys have had a rough time of it in the UFC this year, especially when compared to the success we had in 2009. Last year we claimed two winners of The Ultimate Fighter, Ross Pearson and James Wilks, and our guys already in the UFC achieved some really big scalps.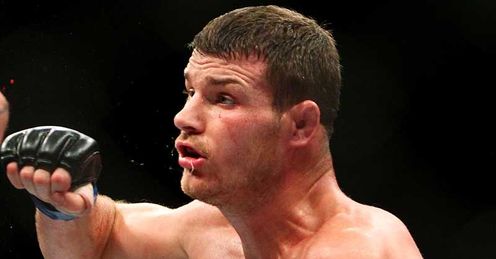 We've been less successful in 2010, but I'm sure that things will turn around on October 16.
Although I'm extremely patriotic and love my country, I'm also aware of the fact that mixed martial arts is an independent sport and that we are all individuals. It's foolish to just lump all the British guys together and then judge the success of one guy by the form of others.
A lot of people enter the UFC and don't realise how hard it is. It's the premier division of this sport and you can't expect to just walk into the sport and rise straight to the top.
Michael Bisping
Quotes of the week
Yes, there have been fewer wins by British fighters this year, but that still doesn't mean we aren't improving and growing as individual mixed martial artists. I won at UFC 114, for the record. I'd like to get that one in there, before I go any further!
Hard
I remember a time when I was the only UK guy competing in the UFC and, at the time, I had only lost to Rashad Evans, a future world champion.
A lot of people enter the UFC and don't realise how hard it is. It's the premier division of this sport and you can't expect to just walk into the sport and rise straight to the top.
There are a lot of other great fighters looking to do the exact same thing. It's an achievement in itself just to get a UFC contract, let alone start winning fights in the organisation.
I've said it all along, but it's one thing to get a UFC contract and it's another thing entirely to be able to keep it. I'm proud of myself because I've been a part of the UFC for five years now and am still competing at a high level.
Some of the other UK guys haven't faired too well, and they've had some bad stylistic match-ups, but I'm sure they will have all learnt from the setbacks.
A lot of our guys are only young and a lot of them are still very inexperienced as mixed martial artists. I've got no doubt they'll learn from their defeats and come back even stronger.
Ross Pearson suffered a recent loss against Cole Miller, but I've still no doubt Ross will end up being an incredible fighter. He's one of the best young fighters I've ever seen and is an enormous talent, regardless of nationality.
I've got no doubt he'll one day become world champion, and it's the same with a few of them. A bump in the road doesn't have to mean the end, so long as these guys learn from it and realise that success in the UFC takes time.
Learning
I've had to do my fair share of learning over the years, and have also had to rebound stronger from defeat. I still maintain that my loss to Dan Henderson last year has improved me tenfold as a fighter.
I'm one of the most seasoned guys in the UFC now, and I've experienced things that a lot of these younger guys coming through haven't been able to yet.
For instance, I've fought a lot of wrestlers back-to-back, so I've always subconsciously been wary of being taken down. As a result, I spent a lot of time on my back-foot, wary of overcommitting and being taken down.
It changed my style for the worse - as I lost some pep in my striking - but I had to adapt in order to survive with these top wrestlers. If I didn't adapt my style slightly, I would have been taken down and then stifled.
This is a problem that has faced a lot of the UK guys recently, and we seem to be suffering a lot against wrestlers. That never really happened to me, simply because I was very wary of it and ready for it.
With time, these younger British fighters will also learn the lessons I did and grow from the experiences. We've got a chance to show the world just what we can do at UFC 120 and I'm excited to be a part of it all.
Newcomers
As well as the likes of myself, Dan Hardy, John Hathaway and James Wilks on the main card, we've also got some UK newcomers in the form of Kurt Warburton, Paul Sass and Rob Broughton.
I'm particularly excited for Kurt, as he trains out of the Wolfslair and is a really dedicated and hard-working guy. He makes his UFC debut against Spencer Fisher, a crafty veteran well-known to UFC fans.
It's a big ask, but Kurt can really make some waves with a debut win against Fisher.
If there's one thing us Brits now know, it's that you never get an easy ride in the UFC. We wouldn't expect or want anything less...
Middleweight star Michael 'The Count' Bisping locks horns with Japanese hero Yoshihiro Akiyama at UFC 120 on Saturday, October 16, in London