So, here it is - fight week is upon us, and I'm only days away from knocking out Yoshihiro Akiyama at the O2 Arena.
I'm counting down the days and hours before I walk out in front of over 16,000 UFC fans and enter the Octagon on Saturday night (October 16). Having appeared on numerous UFC shows in Britain in the past, I can assure you there is no feeling quite like it.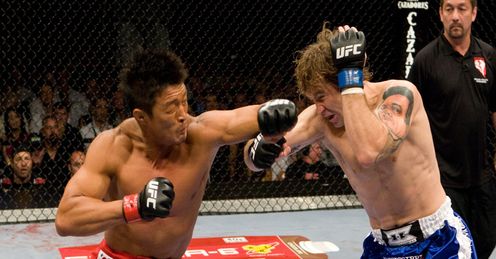 If you're a fan of the sport, and Saturday marks the first live event you've attended, you are in for a real treat. This is the greatest show and sport on Earth, and UFC 120 could be one of the cards of the year so far.
From my own point of view, I'm happy to be competing again and I'm pleased to have Akiyama as my opponent. I've got no hard feelings towards him, and he's said nothing about me, but I'm still keen to show just what I can do against him. This is a great stepping stone fight for me and a win over Akiyama sets me up nicely for a title charge in 2011.
He's an Olympic medallist in judo and is well-respected for his takedowns and grappling skills. You'd be a fool not to respect his judo talents and his hands. He's also got a good chin to go with all that.
Michael Bisping
Quotes of the week
BISPING v AKIYAMA
UFC 120 - O2 Arena, London
Saturday, October 16
Akiyama has only lost one fight in five years and remains one of the best middleweights out there. He rarely gets beaten, he's always exciting - has won 'Fight of the Night' in his first two UFC appearances - and is a good character and personality in the game. All in all, I see the fight as a good challenge for me at this stage of my career.
Well rounded fighter
Stylistically, I think it's a great match-up for me, too. Akiyama's a good power puncher and has got some nice knockouts on his record. He also has a dangerous uppercut and nice box of tricks, including a spinning back-kick.
He's a well-rounded fighter with a diverse striking style and obviously one of his main other attributes is his judo. He's an Olympic medallist in judo and is well-respected for his takedowns and grappling skills. You'd be a fool not to respect his judo talents and his hands. He's also got a good chin to go with all that.
However, in terms of weaknesses, I don't think his stamina is the greatest. I think I'm bigger and stronger than him physically and definitely faster as an athlete. I also think I have got better boxing technique than him, despite the fact he's got a good uppercut and a couple of other nice shots.
He seems to get tired and lose his shape as the fight goes along, and that's a bad thing to experience against a guy like me. He falls apart as the rounds tick by and his technique goes out the window a little bit.
I need to maintain my own consistency and just make sure that I'm capitalising on the mistakes he makes. I won't just be content to pepper him and make him pay, though. I want to put this guy away and get the stoppage.
I'm really focusing on knocking Akiyama out on Saturday night. My punching power has gone through the roof, I've changed my style of fighting and I'm completely confident I'll knock Akiyama out.
I've gone to a decision against both Wanderlei and Miller and feel the need to knock someone out. I'm not just looking for a stoppage, either. I want a knockout on my feet, just to stick to to those critics that say I've got no power.
Fitter, faster and stronger
Despite what I've said about his stamina, I'm expecting Akiyama to come into this fight in great shape. You've got to make that assumption when you prepare for a fight, otherwise you're liable to get complacent.
History has shown that Akiyama does tend to get tired and fade in contests, but I'm expecting him to be fitter, faster and stronger than ever for this fight.
We've all got a lot to lose going into a fight and I'm sure Akiyama realises how important this fight is for his career and his reputation. No fighter wants to lose back-to-back fights and I'm sure he's no different.
Ultimately, I think this is going to be a pure MMA fight with lots of action on both our feet and on the ground. I think Akiyama will look to strike for a bit and then go for takedowns. I'll look to do the same at times and keep him guessing throughout.
I can use my hands and feet to open and close the distance and then use my Thai-linch to knee him in the face and cause further damage. I can then choose to take him down, ground-and-pound him and then submit him.
I feel comfortable and confident no matter where the fight goes. I've trained to beat Akiyama in all areas. I'm going to be a true mixed martial artist, mix it up and give Akiyama the beating of his life.
Middleweight star Michael 'The Count' Bisping locks horns with Japanese hero Yoshihiro Akiyama at UFC 120 on Saturday, October 16, in London
Comments (8)
Big Daddy says...
Bisping should be okay as long as he doesn''''t get KOd in the first round. Denis Kang almost did that, and Akiyama KOd Kang in the first round so Bisping must be careful that he is not too pumped up going in
Posted 17:07 13th October 2010
John Gunn says...
Go on Mike! Don''''t circle to your left though and you should have the style to win this fight!
Posted 14:38 13th October 2010
Frixos Masouras says...
I just wish to say how WONDERFUL it is to see UFC articles posted on the SkySports main page. Give this wonderful sports its due credit (yes I am aware that the 120 PPV deserves extended exposure due to its "british" nature, but still, it is wonderful to see UFC articles next to Football, Cricket, Boxing and F1). On the subject, Bisping better bring his A-game!
Posted 13:05 13th October 2010
Dave Toms says...
your gona loose fella
Posted 12:38 13th October 2010
Ashley Coley says...
Come on Bisping, total faith in you brother.. you can do this.. il be watching at home unfortunately but il be cheering you on!!
Posted 11:07 13th October 2010
Marc Jameson says...
UFC 120 is going to be my first MMA event and I can''''t wait! There are critics saying that the event is lacking in international star power but the card is stacked with exciting matchups. I''''m fully confident it will be a triumphant night for UK MMA, with Bisping leading the way by stopping Akiyama. I also expect to see Dan Hardy use his improved jiu-jitsu to choke out Condit and John Hathaway put in a dominant performance against Pyle. Thanks for the great insight Mike, it''''s a shame you can''''t be at the fan expo on saturday as it would have been great to meet you and get your autograph.
Posted 10:26 13th October 2010
Lee Preston says...
Bisping on points or 3rd round TKO. I think Mike will box him and keep it standing in the 1st round, mix it up a bit more in the 2nd and then finish the fight via ground and pound in the 3rd. Unless Bisping has changed his style quite a bit I doubt he will KO Akiyama as he wants to, but should still have enough to win this one in front of the home fans.
Posted 09:48 13th October 2010
Aaron Cooper says...
Best of luck matey, no doubt you''''ll win! Saw your opponent against Chris Leben i think. Question is can you pound him more than Leben did. Bisping-Silva next year for sure!
Posted 16:52 12th October 2010