A while back Bobbie revealed in our weekly meeting that he once accumulated over £700 betting on matches during Euro 2004.
Unfortunately he then went and blew it all by backing the Czech Republic to beat winners Greece!
We like to focus on the positives though, so with that in mind we've decided to make him our betting 'guru' for the season.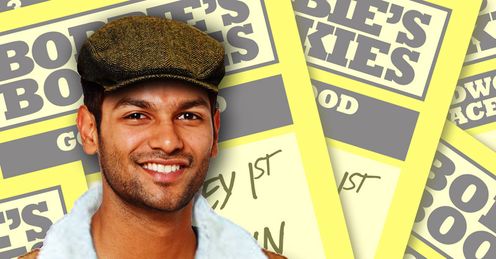 Each week he'll be picking out some of the slightly more unusual bets with a little bit of help from our friends at Sky Bet, and he'll also be putting his money where his mouth is.
We've stuck £50 in his kitty (Monopoly money of course!) and we'll see how he gets on through the course of the season and to make things more interesting he'll be going up against the rest of the office.
A different member of the crew will take him on each week and at the end of the season we'll see who's got the most wonga, or more likely who's lost the least!
So remember to check back each week for his latest bets and odds from Sky Bet and find out who's leading in the Bobbie v The Office duel!
Bobbie says...
The end of the month is fast approaching and if you're anything like me you're bank balance isn't looking too healthy. But never fear, because it's FA Cup weekend and we've got some magical odds for you, or if you're in Scotland 'for yee'!
I'm starting off this week's bad to the bone bets with a crew accumulator, which with odds of 22/1 really packs a punch. Max 'two left feet' Rushden and Helen 'hotter than the sun' Chamberlain's beloved Cambridge (playing Friday night) and Torquay are first in the mixer followed by Jump Out Man Chris' Southampton and Volcanic Ash's Derby County. I'm pretty sure this one's getting you all hot under the collar and jumping for joy. So what you waiting for!?
What's better than one crew accumulator? Yeah you've guessed it... two crew accumulators! Our second one is an FA Cup accumulator with rap superstar Tubes' Chelski leading the way, along with Rocket's Man Yoo, Trev's mighty West Ham and Devlin's Barca crushing Arsenal. With mega odds of ... drum roll please... 10/3! Ok they're not that great but it's almost a dead cert so you've got to be happy. If I had a house I'd put it on this one.
From large to little, from big to small from Premier League to football obscurity! We're sticking with the FA Cup theme and we're going all David and Goliath on you with an underdog special that'd have Tom from Kasabian singing his heart out! If Crawley Town, Leyton Orient and Notts County are leading at ANY, yes ANY time during their fixtures you can make a stack with gigantic odds of 66/1! This is all too much for me to take!
Ok I've calmed down and we're heading north of the border for the next couple of bets. 9/4 odds are available on a Man Utd and Rangers double this weekend, which would make a certain Sir Alex at Old Trafford a very happy man!
Before the last Old Firm derby, where everyone's favourite footballer El Hadji Diouf made his debut, Sky Bet offered odds on the former Liverpool forward scoring and being sent off. It didn't happen the first time but it could happen this time around! 20/1 odds are up for grabs for this little ditty. Tempers will flare, shins will be kicked and someone will almost certainly see red!
That's about all I've got time for this week folks. Happy betting and I'll see you at the same place same time next week. Adios.
Check out the Soccer AM specials page at Sky Bet for more bets.
Bobbie v The Office
As it stands: The office is still in lead on -£320, while Bobbie is needs a couple of big wins if he's going to finish the season in the black -£850! It's looking less and less likely...
This week
Bobbie's Bet: Easy this one. 66/1 odds for the underdog special are as tempting to me as a Kebab is to Razor Ruddock. Chow down big man.
Office Bet: Old Firm at Old Trafford. 9/4 odds are pretty tasty and we're sure we'll be a little richer after this one!