A while back Bobbie revealed in our weekly meeting that he once accumulated over £700 betting on matches during Euro 2004.
Unfortunately he then went and blew it all by backing the Czech Republic to beat winners Greece!
We like to focus on the positives though, so with that in mind we've decided to make him our betting 'guru' for the season.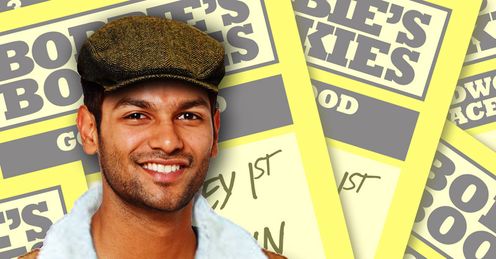 Each week he'll be picking out some of the slightly more unusual bets with a little bit of help from our friends at Sky Bet, and he'll also be putting his money where his mouth is.
We've stuck £50 in his kitty (Monopoly money of course!) and we'll see how he gets on through the course of the season and to make things more interesting he'll be going up against the rest of the office.
A different member of the crew will take him on each week and at the end of the season we'll see who's got the most wonga, or more likely who's lost the least!
So remember to check back each week for his latest bets and odds from Sky Bet and find out who's leading in the Bobbie v The Office duel!
Bobbie says...
Let me tell you a story boys and girls. Once upon a time a young pup named Bubs asked a 'betting guru' by the name of Bobbie if he should put a bet on the noble Nicklas Bendtner to score a hat-trick against the ones known as Leyton Orient.
The betting Guru replied "there ain't gonna be no hat-tricks matey, especially from Bendtner." Time passed, goals were scored and the 'betting guru's' respect and credibility took an all mighty blow. Well, it's time for redemption.
Let's kick things off because I've got some super odds for you here guys, so super they should wear a red cape. 50/1 is the price Sky Bet are offering up on another Dimitar 'cooler than ice' Berbatov hat-trick against Liverpool on Sunday. Berba's goals are like London buses this season so this ain't a bad shout at all.
Staying at Anfield and what does Stevie G love more than scoring goals? Scoring goals against Man Yoo! And what does he love more than scoring goals against Man Yoo? Scoring goals against Man Yoo and kissing the Camera! He's done it twice, we gave you the odds, we made you some money! Let's do that again! Sky Bet are serving up delicious odds of 9/2 on a little bit of bang, bang, kiss, kiss. C'mon Stevie go and show that camera just how much you love it!
Wow I've just given you three really good bets. Do you want a couple more? OK, how about this? Chelsea to score four or more goals against Blackpool. The Blues will be flying higher than one of Red Rom's private jets after the mid-week win against Man Yoo and you can get 11/4 with Sky Bet. Carlo's got loads of firepower in Torres, Drogba and Anelka and we're sure they've all been working hard in shooting practise this week.
I thought I might be able to avoid drawing attention to Arsenal's Carling Cup final defeat, but I've got a really good bet for you that involves the flipping man who caused a lot of pain to a lot of Gooners. Obafemi Martins to score the winner against West Brom at 6/1 is up for grabs and believe me it's very likely, just ask any Arsenal fan. The man's more dangerous then a WAG with a footballer's credit card!
Check out the Soccer AM specials page at Sky Bet for more bets.
Post to your View!
Be the first to post a comment on this story