A while back Bobbie revealed in our weekly meeting that he once accumulated over £700 betting on matches during Euro 2004.
Unfortunately he then went and blew it all by backing the Czech Republic to beat winners Greece!
We like to focus on the positives though, so with that in mind we've decided to make him our betting 'guru' for the season.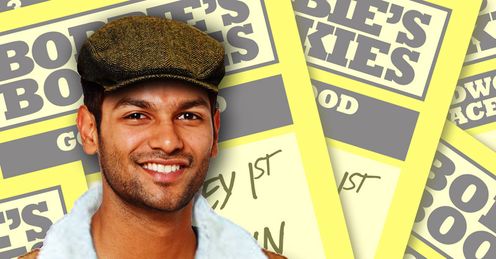 Each week he'll be picking out some of the slightly more unusual bets with a little bit of help from our friends at Sky Bet, and he'll also be putting his money where his mouth is.
We've stuck £50 in his kitty (Monopoly money of course!) and we'll see how he gets on through the course of the season and to make things more interesting he'll be going up against the rest of the office.
A different member of the crew will take him on each week and at the end of the season we'll see who's got the most wonga, or more likely who's lost the least!
So remember to check back each week for his latest bets and odds from Sky Bet and find out who's leading in the Bobbie v The Office duel!
Bobbie says...
We're not even halfway through the month but my bank account is in a worst state than Arsenal's quadruple hunt, and that's coming from a Gooner! So if like me you could do with making a few pennies then read on...
I'm starting big this week, bigger than Dean Windass' waistline. 110/1 odds are up for grabs on this week's Crew Accumulator. Matt Rushden and Helen 'super hot' Chamberlain's Cambridge and Torquay are first in the mixer. Rocket's Man Yoo, Jump Out Man Chris' Southampton and Volcanic Ash's Derby make up the rest of the teams. I don't need to sell this one to you... the odds do that all by themselves.
Arsenal head up to Old Trafford this weekend to face Man Yoo and to celebrate this momentous occasion the folks at Sky Bet have put together some rather tasty bets. Let's have a look shall we?
100/1 odds are available for Darren to dazzle again. If Fletcher can bag two goals and Man Yoo go on to win 4-0 you could be making rather a lot of money! The odds suggest this one is far far far from a cert but it's the FA Cup! Anything's possible... like in Narnia!


Being a Gooner I'm backing my boys for the win and a few seasons back Sammi Nasri did something rather special. He netted two goals against Man Yoo and won the match for the Gunners. If he can do this again you could see yourself a little richer with odds of 25/1 being served up by Sky Bet. Don't be a fool, put your hand in your pocket and start betting. You don't want to be left all teary eyed like a certain Portugeezer now do you?
As you all know we here at Soccer AM have our very own race horse! TeaforThree is his name and he's running this weekend at Cheltenham and we've got some great doubles for you with awesome odds. Here's the first one and my pick of the bunch. Cheltenham to beat Aldershot and TeaforThree to win at the festival at 66/1!
It doesn't stop there though, if our beautiful stallion wins and Arsenal beat Man Yoo, you'll be cheering all the way to the bank with odds of 100/1 yep 100/1! Our horse is actually pretty good at what he does and Arsenal are desperate to get their hands on some silverware this season, and I reckon they'll push Yoonited all the way.
That's all we've got time for folks but I'll see you same time same place next week.
Ta Da!
Check out the Soccer AM specials page at Sky Bet for more bets.
Post to your View!
Be the first to post a comment on this story