A while back Bobbie revealed in our weekly meeting that he once accumulated over £700 betting on matches during Euro 2004.
Unfortunately he then went and blew it all by backing the Czech Republic to beat winners Greece!
We like to focus on the positives though, so with that in mind we've decided to make him our betting 'guru' for the season.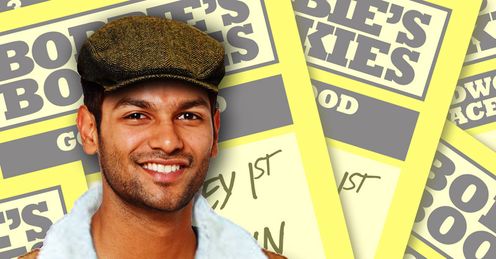 Each week he'll be picking out some of the slightly more unusual bets with a little bit of help from our friends at Sky Bet, and he'll also be putting his money where his mouth is.
We've stuck £50 in his kitty (Monopoly money of course!) and we'll see how he gets on through the course of the season and to make things more interesting he'll be going up against the rest of the office.
A different member of the crew will take him on each week and at the end of the season we'll see who's got the most wonga, or more likely who's lost the least!
So remember to check back each week for his latest bets and odds from Sky Bet and find out who's leading in the Bobbie v The Office duel!
Bobbie says...
Going big at Cheltenham is never a good idea, especially when you know as little about horse racing as me! Thankfully we've got a full Premier League fixture list to get our teeth into and you know what they say, you've got to speculate to accumulate, so let's not waste any more time...
W for Despair
Wigan, West Ham, Wolves & West Brom all lose 18/1
If V stands for victory then W must be for 'wosers' judging by the Premier League table! It hasn't been the best of seasons for Wigan, West Ham, Wolves or West Brom with all four teams fighting to stay in the top flight. But their loss could be your gain this week... literally! Sky Bet are offering inviting odds of 18/1 on all four to lose.
At The Double
Hernandez to score 2+ goals in Man Utd win 11/2
What can we say about Javier Henrnadez? Yeah he has a rubbish nickname, but put that to one side because the 'Little Pea' is as deadly as they come in front of goal! According to some boffins he averages a league goal every 96 minutes which must make his parents pretty proud - especially his dad who's known simply as the 'Pea'... I wish I was joking... Anyway, the point is he's on fire and Sky Bet are offering generous odds of 11/2 on him scoring two or more against Bolton... get on it!
Uruguay v Ghana
Luis Suarez concedes a penalty which Asamoah Gyan misses 40/1
The man who denied Ghana a place in the semi-finals of the World Cup with a handball will come face to face with the striker he brought to tears! Asamoah Gyan will be looking for revenge when Sunderland play Liverpool on Sunday, but I'm banking on a repeat of the World Cup quarter-final. You can get 40/1 on Luis Suarez giving away a penalty and Gyan missing it with Sky Bet.
St Patrick Vieira's Day
Vieira scores 1st in Man City win 50/1
Finally, I've got a bet for all of you out there who want to keep that St Patrick 's Day feeling going all the way through to Sunday evening! They said his best days were behind him but Patrick Vieira is proving he can still mix it with the big boys! I reckon he's still got a few goals left in him too and if he scores first against Chelsea this weekend and Man City go on to win the game you could be walking away with a packet!
Check out the Soccer AM specials page at Sky Bet for more bets.
Post to your View!
Be the first to post a comment on this story