A while back Bobbie revealed in our weekly meeting that he once accumulated over £700 betting on matches during Euro 2004.
Unfortunately he then went and blew it all by backing the Czech Republic to beat winners Greece!
We like to focus on the positives though, so with that in mind we've decided to make him our betting 'guru' for the season.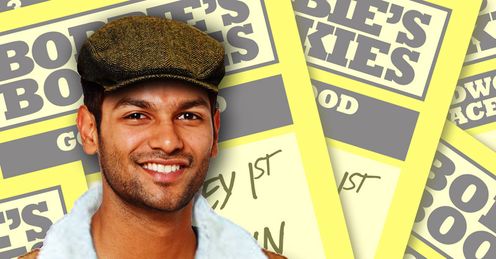 Each week he'll be picking out some of the slightly more unusual bets with a little bit of help from our friends at Sky Bet, and he'll also be putting his money where his mouth is.
We've stuck £50 in his kitty (Monopoly money of course!) and we'll see how he gets on through the course of the season and to make things more interesting he'll be going up against the rest of the office.
A different member of the crew will take him on each week and at the end of the season we'll see who's got the most wonga, or more likely who's lost the least!
So remember to check back each week for his latest bets and odds from Sky Bet and find out who's leading in the Bobbie v The Office duel!
Bobbie says...
It's an international affair this weekend and I'm leaving the diplomacy at home and going all patriotic. Come on England! Give me something to smile about this weekend and if you wanna increase the wonga in my wallet, you're more than welcome to!
England Double
England to beat Wales (football) & Sri Lanka (Cricket) 5/2
Some doubles are good, and some doubles are bad but at Bobbie's Bets we only focus on the good! It's England all the way this week and come Saturday you'll find me with three lions on my shirt as I'm prepare for England to beat the Welsh in the footy and Sri Lanka in the Cricket. This is pretty much certainly going to see my bank balance increase from a few pennies to a few more pennies! 5/2 odds? Thank you very much.
Young Guns on the Mark
Ramsey and Wilshere both to score 66/1
Being a massive Gooner I've got to tell you about this one. Wales captain Aaron Ramsey and England starlet Jack Wilshere have both been named in their respective squads. Now here's the math: Wilshere goal + Ramsey goal = You and me significantly richer. 66/1 odds are available and that's got to be worth putting a bob or two on.
International Accumulator
England, Scotland & Republic of Ireland to win 18/1
I love a double, I love a treble but you know what I love more? An accumulator! Massive odds and massive winnings! Check this one out at 18/1 because if England, Scotland and Republic of Ireland all win, then we win... a whole lot of cash!!
Check out the Soccer AM specials page at Sky Bet for more bets.
Post to your View!
Be the first to post a comment on this story