When Josh Koscheck and Georges St-Pierre fought at UFC 74 in August 2007, GSP was victorious walking away with a three-round points win.
The rematch this past weekend at UFC 124 took place in GSP's backyard of Montreal, Canada. This time they were fighting for a UFC belt in the welterweight division of 170 lbs and it was Koscheck's chance to prove that he had become a better fighter since he lost in their first meeting.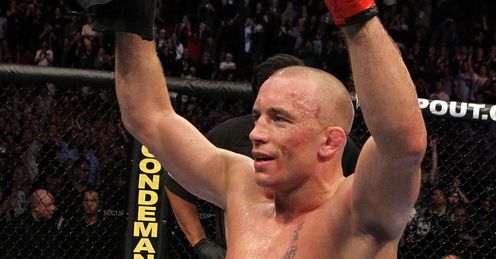 With over 23,000 fans in attendance, GSP showed from the start how much he had improved his all-round game. Within the first few seconds he started landing single and double left jabs causing Koscheck's right eye to swell.
GSP took his opponent down but Koscheck was able to defend against it and got back up. GSP got a couple of takedowns in the first, and two in the fourth round, but this fight was mostly fought standing up.
With over 23,000 fans in attendance, GSP showed from the start how much he had improved his all-round game.
Wayne McCullough
Quotes of the week
Koscheck's eye looked like it gave him a lot of trouble in the fight and it was probably hard for him to get his distance right, with GSP landing jabs and quick left hooks right on his damaged eye.
GSP used some high and low kicks but always finished with a punch to keep him out of reach. By the third, Koscheck was looking a little lost. He didn't seem to know what to do as GSP was jabbing, moving and keeping perfect distance. GSP was winning every round with ease.
In the final two rounds of this five-round championship fight, Koscheck found himself in new territory; it was the first time he'd ever fought past three rounds. He tried unsuccessfully for a leg lock in the fourth after being taken down, but GSP got straight back to his feet.
GSP continued to land left jabs off Koscheck's head and the latter had no idea how to catch or counter and continually got hit. GSP didn't need to take any chances going into the fifth so he just moved and jabbed, picking his shots well. He was fighting a near picture-perfect fight and maintained dominance over Koscheck, the top welterweight contender.
Even though Koscheck liked to throw the right hand, GSP did a very good job of defending against it. He kept his left hand high to block his opponent's shots and didn't have his chin tested. He fought a smart fight and defended his belt easily.
A stoppage win would have been nice for the champion but winning every round on the cards was good enough. The judges saw it 50-45 on all three cards.
Comments (5)
Hard as Nails says...
Im a huge GSP fan but I honestly do not think that he has the physical ability to beat Silva, silva is too tall too big and hits too hard. GSP would have to go where he has never been before, just think he would be fighting a man who knocked out Forrest Griffin???? could anyone honestly picture GSP doing that?? Having said that I would love to see the fight happen go GSP !!!!!
Posted 16:09 10th January 2011
Jamie Scrymgeour says...
GSP!! anyway has to comments before didint look to me that gsp was trying for the knockout he threw like 1 maybe 2 hooks (although the kicks were impressive) which if more rush and flurrys he could of finished it earlier i think either way well done gsp!!! koscheck that teaches you about trash talk!
Posted 21:29 19th December 2010
Daniel Roach says...
I would like to say that the way GSP gets results i dont think anyone in the world would beat him right now. Pound for pound the best fighter out there, I have never seen him in trouble and never even loses rounds. even at there respective weights now i still think GSP would beat Anderson Silva!!!!!!!!!!!!!!
Posted 11:54 14th December 2010
Space Man says...
Truely dominated the fight from start to finish. Blocked Koscehecks only real threat with ease and stood composed throughout the whole 5 rounds. Nothing less could be expected from a true gentleman of the sport. His attitude throughout ultimate fighter was superb
Posted 22:51 13th December 2010
Richard Garner says...
"Circle and jab George, Circle and jab" yeh he was really trying to finish the fight...
Posted 16:50 13th December 2010