Last Thursday's WEC card was the final show ever for that organization as it will merge with the UFC in 2011.
Dominick Cruz and Scott Jorgensen fought in the bantamweight division. It was scheduled for 5 x 5 minute rounds and as each round was fought, history was being made as the winner would not only be the last ever WEC belt holder but also the first ever UFC titleholder in that weight class.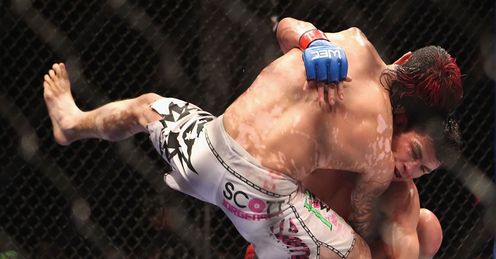 The challenger, Jorgensen, had a record of 11 wins and three losses and was coming off a win over England's Brad Pickett in August in what was a great fight.
Cruz, the champion, had a record of 16 wins and his only loss was at featherweight to Urijah Faber. He began the fight using his usual movement giving odd angles with punches and leg kicks. Jorgensen stalked him looking for the takedown and almost got it but Cruz avoided and landed hard leg kicks of his own. With about 15 seconds to go in the first round, Jorgensen got a takedown and got his opponent's back but Cruz was able to switch it and got on top as the round ended.
Pettis got a takedown in the third. Henderson gave up his back and Pettis mounted him. He stayed on his back looking for the choke for most of the round while banging on his body with hard punches as the round ended.
Wayne McCullough
Quotes of the week
In the second round Cruz got a takedown and used some ground and pound on Jorgensen but he was in his guard. Jorgensen controlled well and got back up. A quick, short right to the head dropped Jorgensen momentarily in the third but he bounced right back.
Jorgensen was getting a lesson in stand up, getting hit by one punch after another. He was coming forward but had no feints or much head movement to help him avoid his opponent's shots.
Cruz had his hands down by his waist and his constant movement was not slowing. Jorgensen needed a stoppage going into the fourth as he was clearly three rounds down but, right away, Cruz took him down and went to work. Jorgensen got up but he was taken down two more times in this round by Cruz who showed his dominance.
In the fifth Cruz started again with the constant movement but Jorgensen took him down. It was short lived as Cruz got back up and got a double leg takedown over Jorgensen. Cruz stayed on top for most of the last minute and a half to secure a dominant win on scores of 50-45 on all three cards.
The main event
The main event was a WEC lightweight bout between reigning champion Ben Henderson, in his backyard of Glendale, AZ, and Anthony Pettis. The winner will get a shot at the lightweight UFC title next year.
They were on their feet for about three minutes with Henderson landing some high kicks. He then got a takedown but almost got caught in an armbar before they got back up. Another takedown by Henderson probably secured him a close round.
Pettis came out in the second round and landed a left and right to the head of his opponent, dropping him. He then got on his back but Henderson defended well. The round was close but Pettis could have shaded it with the knockdown.
Pettis got a takedown in the third. Henderson gave up his back and Pettis mounted him. He stayed on his back looking for the choke for most of the round while banging on his body with hard punches as the round ended.
The fight was close going into the final two rounds and each guy needed to adjust if they wanted to win. Henderson kicked and Pettis caught it. They both scrambled on the ground as Henderson got his opponent's back and looked for the choke. He had a chance but Pettis escaped. This was a great action round.
The pace was faster now than the first three rounds. Henderson had adjusted well but Pettis sunk in a guillotine at the last minute however, Henderson was able to get through the round.
The fight was anybody's going into the final round. Pettis forced the action landing hard punches. He feinted a kick and Henderson fell to the canvas but was able to stay out of trouble after taking a hard right knee to the chin with about a minute to go. Henderson moved to his right trying to avoid everything. Pettis kicked high with his right leg, while using the cage to push himself off, catching Henderson hard on the chin. Henderson dropped to the canvas while Pettis landed some ground and pound but he was able to survive to the end of the fight. How he took that kick, I'll never know but what a chin!
Pettis secured a win by a whisker on the cards. The scores were 48-47 twice and 49-46. He now waits for the winner of the upcoming Frankie Edgar v Gray Maynard fight in January which will be for the UFC lightweight title.
Comments (2)
Steve Holliday says...
What a superb fight card, The main event definitely lived up to the hype such a back and forth fight between two talented individuals, and the kick in the 5th was incredible the craziest kick Ive ever seen, If you havent watched it go find it, Its like something out of the matrix, Its one thing to try a move like that but to land it! Amazing! The only thing more impressive was the fact that it didnt knock henderson out! Also one of the best undercards Ive ever seen I'm going to miss the WEC Lets hope they UFC don't neglect some of these lower weight fighters because there is some incredible talent down there Cruz,Joregensen,Aldo,Grispi,Faber,Brown,Torres,Benevidez To just name a few
Posted 01:01 21st December 2010
Michael Allan says...
The last WEC certainly was fantastic. I dont think it can be argued what the highlight reel of the night was, that kick off the cage was out of this world. Pettish however has a bigger challenge in the form of either Frank Edgar or Gray Maynard. I was also really pleased with Donald Cerrone's win, i hope to see big things from him in the UFC. Thanks though for some great events WEC, it was great.
Posted 23:35 20th December 2010