The first UFC fight of 2011 was a rematch between Frankie Edgar and Gray Maynard.
Their initial bout took place in April 2008 when Maynard won a points decision over three rounds. This time the fight would be over five rounds as Edgar held the lightweight belt.
Edgar was making the second defence of the title he won when he defeated BJ Penn in April 2010 at UFC 112. His first defence was a rematch with Penn at UFC 118 in August of last year.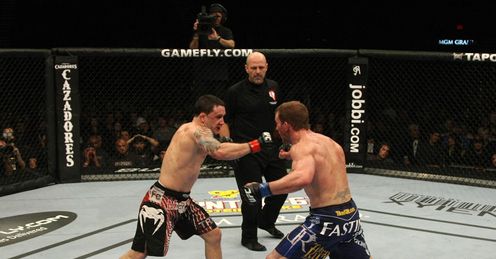 Maynard secured his place as the number one contender by beating Kenny Florian last August also at UFC 118 in Florian's home state of Boston.
Both Edgar and Maynard were well matched, had fought and defeated good names and typically win fights by decision. The only blemish on Edgar's record was his loss to Maynard but he hadn't won inside the distance since July 2007.
Edgar went into this fight as the underdog with most people thinking Maynard would beat him again as he had dominated their first fight with his wrestling and takedowns but this time it was different.
Wayne McCullough
Quotes of the week
Maynard entered the Octagon undefeated at 10-0 and even though he had a quick nine second KO win on his record over Joe Veres in September 2007, he hadn't won inside the distance since that fight.
Maynard was visibly the bigger man with a two-inch height advantage but Edgar had a longer reach. Edgar went into this fight as the underdog with most people thinking Maynard would beat him again as he had dominated their first fight with his wrestling and takedowns but this time it was different.
Maynard had the belt within his grasp in the first dropping Edgar just seconds into the round. It all started with a long looping left hook to Edgar's chin sending him down hard.
He rolled over on his back and got away but Maynard dropped him again with an uppercut. Edgar looked as if he was gone and his movement was slow but he made it through the round after being down several times.
It looked as though Maynard had hurt his right hand because he was holding back from the second round. Edgar won the second, third and fourth rounds and had recovered well from the first round showing a champion's heart. Maynard didn't do much in the second and Edgar was moving fast, getting in and out landing punches and some kicks.
Maynard was still looking for one big shot and wasn't focusing on his wrestling. He looked tired in the second and was getting beat to the punch every time. He is a big 155 lb fighter and maybe the weight cut had done him some harm.
The final two rounds were new territory for Maynard who had never been past three since this was his first championship fight. The fight was close going into the final round and it looked as though whoever won this round would win the fight.
Edgar continued to move and did well to avoid the takedown attempts from Maynard getting a takedown himself. Maynard landed a hard left hook and right hand to Edgar's head.
This round was close as was the fight and the winner probably depended on what the scoring was from the first round. It should have been scored 10-7 for Maynard but the judges scored it 10-8.
The scores at the end of the fight were 48-46 for Maynard, 48-46 for Edgar and 47-47 making it a draw with Edgar holding on to his belt and another rematch likely to happen.
Comments (2)
Michael Allan says...
Great fight Edgar/Maynard which was surprising to many before the fight. I felt the draw was the right decision,i scored it 47-47 from giving Edgar rounds 2,4,5 and Maynard 1 (10-8) and 5, leading to a 47-47. So with the rematch confirmed, lets start a countdown to now a third fight between the pair. Also mention to Thiago Silva. He looked fantastic after being out for a year and came back and destroyed Brandon Vera. Big things for him later on in 2011.
Posted 15:53 4th January 2011
Adam Russell says...
Fantastic fight! Based on the 1st round it was amazing that Edgar made it to the second round, let alone finished the fight. However you have to give huge credit to the heart and determination of Edgar to retain his title. Maynard was understandably dissapointed not ot have won, but you have to 'beat' the champion to get the title. This was too close to call. A rematch would be the fairest thing, and i cant wait to see it!
Posted 15:31 4th January 2011