This past weekend the sold out UFC 126 took place at the Mandalay Bay Events Center in Las Vegas.
Fighting in the main event was reigning middleweight champion Anderson Silva, who had successfully defended his belt a record seven times.
His last fight was against Chael Sonnen at UFC 117 in August 2010. Silva came very close to losing his belt that night as he was dominated for almost the entire five rounds before he pulled out a much-needed submission win by leg triangle/armbar at 3:10 in the final round. Sonnen subsequently failed his drug test for a banned substance which may have explained his non stop fighting.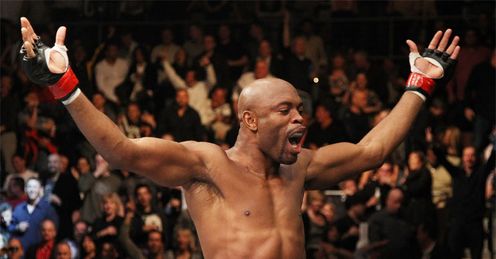 Silva had also moved up to light heavyweight, winning two fights, but a fight against Vitor Belfort was one a lot of people were looking forward to. It was supposed to happen a few times last year but injuries prevented it.
Belfort was once a UFC light heavyweight champion and had also fought in Pride, taking on the elite fighters in the MMA world. He made his UFC debut at 112 but has had breaks away fighting for other organizations.
Silva had worked on his kick with actor Steven Segal, who showed the pound-or-pound king how to use if effectively. He certainly did that, and in style, proving why he is the number one fighter in the MMA world.
Wayne McCullough
Quotes of the week
He fought everyone, win or lose, with names like Randy Couture, Chuck Liddell, Tito Ortiz, Wanderlei Silva, Rich Franklin and Dan Henderson on his record. He won his last five fights and even fought and won a professional boxing fight in April 2006.
Both Belfort and Silva were good at standup but on the floor Silva may have had the edge so it would be interesting to see who would make the first move. Rust could have been a disadvantage for Belfort having been out since beating Rich Franklin at UFC 103 in September 2009, but these two Brazilian's were sure to put on a good show.
The fight started slow as they both circled around waiting for the other to make a move, and in the first minute and a half absolutely nothing happened.
Direction
Belfort then landed a leg kick. Silva kicked but Belfort caught it, landing a right hand and taking him to the floor. Silva jumped straight back up but we were already half way into the first round and he had done nothing.
Silva has, in the past, taken part in fights where there has been little action on his part and this fight looked like it might just be heading in that direction.
But at just past the three-minute mark Silva came alive. He feinted a low kick and came up high with his left leg landing cleanly on Belfort's chin, knocking him onto his back.
He looked like he was out but Silva landed two more punches to his head while he was on the canvas just to make sure. The referee stepped in to stop the fight at 3:25 of the opening round.
What a kick from Silva who successfully defended his middleweight belt for the eighth time in front of almost 11,000 fans making this his 13th straight win in the UFC and picking up a $75,000 bonus for KO of the night.
Belfort was stunned and a little shocked at what had just happened. Thankfully Silva hadn't put in another bad performance but instead gave the fans one of the best KO's in the UFC and quite possibly one of the best front kicks we have seen.
He had worked on his kick with actor Steven Segal, who showed the pound-or-pound king how to use if effectively. He certainly did that, and in style, proving why he is the number one fighter in the MMA world.
Dana White announced that Silva would fight welterweight champion Georges St Pierre next if he gets past Jake Shields when they fight at UFC 129 in Toronto in April.
This would be an exciting fight - if GSP holds onto his crown.
Comments (3)
Keith Forrester says...
I was a bit disappointed in Belfort, he was supposed to storm in and "swarm" Silva. Having said that what an amazing kick and knock out, over someone who's never been knocked out! Unfortunately I think GSP v Silva will be too much of a mis match in size, but you never know? Anderson doesn't like fighting wrestlers & GSP's the best around really...will be an interesting one!? Now a Light Heavyweight bout between Silva & the quite awesome looking Jonny "Bones" Jones!....Now there's an exciting fight! As a footnote: England's Paul Taylor looked really impressive in the prelims.....
Posted 22:49 8th February 2011
Russell Cooke says...
Great kick, Silva is a killing machine! he has so many to stop a fight, which makes him the best and most dangerous fighter in MMA. He can knock you out cold with his hands, his feet or submit you on the ground. He's quick so very rarely gets hit. While ever he ratains his hunger and concentration he will not get beat, and that includes GSP.
Posted 13:57 8th February 2011
Lee Guy says...
I for one am so looking forward to GSP v Silva! Obviously barring Shields pulls off a minor miracle. I'd be putting my money on GSP though. He has the all round game, where as sometimes Silva looks awkward in his style. As Buffer would say "It's tiiiiiiiimeeee!!!
Posted 13:15 8th February 2011