BJ Penn lost back to back fights against Frankie Edgar last year and it looked like "The Prodigy" was at the end of his career.
But just three months after his second loss to Edgar, the two-division champion resurrected himself with a win at UFC 123 last November having moved back to welterweight for a fight against former champion Matt Hughes in their third match-up.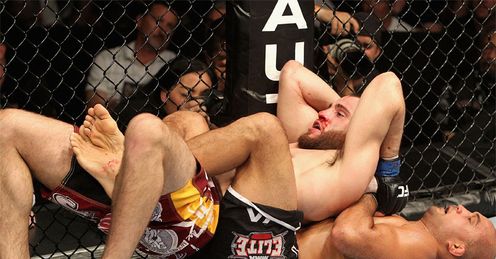 Penn surprisingly disposed of Hughes in the first round with a right hand to the head only 21 seconds into the fight. He was back and the win was just the ingredient he needed to show that he wasn't finished yet.
This past weekend UFC 127 took place at the Acer Arena in Sydney, Australia. The winner of the main event between Penn and Jon Fitch would possibly get a crack at the belt, which Georges St Pierre holds.
One judge scored it 29-28 for Fitch and the other two 28-28, declaring the fight a majority draw. When asked if he thought he deserved the win, Penn said no - but also said he would be happy to fight Fitch in a rematch. It looks like they may have to do it again.
Wayne McCullough
Quotes of the week
Fitch fought GSP losing over a five-round championship fight at UFC 87 back in August 2008. He rallied five straight wins since and still had only that one defeat in the UFC out of 14 fights. He was coming off a win over Thiago Alves at UFC 117 in August of last year. He usually wins his fights on points but tends to be in control with his wrestling and submission attempts.
Penn likes to stay on his feet and has great stand up. He also has punch power in both hands however on the ground he has submitted a lot of fighters as well so all around Penn is arguably the more complete fighter. He got off to a good start going straight at Fitch as his opponent was looking for the takedown but Penn had a good defence against it. He got a double leg takedown but couldn't get his choke in while on Fitch's back.
Fitch was able to turn around as Penn continued his choke attempts. He ended up on top of Penn and did some ground and pound and it was clear that Penn was unable to get his stand up going.
The second round was very close with both fighters getting takedowns. Penn got Fitch's back again but just couldn't get anything going. Fitch did a lot of mauling, keeping Penn pinned on the ground for most of the round. While it was a close one to score it looked like Fitch did a little more damage.
At the start of the third Fitch landed a right to Penn's head and got a takedown but BJ got up. He was taken down again and remained on his back for most of the round. Fitch landed elbows, body shots and hard head punches to clearly take the final round and it also looked as though it would give him the win.
The judges thought otherwise as one scored it 29-28 for Fitch and the other two 28-28, declaring the fight a majority draw. When asked if he thought he deserved the win, Penn said no - but also said he would be happy to fight Fitch in a rematch. It looks like they may have to do it again.
Two British fighters were on the undercard of UFC 127. Michael Bisping fought Jorge Rivera and there was clearly bad blood between them. Bisping was enjoying controlling the first round with three takedowns and using good stand up. But Rivera also landed a right hand of his own.
Bisping took Rivera down again but as he was trying to get up he still had both knees on the canvas. Bisping landed a left knee to his chin knocking him onto his back. The knee was illegal because technically Rivera's knees were still touching the canvas. He was deducted a point, and Rivera was given up to five minutes to recover but was able to go ahead and finish the round.
In the second, Rivera still looked hurt but he caught Bisping with a right to the chin momentarily dropping him. He got up quickly and attacked Rivera with kicks and punches. A short right to the head dropped Rivera and a few shots later the fight was over at 1:54 of the round. Bisping now moves closer to a world middleweight shot.
Britain's Ross Pearson came back after a loss and surgery to outpoint Spencer Fisher over three competitive rounds. Both fighters landed head punches and showed good stand up. But it was Pearson's leg kicks and a very strong last round that pulled the fight out for him. He gets back to winning ways on scores of 30-27 and 29-28 twice.
Comments (4)
Rae C says...
Bisping is a middle tier fighter, he should be no where near a title shot, put him in against Anderson Silva and he would get humiliated. Even other top rank fighters like Okami, Marquardt, Sonnen, Maia, these would all be to good for Bisping.
Posted 10:58 2nd March 2011
Phil W says...
Bisping won purely because of the knee he delivered to the chin of Rivera, he clearly knew what he was doing and without that, I would like to think the Rivera would have got the best of him, rematch should be on the cards!!
Posted 10:38 2nd March 2011
Anthony Christie says...
I was a bit disappointed with Bisping's behaviour after the fight. Eventhough he had to put up with a lot of trash talking prior to the fight; for me, that is still not an excuse to show very little class in victory.
Posted 18:13 1st March 2011
Gary Stefano says...
I think it makes sense for the rematch to be made. To have a contender following the match between GSP & Shields, you need a decisive victory for either Penn or Fitch. Will be a much harder sell to put either in front of the Champion following a draw. If GSP does defeat Shields, and makes the decision to move to Middleweight, then the likelihood could be either Fitch Vs Penn for the vacant title, or see how the land lies when Diego Sanchez and Martin Kampmann meet this Thursday, Dan Hardy takes on Anthony Johnson, and Thiago Alves meets Rick Story in the coming months. The Welterweight is a stacked division and the upcoming season of The Ultimate Fighter may provide a future challenger.
Posted 13:30 1st March 2011