One quality you normally associate with Australian cricketers is their ability to fight when their backs are to the wall.
So far we simply haven't seen enough of that in this Ashes. You can put that down to England's consistent pressure but also Australia's inconsistency in selection.
Now they need to win two of the last three Tests to have a chance of regaining the urn, so if ever there was a time for spirit and experience it's now.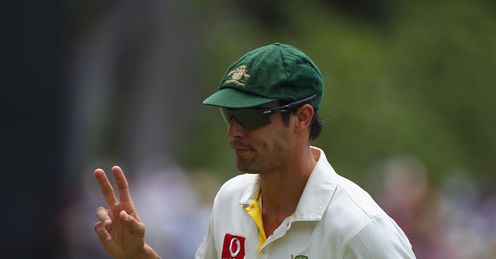 Australia - who are normally very good at sticking with players - made a bad mistake by dropping Mitchell Johnson for the second Test.
England made a massive statement in 2005 when they stuck by the same XI that lost the Lord's Test and their selectors reaped the dividends.
In fact, the only change England made in that series was enforced when Simon Jones broke down before the fifth Test.
No disrespect to Xavier Doherty but it's hard to see how you can have a bowler who is averaging over 50 in first-class cricket as your No 1 spinner.
Ian Harvey
Quotes of the week
THIRD ASHES TEST
Australia v England
2am, Thu Dec 16, Sky Sports HD1
Follow the Ashes
wherever you are
- on Sky Sports HD1, Sky Player, Sky Mobile and skysports.com
Right now Australia's selectors need to get their house back in order and get the more experienced players back in; now's not the time to blood more youngsters.
Johnson, whose record in Australia remains good, should have been given a couple of Tests to prove himself and I'd give him another go next week. Wind him up and let him bowl as fast as he can on a Perth pitch that should make him feel right at home.
Option
The time's also right to get Nathan Hauritz back in the XI.
No disrespect to Xavier Doherty but it's hard to see how you can have a bowler who is averaging over 50 in first-class cricket as your No 1 spinner.
The selectors won't admit it but they saw Kevin Pietersen struggling against left-arm spin and went with Xavier when Hauritz hadn't done a whole lot wrong.
They overlooked the fact that Pietersen is a world-class player - one of the best - who would put in the hard yards and work out a way to solve the problem.
For me Nathan is the better option because he's got the experience and is more likely to win Australia a Test than Xavier; I'd like to hope that in the same position he could have done what Graeme Swann did for England on the last day in Adelaide.
Steve Smith isn't quite ready to come in yet - he's bowling too many bad balls at the moment - and it's too tough an ask to throw Michael Beer in right now. His time will possibly come further down the line.
Example
The most disappointing aspect about Australia's batting so far is that - unlike England - players aren't going on when they get themselves in.
If it wasn't for Mike Hussey, Australia would probably be 2-0 down by now. More of the guys have to start following his example, Marcus North in particular.
A lot is being said about North at the moment and he doesn't seem to be coping with the pressure from the media or the pressure he's putting himself under very well.
The question, though, is have Australia got anyone who can do a better job? Usman Khawaja is on the fringes of the squad but the big one for me is Cameron White. He'll be very disappointed not to have played a part so far.
He scored a hundred when he led Australia A against England last month and has performed well at international level; in fact he's probably one of the most consistent one-day players we've had; he's someone Australia can rely on, who can turn a game in a session.
A lot of players have come through the one-day game into the Test team - Andrew Symonds and Michael Clarke to name but two - so let's give him a proper go.
Talking of Clarke, it's brilliant to see him back in form; there was a big fitness cloud hanging over him before the first Test but he battled through and showed plenty of fight in the second innings at Adelaide.
The crushing disappointment when he got out to Pietersen right on stumps on day four was clear for all to see but he'll come back stronger.
Silly
On the subject of comebacks, there have been plenty of headlines about Shane Warne this week.
I know that Shane still has plenty of fans who would love to see him playing Test cricket again but even if he was silly enough to do that it would only be for a couple of matches and then Australia would be back in the same boat.
I can't believe he's got the slightest interest in returning because he's enjoying his life so much at the moment, whether he's playing poker, working for Sky Sports or hosting his new chat show!
Of course, he's very flattered by all the calls for his return but he's sensible enough not to pull on the whites again.
For a long period of time Shane was one of three or four players who could win Australia a game. The sad fact for Australia is that's no longer the case.
When Ricky Ponting looks around the dressing room he won't see many players he can rely on to get him out of a crisis. The selectors have to give him some.
Comments (8)
David Neale says...
Ian, as a Pom who has always had a healthly like and respect for the Aussie cricketer, I just can't believe how bare your cupboard is looking and the moment. Throughout the 1990's and 2000's your 2nd X1 was good enough to beat most teams. I had the privelage of watching Darren "god" Lehman , Matty Elliot and yourself at my beloved Yorkshire, and I know if you were English you'd have played 100 tests, that's just how strong the Aussie 2nd reserve was. Its not disaster for you guy's just yet, their is talent there but confidence is shot. Watson, Katich, Haddin, Hauritz , Siddle and Hillfenhaus are all honest cricketers who will do a steady job at test level. Ponting is still a world class batsman and so is Mike Hussey. Clarke is also test class. I rate Cameron White and Callum Fearguson, but on the bowling front I don't see much hope in the short term.
Posted 22:13 12th December 2010
Ian Blai says...
No chance in shane warne coming back, he was never that good anyway! England to win 4-0
Posted 10:37 10th December 2010
Chris White says...
Harves for such an experienced cricketer I'm surprised that you would suggest a player who is low on confidence and form and who has never really performed against England...and bringing in a spinner for Perth!! Even warney has struggled in perth!! I say all out pace!! ...and the fourth bowler should be one of either Copeland,cameron or George...some fresh blood and enthusiasm into a team that badly needs it!!
Posted 01:30 10th December 2010
Lee Mcnulty says...
yea good point in bringing cameron white back in to add some stability to the middle order, also i think to add some firepower to the attack i think the selectors should try and persuade shaun tait to come back, a bowler who can take wickets and we saw what a differnce he made to the odi side back in the summer against england.
Posted 22:43 9th December 2010
Martin Hicks says...
Ian - I agree with most of your comments. If these were the best players 2 weeks ago then the most that should be done is fine tuning. From what I have seen on TV I like Cameron White and believe he has improved by developing a fairly tight defence. I would pick him. As the vacancy is for an opening batsman however the choice is to promote someone like Haddin to open or select a specialist opener. I also agree that Hauritz was unlucky to miss the last 3 Ashes Tests as he gave some control to the bowling and contributed some useful runs. I didn't think the seam bowlers bowled to their field often enough and whoever is selected must bowl with more discipline. Whoever plays for Australia is going to be under pressure to wrest the initiative back from a dominant England and I firmly believe England will prove they are the best team. My only concern is that sooner or later Ponting will make a big score. He showed decent form at the Gabba and was unlucky at Adelaide.
Posted 21:48 9th December 2010
Cam Mcd says...
Spot on Harvs, Think the selectors have lost the plot since they sacked Merv. What were they thinking re Doherty. I know Cox, Boonie & Punter are patriotic Tasmanians but geez - maybe for the one dayers but he's struggled in shield cricket for nearly 10 years. Why would he suddenly dominate a test? Cam White definitely can come in. Can we make him captain too?
Posted 19:17 9th December 2010
Mike Jones says...
good call for cameron white but the main rule is always leave them wanting more look at micheal schumacher i think warney is clever enough to know that
Posted 15:14 9th December 2010
Andrew Kenneally says...
Cameron White sounds a good call & surprising how little else mention of him's been made.
Posted 13:45 9th December 2010