There will be a lot of sympathy in the game for Michael Yardy, not least because it sounds as though he has struggled with depression before and for quite some time.
Illness such as this used to be a taboo subject but the world of sport is a more mature place these days and Yardy will receive the support he needs, from both England and Sussex.
Today's players are very well looked after in every aspect of the medical scene - whether they've torn a hamstring or are suffering from mental illness - and that can only be for the good of all.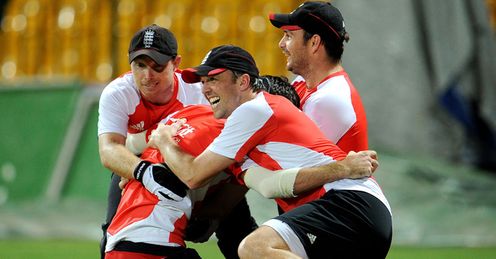 Being open about these issues is essential when it comes to raising general awareness that depression can affect anybody, at any time.
Looking back at the time when Marcus Trescothick was battling depression, I'm sure most of the parties involved will probably admit that they didn't handle the situation in the best possible way so lessons will have been learnt.
Stronger
Yardy's departure should make England stronger in the sense that he clearly couldn't be in the right frame of mind to perform to the best of his ability.
England remain a dangerous side - they have shown tremendous resilience and spirit in this World Cup so far; the fact that they have had some very hard matches will be an advantage going into a high-pressure, knockout game.
Mike Atherton
Quotes of the week
LIVE ON SKY SPORTS
Sri Lanka v England
8.30am, Sat, Sky Sports HD2
How to
remote record
I'd choose Samit Patel, if he's fit and firing, or Adil Rashid to replace Yardy for the rest of the tournament, which for England continues in Colombo on Saturday.
England remain a dangerous side - they have shown tremendous resilience and spirit in this World Cup so far; the fact that they have had some very hard matches will be an advantage going into a high-pressure, knockout game.
But the quality of the cricket they've played has not been particularly special and for that reason alone they will start as definite underdogs against Sri Lanka.
The way Pakistan thrashed the West Indies - a side England struggled to put away - in the first quarter-final, puts the relative merits of the sides into some sort of perspective.
Chatting to one or two of the players, I get the impression that England have enjoyed the move to Sri Lanka. Those who have been here before have enjoyed touring in the past and I think they feel very comfortable in Colombo, so that's a small positive.
Andy Flower remains as meticulous as ever in his preparations, so the team will be well prepared for the challenge that lies ahead - although the threat posed by the likes of Muttiah Muralitharan and Lasith Malinga are well known.
I'm not sure that these long stretches of time in between games are necessarily advantageous - I think you can become a little bit stale - but England have tried to strike a balance between giving players ample time off and training hard.
Surprising
One player who won't be stale is Jade Dernbach, although I'd be surprised if the Surrey seamer played instead of James Anderson on Saturday - unless the selectors feel Jimmy has 'gone'.
Dernbach's call up as a replacement for Ajmal Shahzad was surprising in many ways but he has obviously impressed the right people on tour in the Caribbean.
He's a bowler with a lot of variations and he has obviously improved a bit since I saw him last, when he looked a decent performer but nothing extraordinary.
Improvement can come quickly in some players, however, particularly when they are surrounded by better players in an environment conducive to personal development.
Anderson's ability to reverse swing the ball could give him the edge but it's very, very humid here in Colombo; we've also had a lot of rain overnight - and more is forecast to come - so if the outfield is quite damp and green on Saturday and there is a bit of moisture in the air, reverse swing may be less of a factor than first thought.
I'd still prefer to see Ian Bell open the innings - that hasn't changed - but Matt Prior remains a perfectly good player and there's no reason he shouldn't do well at the top of the order.
So far he hasn't - so that must be playing on his mind a little bit - and the onus will be very much on him to come up with the goods against Sri Lanka.
Nervous
I've yet to commentate on Kumar Sangakkara's team in this World Cup but from what I've seen from afar, batting is their weakness.
Although Tillakaratne Dilshan and Upul Tharanga have both hit centuries, the side seems a little over-reliant on Sangakkara and Mahela Jayawardene. The rest of the order hasn't quite hit top form yet.
Of course, they have attacking wicket-taking bowlers in Muralitharan, Malinga and Ajantha Mendis and, as sub-continental sides go, they are not bad in the field.
Both sides are bound to be nervous stepping out in front of a full house on Saturday, in particular the co-hosts who will have the weight of home expectations on their shoulders.
But after a demanding Ashes winter England should be well used to performing on the big occasion; let's face it, they've been in win-or-bust mode for a week or two now.
Comments (6)
Nichartter Haire says...
i guess thats another tournament the superior english were expected by the media to win, but alas not to be, oh never mind, maybe the the british can have a combined team and win the tiddlywinks at the olympics.
Posted 17:17 26th March 2011
Martin Hicks says...
Mike - I echo your sentiments regarding Michael Yardy and hope he makes a speedy recovery. Our rugby world cup winners were burnt out after 18 months on the road and we might have prolonged their careers if we had given them a rest. I think it also applies to cricket tand we need a squad system to rotate the players and keep them fresh for key games. Anderson had the extra stress of flying round the world between games in Australia. Unfortunately Broad who was fresh was fresh for the world cup became injured . I don't agree with your inferance that our chances rest on a comparison of our performance against the W Indies compared to Pakistan's. This tournament seems to be more about one off games. New Zealand thrashed Pakistan but I didn't hear anyone saying that gave them a good chance of beating S Africa. Of course S Lanka at home are favourites but we stand a chance and let's hope we have the run of the ball.
Posted 23:36 25th March 2011
Alan Thompson says...
A huge gamble to pick Anderson.Not only has his recent form been awful his record in ODI is poor.If the ball doesn't swing he is cannon fodder.Quite simply he does not know how to bowl to contain.We really are plumbing the depths.
Posted 13:55 25th March 2011
Stuart Boyce says...
George Staples, have you actually watched any of the world cup? Anderson and collingwood have both been dropped from the playing 11, and prior is our only wicketkeeper, and we drew with India in the groups. You did make one sensible comment. "Every Sympathy for Yardy." That i fully agree with! the rest, not so much. We haven't actually lost to a "top" team yet, lets hope that continues! Regardless, England have been fantastic to watch.
Posted 13:48 25th March 2011
Dan Cohen says...
George Staples, Anderson and Collingwood - both been dropped. Prior is the only keeper in the squad, having had a very good Ashes series both with the gloves and the bat. On top of that, there is no argument that Anderson was our best bowler in Australia, so that's what Prior and Anderson have done 'to deserve constant selection'. Learn to actually look past the previous game (which Collingwood and Anderson both didn't play!) and look at form...and clearly the team selection, before having a go! Dan...a massive hater of fickle fans!
Posted 09:33 25th March 2011
George Staples says...
Every sympathy for Yardy. The greatest danger to England in the next and possibly future games, is the selection system in place. Flower and Strauss seem incapable of leaving out off form players - the favoured few syndrome. Just what have Anderson, Prior and |Collingwood done to deserve constant selection? None of the called up replacements will play, only other teams have the sense to bring in new blood to strengthen the team. Flower and Strauss bleat on about team spirit, but it's performances that count. Shahzad and Rashid should have played earlier in the tour. Prior has been moved up and down the order without achieving anything, he is not a good keeper and now is not a suitable batsman - leave him out with Anderson who is also badly off form and stale. So far Englandf have been very lucky, will thgeir luck persist - if they play India at any time they will be beaten easily. England have gone backwards. George
Posted 19:49 24th March 2011