I put money on Sri Lanka to win the World Cup back in December, so I've got to stick with them in the World Cup Final.
But I'm afraid there's two players that could test my money in Saturday's heavyweight showdown against India: Yuvraj Singh and Sachin Tendulkar.
There will be a great performance from somebody in this final and half the world probably wants it to be Sachin on his home ground. I'm sure the Sri Lankans are just as desperate that his poles will go flying first ball and if I want to win my bet I might need to lock him up somewhere or try to convince him the game's in Kolkata!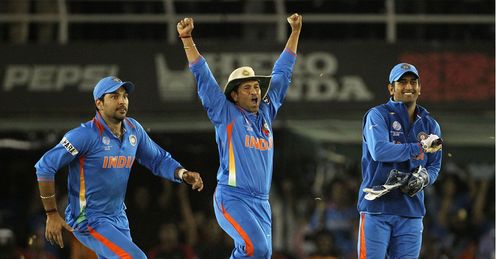 But for me, Yuvraj has been the man of the tournament with bat and ball and he could be very influential. It is not a big boundary in Mumbai, so I'm expecting high scores and plenty of sixes.
From a Sri Lankan point of view, they'll be looking to Mahela Jayawardene, one of my favourite cricketers, and my mate Muttiah Muralitharan. He's had injury worries, but knowing him they'll stick a needle in him and he'll go out and perform.
There is an awful lot of hype here with a million-and-one programmes on the telly with blokes talking about cricket. In fact, I've been watching programmes about tigers and snakes on National Geographic to try and get away from it all!
Bumble
Quotes of the week
LIVE ON SKY SPORTS
ICC World Cup Final
Sri Lanka v India
9am, Sat, Sky Sports HD1
How to
remote record
I'm expecting all sorts of drama because there's not a lot between the two sides. You'd probably say Virender Sehwag and Tendulkar shade it over Tillakaratne Dilshan and Upul Tharanga as openers, but then at number three I'd say Kumar Sangakkara shades it against Gautam Gambhir.
In the end, it could come down to a test of the two captains.
In terms of wicket-keeping, Sangakkara is outplaying MS Dhoni at the moment but both of these guys know how to play the conditions and that will be worth its weight in gold. I'll be looking very closely at how they work the field and the bowlers on Saturday.
Both teams seem to be peaking at the right time, but there's always the possibility that somebody might freeze. You only have to look at Wednesday's game between India and Pakistan for an example of that. Everybody thought Umar Gul would be the influential bowler, but the lad froze.
There is an awful lot of hype here with a million-and-one programmes on the telly with blokes talking about cricket. In fact, I've been watching programmes about tigers and snakes on National Geographic to try and get away from it all!
The players need to step back from the hype and try to perform on the day. In the distant past when I was involved, I always felt the pressure game was the semi-final and things were a bit easier when you got to the final.
If you're a coach you need to try and keep things calm. The players will be pulled from pillar to post for interviews and opinions and the staff need to drum it into them that this is just another game (which it obviously isn't...)
These players have worked so hard to get here, they must make sure they savour it. If it were me I'd have three words up on the board in the dressing room: ENJOY THE DAY.
Hold off the hysteria
There has been a bit too much hysteria on some of the websites I've been looking at.
People are talking about a power shift to the sub-continent and they're readily finding excuses to slag off Australia and England. That disappoints me and I don't think there's any need for it.
Forget about all of that; just enjoy what is going to be a fantastic final to a fantastic tournament. Why not rejoice in what you've got instead of trying to put other people down?
As an Englishman I'm thrilled that both of the World Cup Finalists are coming to England this summer and in the greatest sporting manner, we will be looking to turn them over. It's brilliant for us in the UK that India and Sri Lanka are coming to our shores and those will be contests to enjoy.
One other point. There have been a lot of complaints in India about DRS throughout this tournament.
I bet they've changed their minds after the Pakistan game....
In the box and on the box
The commentary line-up for the World Cup Final is as follows:
Ravi Shastri
Sunil Gavaskar
Sourav Ganguly
Sanjay Manjrekar
Russel Arnold
Tom Moody
Nasser Hussain
David Lloyd
If you're watching in the UK I can assure you that the coverage from Sky Sports will have all the bells and whistles on Saturday. David Gower will present from a studio at the ground and he'll be joined by Sir Ian Botham, Michael Atherton and the crew. We'll have extra cameras and it will be similar to what you'd see on a day's cricket in England.
I did three-in-a-row commentary for the first time ever in the semi-final (usually it's just two of us at a time) and it seemed to work well. It was a brave move to do it for such a big game, but I was happy with how it went.
The broadcast disciplines here are very demanding because there are so many adverts. It' s impossible to describe how many there are during a game and we simply don't have the time to debate a point, we just call it.
Thankfully, back in the UK the Sky Sports production team do a great job to ensure it's all seamless when it goes to your screens. Full marks to them.
Pumped up
In other news, I've now been dry for six weeks. I've not had a beer the whole time I've been out here.
I've been in the gym every day pumping iron like you wouldn't believe. I reckon I now look like Popeye.
I must say I'm delighted to be coming home next week, but there's no rest for the wicked. I get back to the UK on April 3 and I move house on April 4.
Anyone fancy lending me a van or a pair of hands?
Comments (9)
Mohammed Haris says...
Thank god you and nasser are in box for the final.Help us from that biassed commentators who only get excited if their team do well.And also looking forward to some spats in box like we had in semifinal between atherton and gavaskar ,when gavaskar told only those played in county cricket has been treated as good players and atherton countred it by saying 3 proud former players of lancashire when he ,ganguly and akram was in box
Posted 06:31 1st April 2011
Jai Singh says...
srilanka have a dismal record against india in india. This would be a very tough match,but india is going to win this match.There is nothing much to differentiate the two teams,it should be a exciting one.David ,you have to accept the fact that the subcontinent teams are the power house in world cricket today.There is definitely a power shift to the subcontinent.AUSTRALIA have lost their aura and invincibility.England are just average one day team.INDIA and SRILANKA and SOUTHAFRICA are the best teams in the world at the moment.
Posted 06:25 1st April 2011
Pravina Cannan says...
Aww, I was hoping it would be Atherton in the box.Guess I will have to revert to ESPN or can we get sky to the US?..The ads are a pain . BTW , Goodluck Team India , keep the faith.
Posted 03:10 1st April 2011
Karthik Raghav says...
India and Srilanka have faced each other far too many times recently. India won Asia cup. India beat SL in SL in 2 consecutive series and beat them in India in 2 series. In the recent exchanges India got the better of SL almost all the time. But it is one off match. Both teams are extremely familiar with each other due to IPL and far too many bilateral encounters in recent times.
Posted 01:43 1st April 2011
Sarmad Qureshi says...
I agree 100% with Bella Megan. We Pakistanis are shell shocked the way shastri and manjrekar conducted the commentry and post match presentation. They were extremely biased, rude and arrogant. Lost all respect from the Pakistanis. Shastri even got involved in a verbal banter with Amir Sohail in a TV programme, when he said India Pakistan game is a race between a BMW and auto rickshaw. We can only hope and pray that this arrogance of the Indians is shattered by the Lankan tigers. Though to be fair, most neutral commentator from India is Saurav Ganguly, and he has won great respect for his fairness.
Posted 20:39 31st March 2011
Areen Attari says...
Im from India, and the adverts are a pain! I wish i could see some commercial free cricket! Its irritating when a wicket falls, instead of seeing a replay, we're shown which bank we should go to for life insurance! Bumble, you better take some more money and put it on India!! PS, i live in Mumbai, and i really really really want a ticket to the Wankhede! Can you please organise one??!! Willing to do anything! PLease!
Posted 18:04 31st March 2011
Billa Megan says...
Very good one. I wish SL team isn't watching IND programmes. and tell Sanjay Manjrekar to be at least a little bit neutral commentator. (I know he is an Indian but can't listen to him when he talks like only IND team is playing in the field, they are good team but his voice makes us hate them). Even though I am a SriLankan After 2005 Ashes I follow ENG team and like England cricket more than I like SriLanka cricket not only be cause of the team but also because of the Sky sports commentary team. Even in the WC quarter final SL vs ENG I love your commentary team, even ENG lost. Even in that match i supported ENG my bro was supporting SL. In the end SL won but my bro said I love the ENG commentators not that much Nasser.
Posted 16:43 31st March 2011
Aniket Kibe says...
Agreed with you bumble,we are also sick of advertisements,please bring sky to india...
Posted 16:30 31st March 2011
Viru Sehwag says...
Boy this torture is endless.. Tough games we had against Australia and yesterday Pakistan.. Now Sri Lanka, the best team in the world cup so far imo... They is just so much for both teams, both have explosive opening batsmen, the middle order on their day can turn it on anytime in the innings, i still think in bowling they have murli and slinga malinga very dangerous combination.. Both have very cool headed captains/wicketkeepers... Well the major bonus is this will be home for india, the crowd will very very noisy and of course home to SRT.. big game big occasion... ITS GAME ON..........
Posted 15:19 31st March 2011