Was that the weekend that America fought back against the European dominance of world golf?
Nick Watney and Dustin Johnson showed why they are two of the best players from across the pond by finishing first and second at the WGC-Cadillac Championship, but I don't think we can read too much into it.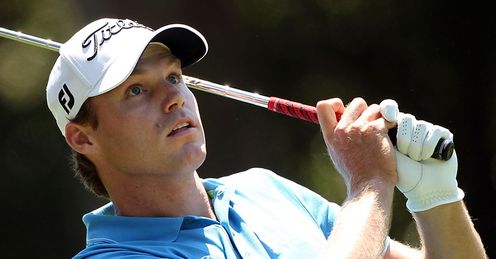 The world rankings still show European players in the top four positions and that's a better yardstick than just looking at individual tournaments. Watney is up to 15th now, but he needs to get into the top five before we can truly really say he's challenging the top guys.
That said, I was really impressed with his performance through the back nine and particularly on the last hole. Everything can unhinge there with the trees to the right and water to the left, but he smashed a wonderful drive straight down the fairway. He played aggressively and reaped the rewards.
The course should suit his game and having finished in the top 20 in his three previous visits to Augusta he definitely has the performance to challenge next month.
Rob Lee
Quotes of the week
LIVE ON SKY SPORTS
Sicilian Open
9.30am, Thu, Sky Sports HD2
Transitions Championship
9pm, Thu, Sky Sports HD3
Watch online with
Sky Player
How to
remote record
He may have learned some lessons from last year's PGA Championship when he took a three-shot lead into the final round and ended up shooting 81. That can happen in major championships, especially if you're relatively inexperienced, and you often need to have felt that winning feeling a few times before you can do it on the biggest stages.
He proved last week that he can do it against the very best fields - anybody who is anybody was in Miami last week - and he can draw huge confidence from that. He's long, he's powerful, he putts very nicely and he doesn't do anything particularly badly.
He's finished in the top 10 in all of the five events he's entered this year and he can look forward to the Masters with great optimism. The course should suit his game and having finished in the top 20 in his three previous visits to Augusta he definitely has the performance to challenge next month.
He can use that victory and try to build on it at the Transitions Championship this week. The Masters is hurtling towards us and he can now think very positively about his chances of winning his first major.
The same can be said for Dustin Johnson, who didn't do much wrong. He closed with a 71 and will be slightly disappointed he didn't do enough down the stretch. It could easily have been his week.
He hits the ball a long way and he often tends to find the fairways, as we saw in Miami. Augusta should suit him and after going close in last year's majors, particularly the PGA Championship and the US Open, he has shown he is a class horse.
Like Watney, he might be worth a few quid ahead of the Masters.
Tiger's feat
So we've seen the 29-year-old Watney enjoy his third professional win, but compare that to Tiger Woods who had won 46 times before his 30th birthday. There's a stat to put these guys in their place!
Woods remains the bookmakers' favourite for the Masters and shot the best round of the day on Sunday with his 66 bringing him into a tie for 10th place. It wasn't a flawless round by any means, but at least he tasted the flavour of shooting under par again, something he hasn't done for a while.
We keep hearing him talking about an ongoing process and that things are improving day by day and evidently things are getting better. He'll find a way to get his game back, but I don't know if he'll do it in time for The Masters.
At least we saw signs of improvement last week.
Transitions ones to watch
At the moment, my Masters money is on Bubba Watson and I'll be keeping an eye on my investment and the Transitions Championship.
Flu forced him to watch and Tweet from his couch last week, but he should be back on his feet now. He loves to lump it a long way and he shapes the ball just right for Augusta.
There's plenty of European interest here too with the likes of Martin Kaymer, Justin Rose, Paul Casey and Brian Davis taking part. We'll also be able to see how things are shaping up for Padraig Harrington.
He was right in it last week after eagling the first to go 11-under-par, but he triple-bogeyed the third and never recovered. He shot 68's on day one and day three and there are good signs for him.
Last week we saw both the Harrington that can shoot steady scores and the Harrington who can have disasters. There's plenty of good stuff in there, but he needs to eliminate the sevens and the eights before Augusta.
It will be also nice to see Matteo Manassero, who is on the cusp of a place in the Masters. He's ranked 55th at the moment and he knows the top 50 will get a spot, so he needs a strong couple of weeks. It might be difficult for him because he's playing the Copperhead Course for the first time and he'll need to do a bit of homework first.
I'm also hoping Sergio Garcia's improvement continues. I last saw him at the Dubai Desert Classic and he didn't look too bad. It would be lovely to see him playing well again, but I think a lot depends on whether he has the hunger to do it.
ROB'S TIP: As usual, picking a winner is a near-impossible task, but I feel Retief Goosen has been playing well at the Tavistock Cup. He's my tip for glory on the west coast of Florida.
Comments (6)
James Hogan says...
Lee Jenkins obviously doesnt watch much golf. In an 80 man field at Doral Mickelson finneshed in the bottom 5 hitting only 4 greens on the Sunday. If Tigers game is nowhere good enough( T4th for gir) then poor old Phil shouldnt bother turning up. Mind you I think both of them will again be battling it out on Masters Sunday with Tiger prevailing this time.
Posted 00:19 24th March 2011
Hugh O'connor says...
McIlroy has an awful lot of talent, but he still doesn't have the short game to contend. If you look at the top players - Kaymer, McDowell, Donald - all great short games. Lee Westwood doesn't have a great short game and that's why he's majorless. He can rack up plenty oftop-10s and top-5s with that tee-to-green game, but you need to make the clutch up and downs when required. McIlroy has days when he chips and putts very well, but that's the real area that he needs to sort out before he starts winnign regularly. He also hasn't yet shown an ability to deal with pressure - too many times his high finishes are when he has a great weekend or Sunday, having been to far back to win. Yes, he made a good up and down in Dubai to take that title, but his win in Quail Hollow was a cruise through - he won it nearly before he knew what he was doing. He will win majors - he's too good not to - but he's got to work hard on his short game and his temperament - he was very bad-tempered in Doral, and it showed on Sunday.
Posted 10:09 23rd March 2011
David Pick says...
At Pudge - McIlroy's mindset is nothing like Garcia's. Garcia has a great family life and he puts that before golf. Golf is like Rory's wife. He had a tweet this week that they have a love/hate relationship and it was hate after the last round. Golf is McIlroy's life and you have to remember he's only young. He'll not emulate Woods or anything but he's got every chance of becoming the next Faldo without a doubt. No rush for a first major win. He's got a good few years to get his first in!
Posted 16:10 16th March 2011
Pudge Ginho says...
a nice column rob but feel you maybe should have mentioned rory mcillroy being in contention again and not really doing anything! every week that goes by i fear more and more he could end up the way sergio did with his attitide on the course! hope im wrong!
Posted 11:25 16th March 2011
Lee Jenkins says...
For me it will be mickelson to win the masters. Shapes it perfectly round there and has the best short game going. Top 10s also for Bubba, Donald and mcilroy. Mike wier also a suprise top 10. Woods will miss cut i feel as his game is not even close to being good enough for Augusta
Posted 11:20 16th March 2011
David Pick says...
As nice a guy as hes meant to be, I still don't think Watney has what it takes to win a major. He was outstanding this week - and proved me wrong as I didn't think he could hold his nerve against someone who can like Dustin Johnson. I do still think he buckles at majors. Maybe he needs to be behind going into the last 2 days and come in as the underdog. I remember last year he was ahead by several shots and he shot like an 80 or something in the final round. I'd love to see McIlroy win a major, but I don't think the Masters is his time. I think one of Luke Donald, Bubba Watson or Dustin Johnson will break their major duck. All 3 consistant this year. But if Bubba can get his driving consistant, he'd be unstoppable...that swing is crazy.
Posted 17:08 15th March 2011