The first Seve Trophy since the great man's passing falls during Jose Maria Olazabal's tenure as Europe's Ryder Cup captain so emotions will be running high at St Nom Le Breteche this week.
Seve conceived the tournament to give European players meaningful team-play practice and a taste of what it is like to work alongside a captain.
It's all very good preparation for 2012, when Europe will head to Illinois to defend the Ryder Cup trophy they won under Colin Montgomerie at Celtic Manor last year.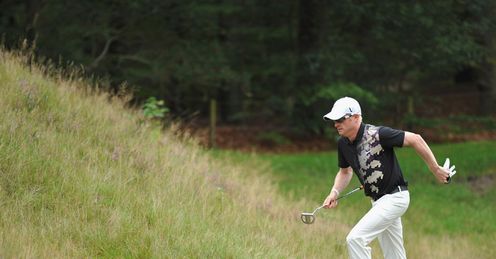 The competition gives Olazabal the chance to see how players perform in a team and it should be an interesting ride both for him and the two Seve Trophy captains, Jean van de Velde (Team Continental Europe) and Paul McGinley, who leads Team GB & Ireland.
Don't believe that the result doesn't matter - McGinley has already reminded me that currently GB&I are 5-1 ahead in terms of victories and he sure doesn't want it to become 5-2 on his watch, particularly after the amateurs triumphed 14-12 over the United States in the Walker Cup.
Of all the cuts to make, the BMW Championship is the biggest one; everybody wants to play the Tour Championship but in a field of 70, 40 are going to miss out.
Rob Lee
Quotes of the week
LIVE ON SKY SPORTS
Vivendi Seve Trophy
11.30pm, Thu, Sky Sports HD1
BMW Championship
8pm, Thu, Sky Sports HD3
Watch on the move with
Sky Go
How to
remote record
The same professional attitude was very much in evidence when I spoke to the players last week; they are definitely up for this, not least to do justice to Seve's memory.
The great thing is that everybody plays fourballs on Thursday and Friday, before playing greensomes and foursomes on Saturday as a precursor to Sunday's singles. That means no-one on either team is left watching on the sidelines over the first two days.
Jump
Team GB & Ireland's line-up includes Simon Dyson, who this week joined Seve and Bernhard Langer as a three-time winner of the Dutch Open.
Playing in Holland clearly suits the 33-year-old, who followed up his two victories at Kennemer in 2006 and 2009 with a one-shot success around Hilversumsche.
It is one thing to win at a venue where you have already tasted victory, quite another to claim the title on a different course.
Coming down the stretch he played like he really wanted it, just as he did at the Irish Open back in July. After making bogey at 11 he carded four-under for the last seven to claim a victory that moves him deep into the world's top 50.
Making that jump up the rankings should open many more doors for him and, in turn, give him a great opportunity to pile on the world ranking points.
Getting into the top 50 is one thing, staying there and improving is another thing entirely but that's a challenge Dyson will undoubtedly relish.
Things were fascinatingly poised going into the final round on Sunday. Gary Orr started the day tied for the lead but was understandably more protective in the way that he played given that he was trying to get his card for next year.
Dyson played alongside Rory McIlroy, who finished two shots back even though he wasn't quite on his game while Lee Westwood played unbelievable golf but couldn't hole a putt.
David Lynn - who won the title in 2004 - mounted a strong challenge again, hitting a really good putt for eagle at the 18th, but had to settle for a birdie and second spot this time around.
Carrot
The stakes couldn't be higher in America this week where everyone will be hell bent on performing at the BMW Championship to earn a shot at the Tour Championship.
Of all the cuts to make, this is the biggest one; everybody wants to play the Tour Championship but in a field of 70, 40 are going to miss out.
Moreover, whoever emerges from the field to win this week will get into the top five of the FedExCup going into the Tour Championship - which is a massive carrot, particularly for those players considered to be outsiders.
I'm not sure it is right to place such a high reward on one-off success rather than a year's toil, but it should certainly all add to the tension come Sunday.
Given the size of the prize on offer, the course at Cog Hill has been changed to make it suitably tough. In fact it's one of the hardest 10 courses on the PGA Tour and features a horribly long par-four to close, complete with pond awaiting any errant second shot.
Steve Stricker has already said that he thinks they've toughened the course up too much but the proof, I guess, will be in the scoring.
Rob's Sky Bet tips
Last year's BMW Championship winner Dustin Johnson goes into the tournament in good nick after winning the Barclays but I think Gary Woodland is going to have a good week. Without stringing it all together, he has been hanging around and is never too far away; if he can get off to a really fast start, he could be in contention.
This year's Seve Trophy is shaping up to be a really tough match with very little between the two teams. For once I'm going to say it's too close to call and back the tie - we haven't had one yet so it's about time!