Bill Haas started the TOUR Championship in 25th position, but walked away as the FedEx Cup champion with more than $11million in his back pocket.
However, it was quite confusing for television viewers around the world because nobody was quite sure what was happening. The points format is so complicated that the commentators were struggling to work out how things were changing with each shot.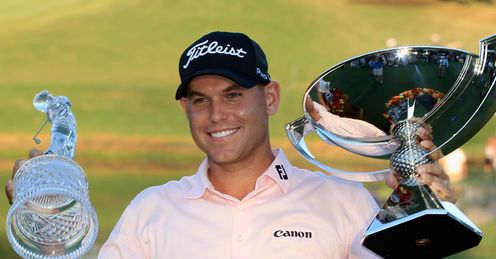 The fact that Haas didn't know he'd won the FedEx Cup says it all really. After winning the TOUR Championship in a dramatic play-off with Hunter Mahan, he only realised he'd picked up the $10million bonus when he got to the trophy presentation.
The PGA Tour wanted to turn the last four events of the FedEx Cup season into a cup final; an event with a play-off feel. They wanted to ensure that any of the 30 players could emerge as the champion in the final week, if things went in their favour, and that's what happened here.
You would think that someone who starts the week inside the top five and finishes third in the Tour Championship shouldn't be beaten to the FedEx Cup by the guy who started in 25th. Maybe the format needs to be tweaked again.
Rob Lee
Quotes of the week
LIVE ON SKY SPORTS
Alfred Dunhill Links Championship
1.30pm, Thu, Sky Sports HD1
Justin Timberlake Shriners Hospitals for Children Open
9pm, Thu, Sky Sports HD3
Watch on the move with
Sky Go
How to
remote record
But I've found it more intriguing to watch the players scrapping it out to make the next week's field than it was to watch the final. The points system is too obscure and complicated. They've evolved and tweaked the system each year, but I think it's fair to say they still haven't found the ideal situation.
Haas ended up with $10million for beating 29 other guys in one event but, after just one win, it's clear he's not the top player on the PGA Tour this year. That honour would go to whoever tops the money list.
Luke Donald is currently at the top of that list, but Webb Simpson isn't far behind and could get past him if he plays in any of the Fall Series events.
Both of those players had a great chance of winning the FedEx Cup, but I must admit, I don't feel sorry for either of them. Simpson led the standings at the start of the tournament and just needed to finish 18th in a field of 30, but he couldn't do it.
Donald needed to be placed third on his own to finish ahead of Haas, but ended up in a tie for third. He was one shot away from winning $10million, but don't feel sorry for him; he doesn't need any more money!
However, you would think that someone who starts the week inside the top five and finishes third in the Tour Championship shouldn't be beaten to the FedEx Cup by the guy who started in 25th. Maybe the format needs to be tweaked again.
Hung in
It seemed that Haas had his name written on the trophy all week long. You would have thought two late bogeys would have ended his chances but he somehow hung in there.
He ended up in a play-off with Hunter Mahan and put the ball in the water on the second hole with his opponent at 25-feet. At that stage you thought it was all over, but he still managed to get through it once again.
It was a huge bonus for him to walk away with the FedEx Cup, but I don't think you can read too much into it. He has done well, but only beat 29 players and he's still only seventh in the money list.
It was a great week, but in my opinion you need to win a major championship, not a FedEx Cup, to move up to the next level
However, it seems likely he will find his way into the Presidents Cup team. I'd say it's between him and Keegan Bradley, but I think Haas will get the nod, not least because his dad is part of the backroom staff.
It's a tough choice, but he's higher in the money list and that seems a good enough reason to choose him.
Assured
One man who has already been assured of his place in the team is Tiger Woods, who will return to action at the Frys.com Open next week.
He'll have Joe LaCava, who has been working with Dustin Johnson this season, on his bag for the first time. He might be switching from the world number five to the world number 50, but I still think Tiger is the player everyone wants to work with. He's too talented to be that low in the rankings and if his knee is healthy then I'm sure he will find a way to make it work.
There are other factors too. Tiger traditionally plays fewer weeks than many of the other players and if Johnson was to join the European Tour - as has been rumoured - then LaCava would need to spend more time away from his family.
But I'm sure the biggest carrot was the lure of being the caddie for one of the greatest players of all time.
It was no surprise to me to hear Davis Love III saying he would like Woods in his Ryder Cup team next year, but I'm sure he only wants him if he's playing well, not just because of his name.
He was superb in his singles match at Celtic Manor and he's still got the chance to beat Jack Nicklaus' record of major wins and become the greatest player of all time.
You'd always want somebody like that on your team. Who wouldn't?
Rob's Sky Bet Tips
The Justin Timberlake Shriners Hospitals for Children Open is held in Las Vegas so I'm going to take a bit of a gamble and pick 50/1 shot Brendon De Jonge. He's been quite consistent all year, he makes a lot of birdies and I think this could be his week.
I'll play safer for the Alfred Dunhill Links Championship and go for Sky Bet's 10/1 favourite Rory McIlroy, especially because we're expecting good weather. I've seen him say he doesn't like windy conditions, but we're set for a fair first couple of days and that should suit him.
Comments (1)
Gerry Kelly says...
I honestly have to say Rob, I had no clue what was going on with the Fed Ex cup. I love the game of golf but this wrecked my head. Surely the best and most successful things in any part of life are the simple things. This is anything but. I watch the three majors that are broadcast out of America and most of the tournaments but when it comes to the Fed Ex play offs next year, I think I'll give it a miss and watch the tiddlywinks world championships instead. Life's too short!
Posted 01:43 29th September 2011