When people look back on the 2012 Open they'll remember the displays of both Ernie Els and Adam Scott - and for very different reasons.
The back nine from Els on the final day was simply phenomenal. To go four-under-par in that situation was superb and he played some wonderful golf.
There have been good signs from him all year. He had a chance to win the Zurich Classic and if he'd holed a five-footer he would have got into The Masters. He then went to the US Open and finished in the top 10 and produced another good performance at Bay Hill.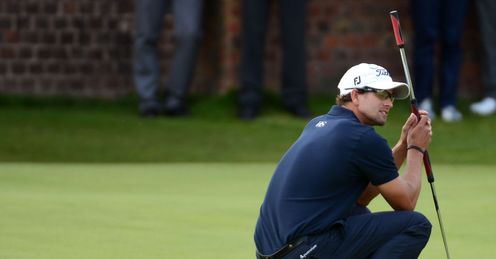 But did I think he would win this Open Championship? No I didn't. He hadn't won a tournament in a while and I figured he would have to get back onto the winning trail somewhere else before a major would come his way.
Maybe he felt like he had a free shot on the final day because he didn't have the pressure of front running. But even when he finished his round, I don't think he believed he would walk away with the Claret Jug, without at least playing in a play-off.
From what I saw, Scott played the best golf of the week and it felt like his time to become a major champion. Obviously it wasn't to be.
Adam Scott
Quotes of the week
LIVE ON SKY SPORTS
Lyoness Open
10am, Wed, Sky Sports 1 HD
RBC Canadian Open
8pm, Thu, Sky Sports 3 HD
Watch on the move with
Sky Go
How to
remote record
That's because Scott was playing so well. When he birdied the 14th and ripped his driver up the 15th I thought it was all over. Even when he bogeyed that hole I didn't think it was a deal-breaker because he would have fancied making par on both the 16th and the 18th.
He three-putted the 16th, then hit the wrong club after a great tee shot on the 17th. On the final hole, I also felt he made a poor decision off the tee because he chose a club that brought the bunkers on the left into play. As a result, he closed with four straight bogeys and handed the title to Els.
I don't think you can say he choked though. He had the stomach for the job; as you saw when he ripped the driver down the 15th onto the middle of the fairway. He also found the fairways on 16 and 17, so his temperament was sound.
He will rue the missed short putt at 16, but that can happen to anybody. It was the poor decisions on 17 and 18 that truly cost him - and his caddy Steve Williams is complicit in that as well.
From what I saw, Scott played the best golf of the week and it felt like his time to become a major champion. Obviously it wasn't to be.
Recovered
He should now look at what happened to Rory McIlroy after The Masters last year.
Both players were man enough to stand up and answer questions straight after a heartbreaking loss on the final day of a major and Scott must look at the way in which McIlroy recovered to thrash everybody at the US Open a few weeks later.
Therefore, it wouldn't surprise me to see Scott play well at the USPGA Championship in a few weeks' time. I bet he wishes that tournament could start tomorrow.
He's finished second in both The Masters and The Open, so there's no doubt he has the game to win a major championship. His temperament was great on the final day when everybody was making mistakes and he was hitting some terrific shots.
He didn't fall apart and he wasn't making mistakes left, right and centre. He was a bit unlucky with a couple of shots and made a couple of bad decisions. That's happened to top golfers before and it will happen again.
When he looks back on The Open he needs to remember that he played some wonderful golf for pretty much the entire tournament.
I would put my house on him to win a major one day.
Putter debate
The long putter - which was used by both Els and Scott at Royal Lytham - has now come under scrutiny again. Three of the last four major winners have used one and I believe the USGA and the R&A are looking at this issue very, very seriously.
Initially, the long putter was a weapon for those who'd got the yips and lost their nerve. It provided a way for the likes of Sam Torrance, Peter Senior and Bernhard Langer to extend their playing careers.
Traditionalists do not believe anything should be anchored and the control of the club should come entirely from the player's hands. The purists believe having nerve is part of the game.
For instance, there's nothing to help Sergio Garcia when he can't get his hands on the club or to help Kevin Na when he can't get the club away. There's no crutch for those guys, so there shouldn't be one for those who've lost their nerve on the greens.
The new dimension is that there are kids coming out of college using these things because they think they can putt better with them. It's legal, but in the spirit of the game it's not right.
I've heard murmurs that there might be an announcement soon. The next rule change is in 2016 and I think they'll announce that they won't be useable after then. That will give the players from now until then to find a way to putt, rather than making a change overnight.
The Open has super-highlighted the issue because both Els and Scott used a long putter. You could argue that without it, they wouldn't have finished where they did.
I expect as statement soon, but nothing will be done before 2016.
Rob's Sky Bet tips
Canadian Open - Matt Kuchar: I watched him swinging well at The Open and I think he could be the class act in this field.
Austrian Golf Open - Bernd Wiesberger: He's playing in his home country and his star is rising on the European Tour. He won the Ballantine's Championship in April and there will be a buzz behind him because Austria doesn't have too many runners and riders. The home crowd could spur him to victory.
Comments (4)
Peter Clappison says...
Surely the only sensible argument against long putters would be if the statistics show that as a body those using them have a significantly lower number of putts per round. This does not seem to be the case. I have both a standard length and a broom handle and put reasonably well with either BUT I am better at short medium distances with the broomhandle and less good at long range pace - as most have found. All golf, including pros and the "better golfer" amateur, is supported on the backs of higher handicap golfers who want to ENJOY the game; the very unrepresentative golfing authorities (and golf commentators Ewan!) need to remember this when regulating.
Posted 19:17 26th July 2012
Stuart M says...
Shouldn't that also then bring into the debate the use of hybrid and rescue clubs?
Posted 12:55 26th July 2012
Dennis Means says...
Hi Rob. great read once again but may i ask you if you think that the long putter may remain but the belly putter will be the one they ban ?. the broom handle putter is not anchored to the body in the same manner as the belly putter. i use a traditional putter any way but would love to hear yours or Ewans thoughts. Sky great again.
Posted 11:11 25th July 2012
Mark Hollinger says...
Scott's finish was unfortunate and difficult to watch, but come on....it was a huge choke. One poor choice after another. Worse in ome ways than Van de Velde at Carnoustie.
Posted 11:01 25th July 2012