Hardly a week goes by in Scottish football without the need to comment on the latest spat between Celtic and the Scottish Football Association.
Make no mistake, both sides have been itching to get at each other after a series of rows about refereeing standards over the last 18 months or so and the truth is there's plenty more to come now that Celtic have hired one of the country's top lawyers to fight manager Neil Lennon's recent six-game ban for his behaviour on the touchline during the 2-0 defeat to Hearts at Tynecastle last November.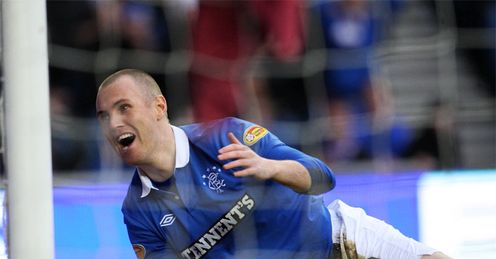 Trust me, this dispute will run for months.
In the middle of all that astonishing business, there's a championship to be won and right now, it's still too close to call.
Rangers got back to within five points of Celtic with the Ibrox men having played three games fewer than the current league leaders with a convincing 4-0 demolition of Hamilton Accies.
If Kenny Miller leaves Ibrox this month, I can't see how Rangers can win the title. Rangers supporters won't be short of options up front if he goes but it's simply unrealistic to think that Nikica Jelavic, Kyle Lafferty, James Beattie or Steven Naismith can match Miller for a similar return of vital goals in the second half of the season.
Andy Walker
Quotes of the week
LIVE ON SKY SPORTS
Scottish Cup 4th Rnd Replay
Ayr United v Hibernian
7.30pm, Tues, Sky Sports 2
Scottish Premier League
Hearts v Rangers
12.30pm, Sun, Sky Sports 4 & HD4
Kenny Miller didn't manage to add to the 21 goals he's scored already this season but it's fair to say that Walter Smith's best hope of claiming a third successive title must surely rest with the immediate future of his top scorer.
Birmingham City and Fiorentina both want to take the player now and the latest club to show an interest are Turkish champions Bursaspor. If Miller leaves Ibrox this month, I can't see how Rangers can win the title.
Rangers supporters won't be short of options up front if he goes but it's simply unrealistic to think that Nikica Jelavic, Kyle Lafferty, James Beattie or Steven Naismith can match Miller for a similar return of vital goals in the second half of the season.
Quite simply, the January transfer window could define the season.
Celtic already have the edge on their rivals in terms of squad size and will probably flex their superior financial muscle to ensure one or two quality players are added to the squad before the window closes.
My money is on a defender and another striker for the challenges that lie ahead in the business end of the season.
Two goals from Antony Stokes and one from fit again Gary Hooper gave them a comfortable 3-0 win against a struggling Hibs side. The tricky cup-tie away to Ayr Utd on Tuesday night will go a long way to shaping the relationship new manager Colin Calderwood has with the Hibs supporters.
They'll quickly forget the good work he's done at Northampton, Nottingham Forest and Newcastle if they go out to a Second Division side.
Pressure
One thing we would all welcome in Scotland is a three-horse race for the title with Hearts putting together the strongest squad they've had in years.
Their game against Dundee United was postponed but it has to be said that Hearts always threaten to get into the race for the title but rarely deliver. It was a big surprise to see them knocked out of the Scottish Cup last week, losing 1-0 at home to St Johnstone - their next run of games will tell us if they can cope with the pressure.
Rangers visit Ibrox on Saturday and then Jim Jefferies will take his men to Celtic Park four days later. If they can manage to get closer to the Big Two after those games, I'll begin to take them seriously as title contenders.
But for me, the most impressive manager of the year so far has to be Mixu Paatelainen at Kilmarnock. With Kilmarnock minutes away from being relegated last season, the change in their fortunes under Mixu has been nothing short of remarkable.
Lying fourth in the table, the goals of Conor Sammon will be missed as he looks likely to sign for championship side Scunthorpe. His last strike earned the Ayrshire side a point at home to St Johnstone in Saturday's 1-1 draw.
Magic
Motherwell and Inverness Caley Thistle also shared the points at Fir Park in a no-scoring draw and like Kilmarnock, Motherwell will have to cope without the services of one of their top players for the second half of the season.
Mark Reynolds is on the move to Sheffield Wednesday and striker Alan Gow has also moved on; new boss Stuart McCall is hoping to use his contacts in the lower leagues of England to beef up his squad.
As expected, Craig Brown has made an immediate impact at Aberdeen. After working his magic at Motherwell, he has taken on the task of bringing some respectability back to a club that has stumbled from one bad result to another.
When he came in they were joint bottom of the table but a new winning mentality has seen them climb the table and threatening to get back into the top six and there's a good chance he could take his squad to a cup final.
Celtic at Hampden in the semi-final of the League Cup is a daunting prospect but one they'll go into with growing confidence at the end of the month.
Do you agree with Andy? Let us know by filling in the feedback form below and if you have a question on Scottish football, send it in the same way...
Comments (6)
Alan Wilson (Rangers fan) says...
So Andy Walker can't see how Rangers can win the title without 31 year old Kenny Miller in the team. What limited vision you have Andy. I guess you also forecast Rangers were doomed when Boyd went South... I bet Rangers management don't share your lack of vision Andy, or they may as well pack it in. Then again, what do they know? As Alex Ferguson said when Arsenal offloaded Adebayor, Arsen knows when to move players on...so does the great Waldo!
Posted 21:13 17th January 2011
Ryan Mcdougal (Rangers fan) says...
I have to say that I don't think we will win the SPL this year regardless if Kenny stays or goes. The only way we will win the SPL is if the SFA keep on helping us and i think they will.
Posted 20:54 17th January 2011
Sam Clayton (St Mirren fan) says...
Mr.Walker should perhaps base his opinions on hard facts such as mathematics rather than his biased celtic-facing point of view. Rangers have scored a fantastic 7 goals in the last 2 games in all competitions and NOT ONE of the goals were scored by Kenny Miller. The champions have more than adequate cover all over the park to replace the goals king Kenny's departure would deprive them of.
Posted 14:49 17th January 2011
Ally Mcnab (Rangers fan) says...
Why cant naismith lafferty,jelavic etc stand up and be counted---everyone thought that kenny miller wouldn't do what Kris Boyd done
Posted 14:01 17th January 2011
Craig Dee (Rangers fan) says...
Must disagree with Andy; although i can see where he is coming from, everyone jumped on a similar bandwagon last year when Kris Boyd was potentially leaving in January. Is it any coincedence that Miller has scored a similar amount of goals, to what Boyd had scored this time last year ? In my opinion, no, for the simple fact whoever plays REGULARLY through the middle for Rangers or celtic that matter will be guaranteed a barrow-load of goals. This is mainly because of the amount of chances the old firm create on a weekly basis. Miller has never been renowed as a finisher and i wopuld argue the main reason for this seasons goal haul is down to him hitting the penalties (instead of Boyd) and indeed his revised remit of sticking to the penalty box as opposed to doing the donkey work and playing in a wider position. In my view with Jelavic coming back (think 5 goals in 6 starts) and Lafferty hopefully being given the freedom to play through the middle will more than compensate for the potential loss of Miller. Miller is good but no more than that.......12 goals in 50 odd Internationals fuel this stance. Give me a fit Jelavic and a confident Lafferty and i think the title is still very much open.
Posted 12:57 17th January 2011
Adam Jennings (Manchester United fan) says...
I have to side with what Andy writes here, he is spot on in my opion that rangers would seriously lack in the final third without kenny miller, he has been great since his return to Glasgow, and his form has been immense for Rangers in the last couple of years, 21 goals already to his name in Scotland this season, It is certain he will leave he has achieved everything in Scotland with Rangers and Celtic and you could understand his ambitions to move on, It would be a risk without a doubt, he is being linked with Birmingham managed by Alex Mcleish, and big eck would know how to use him but whats haging over his head is his spells with Derby and Wolves, with Wolves he scored 24 goals in a promotion year in 2003 at Championship level. then in 2004 premier league he only managed 5 goals so the past shows his flaws although he was injury prone then, now better equiped and stronger he could do better returning to England, a move to Fiorentina would prove a disaster if you ask me he would not suit the game in Italy im sure he would score some goals but the type of game would not excite the style of forward he is, His best option is to stay where he is knowing whats gauranteed to him, over 25 goals a year and medals, rather than a risk to another team scoring 5-10 goals not enjoying yourself and probably winning nothing... I dont believe any of these could replace millers goals Nikica Jelavic, Kyle Lafferty, James Beattie or Steven Naismith, they are not of the same qaulity in front of goal, maybe James Beattie could add a few along with Kyle Lafferty, one thing is for sure if Kenny Miller left Glasgow Rangers he would be a huge miss for them and the Scottish Division.
Posted 12:28 17th January 2011