In what has been a season full of embarrassments, Scottish football plumbed new depths last week in the build up to the seventh and final Old Firm contest of the season at Ibrox.
I still find it hard to believe that a parcel bomb, designed to maim or kill, was sent to Celtic manager Neil Lennon.
Already under a 24-hour guard after bullets were sent to him in the post earlier this year, the actions of a few lunatics has ensured that the beauty of this fixture has been completely lost in all of the madness that can sometimes surround a bitter hostility and hatred.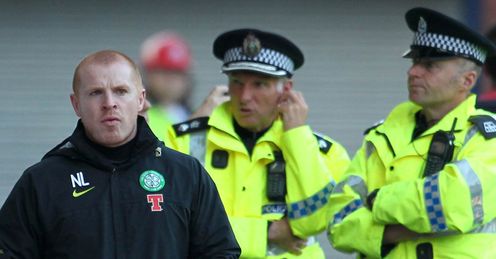 The last ten months have been hard to bear for those interested in the Scottish game. One referee, Dougie McDonald, felt the need to lie to Celtic boss Neil Lennon regarding the award of a contentious penalty against Dundee Utd.
Eventually he resigned and soon after, the SFA head of referee development Hugh Dallas was sacked after sending an offensive email.
I love rivalry and I also love an edge to my football and I don't think anyone wants to see that eradicated. Wanting to win a game badly and succeeding is a fantastic adrenalin rush whereas losing this fixture can affect your mood for days.
Andy Walker
Quotes of the week
Then we had a referees strike for no apparent reason; they were badly advised on that one.
We've also had the SFA's rulebook shown to be completely flawed when they didn't know how to apply disciplinary procedures for what should've been a simple touchline ban for Neil Lennon.
And it is nothing other than shameful and a sad reflection on Scotland when UEFA decide to charge Rangers fans for sectarian singing at Europa League games this season.
Having fined Rangers twice in the last five years for the same offence, speculation is rife that the current SPL champions may be forced to play one or two European ties behind closed doors.
Celtic also felt the need to apologise for the conduct of a minority when they were guilty of an affront to common decency in abusing Remembrance Sunday with a banner proclaiming "No Bloodstained Poppy on Our Hoops".
No matter who wins the title, it is destined to be the most bitter award in memory.
Having been born and bred in Glasgow, taking part in a Celtic v Rangers fixture has provided me with some of the most memorable moments of my career.
I love rivalry and I also love an edge to my football and I don't think anyone wants to see that eradicated. Wanting to win a game badly and succeeding is a fantastic adrenalin rush whereas losing this fixture can affect your mood for days.
I've experienced both but have never known such a heightened sense of loathing towards one individual, Neil Lennon.
He is no angel but in all honesty, I have no idea how he copes with it all.
Can you imagine Sir Alex Ferguson, Carlo Ancelotti or Arsene Wenger trying to do their jobs under this level of abuse? It's completely intolerable.
But Lennon led his team to Ibrox in the hope of avoiding defeat and got his wish with a 0-0 draw that ensures the destination of the title will almost certainly go right to the last day.
Over the 90 minutes, I got the feeling it was a missed opportunity for both clubs to claim all three points. After a first half that was dull and lacking in quality, the second half was much livelier and could've gone either way.
Kyle Lafferty missed a golden chance to put Rangers in front with a header from a Gregg Wylde cross. Had he scored, it might've changed his career. Lafferty hasn't lived up to expectations but a winner on this stage can give you a huge lift.
In general, I was surprised to see Rangers be so direct, playing plenty of diagonals to Lafferty and Nikica Jelavic and feeding off the scraps when they had outplayed Celtic in the recent League Cup final success at Hampden.
Celtic caused their own surprise before the game with the omission of top scorer Antony Stokes and the impressive Kris Commons.
Georgios Samaras started and he could've endeared himself to the Celtic support had he converted a controversial penalty award late in the game.
Referees will tell you they're never influenced by the crowd but I'm convinced the screams from behind the goal by every Celtic supporter swayed Craig Thomson's judgement.
Human nature can play a part in tight calls and with the decision made in front of the Celtic supporters rather than at the other end, the sheer volume of appeal can have a slight influence.
Alan McGregor psyched his immediate opponent out with a bit of gamesmanship but still had to make the save and when you add his even better stop earlier on from a Masjtorovic header, McGregor showed once again that he's the man for the big occasion.
The result means that the destination of the title has been taken out of Rangers hands. Unless Rangers win one of their remaining games by five or six goals, Celtic can control their own destiny with four wins and a draw from their last five games.
Every one of them will be tough but no matter who wins the title in a few weeks, this season will be remembered for all the wrong reasons.
Post to your View!
Be the first to post a comment on this story