Each week Brian Carney takes a look at six moments in Super League that have made the headlines - and not always for the right reasons!
Players, coaches and decisions all come under Brian's scrutiny as he picks his 'Set of Six'.
Find out who and what caught Brian's eye this week - and then use the feedback form below to have your say...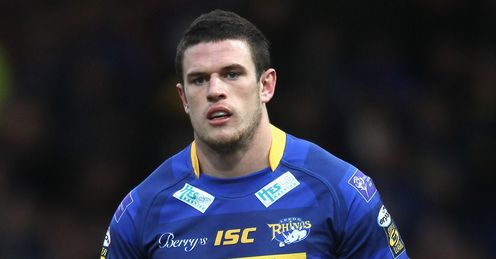 LICENCES

I could do a whole set of six on this but enough has been written on this and I won't labour the point too much. Surely now after what has happened with the Celtic Crusaders/Crusaders that the people responsible for granting the licences and vetting their applications have been discredited to such an extent that they should no longer carry out this procedure. It is so damaging to our sport and bringing our game into disrepute should never be overlooked. I have yet to see anyone put up their hand and say Mea Culpa because this was definitely avoidable. The decision to move the Celtic Crusaders North when they first went belly up is another decision that needs questioning. I would back a call for an independent inquiry - I think it needs a professional organisation to examine what happened. If people think I am on a witch hunt, well I just want to make sure that something like this never happens again.
DEFENCE

I have said it before and Mal Reilly said it so succinctly on Super League's Super Men recently. The defence in Super League is just not good enough at the moment. It is a real problem and the Huddersfield v Hull KR game was a perfect example. There were some great tries and I am not taking anything away from that, but some of the defence was appalling. People want to see great tires scored but you have got to have a certain standard of defence in your league and those standards are slipping at the moment. We have got to shore that up. It takes away some of the great plays and great scores being scored - bad defence takes away from some of the great effort that goes into scoring these tries. Perhaps it comes down to the players - I challenge anyone to prove to me that we have the players to play 14 teams because I am getting the evidence week in and week out that we haven't.
ST HELENS

Albeit they may not be the Saints of old but they are going about their business well. I think their win against Castleford typified. everything good about them for me. They were good enough to rack up a lot of points and win comfortably in the end. That is the sign of a really good side and a good squad and that is what Royce Simmons has. If they can get everyone fit then they will be a real threat. At this time of the season we always see a bit of a drip off as all clubs struggle with injuries but Saints are still very strong and will cause all sorts of problems.
LUKE BURGESS

I was probably as sceptical as anybody about Luke Burgess success in the NRL. He was struggling in the Leeds side and I don't think anyone had him in the top ten props in Super League and that is being kind. I had question marks about his decision to go down under and I thought it was by in large driven by the fact that his brother Sam was at Sydney. However once he had signed it was up to him to produce the goods. If anyone saw South Sydney's superb win against reigning champions St George Illawarra, well Luke Burgess was one of the stand out players. He was immense in that game and he has been pretty good in all the games so far and I tip my hat to him. Good on him.
OVERSEAS QUOTAS

This is linked in to the Crusaders issue. What has happened to the club is bad enough but the decision by the RFL to then take the players from the Crusaders off the quota for the next however many years they sign a contract at their next club just beggars belief. It smacks of guilt and I cannot understand why the RFL have made this gesture. They have packaged it up by protecting player welfare but I don't buy that one little bit.
CRUSADERS PLAYERS

The players are very angry and very worried. They are owed an awful amount of money and their futures are in doubt. If I was in that position I would question how dedicated I would be but the Crusaders players were superb against Wakefield. The fact that they even took to the field was laudable in the first place. People may say that they are contracted to do that but contracts works both ways and if the club is breaking that contract by not paying them their wages then the players would have every right not to hold up their end of the bargain. What the players did against Wakefield was very special but I would not be surprised if we saw some sort of strike from the players. The nearer it gets to the end of the season the less bargaining power the players have.
Comments (3)
Martin Ackroyd says...
I have been involved in rugby league for over 30 years playing and refereeing . the rfl have always swept things that they do not want the outside world to know under the carpet , since richard lewis as taken over the chair it as got worse he is like a politician avoiding answering the big questions with alternative answers , our game is a great spectator sport at super league and were it all begins Grass Roots to!! the crusaders fans who pay to watch have a right to know what went wrong out in the open , not a witch hunt just lets all see clarity for once please richard !!
Posted 15:18 7th August 2011
Bryan Hoarty says...
Hi Brian, Should that not be labour the point too much. I doubt if the RL powers that be know what mea culpa means. The Crusaders withdrawal fiasco could undoubtedly have been handled better but fundamentally, like all previous attempts to spread the game from it's heartland, this attempt appears to have been born out of desperation with no long term business plan and was patently underfunded. The overseas quota exemption to crusaders players on grounds of welfare is a joke coming from an organisation that required players to play three games in a week to fit in an international game. Having said that I fully support the strategy of trying to spread the game beyond its traditional territories rather than having four or five super league clubs within ten miles of each other. I dont pretend to be able to prescribe the strategy to do this and it is obvious that neither do the RFL. I also support the idea of England playing an other nationalities team but not if it means our top players playing three times in a week. Perhaps an enquiry would be a good thing but would the short term self interested elite that control the professional game and bend the rules to suit themselves take any notice. Congrats on taking to media work like a duck to water.
Posted 17:54 5th August 2011
Scott Buckler says...
Brian, your point on Crusaders is spot on. We must question why this club was elevated over more established clubs into the superleague. I feel the RFL have let the players and fanbase down at crusaders, but ,more worringly, they have made our game look a joke in the public eye. I feel in order for the game to develop better and more productively we must look at bringing in private sector oragnisations whose job it is to promote sport better and look at changing the way the game is run. Maybe conduct a review similar to the one conducted into the FA and see where we can rectify these issues which are preventing our game moving forward.
Posted 16:36 4th August 2011